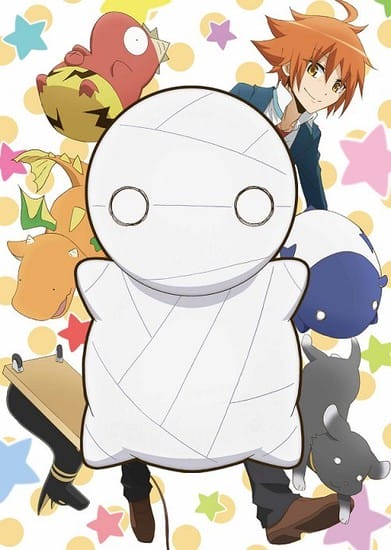 Before you ask, this isn't a sad eventual sequel to How to Train Your Dragon. It's far less horrifying.
Earlier today, Crunchyroll announced that they will add How to Keep a Mummy to their Winter 2018 simulcast lineup. The series will be offered to subscribers in all territories outside of China and Korea starting January 11 at Noon Pacific (3:00PM Eastern).
How to Keep a Mummy is based on Kakeru Utsugi's manga of the same name. The series will be directed by Kaori (Yuyushiki, Bottom Biting Bug) at studio 8-Bit, with Takahiro Kishida (Baccano!, Durarara!!) providing character designs. Deko Akao (Anonymous Noise, Flying Witch) is in charge of series composition, while Atsushi Nasuda is attached as producer.
The confirmed voice cast includes:
Sora Kashiwagi: Mutsumi Tamura
Kaede Kashiwagi: Ai Kayano
Asa Motegi: Himika Akaneya
Tazuki Kamiya: Keisuke Koumoto
Taichi Tatsuaki: Seiichirō Yamashita
Crunchyroll describes the show as:
Kashiwagi Sora is living a totally normal high school student life, when his self-proclaimed "adventurer" father sends him a mummy from his travels in Egypt! Sora balks at the letter from his crazy dad ("I found a cool mummy, so I decided to leave it with you, son!") at first, but the mummy that emerges from inside the huge coffin in his living room is a mere 12 centimeters tall– small enough to fit in the palm of his hand… Not only that, it's shy, a crybaby, and most of all, heckin' cute. And so, Sora ends up keeping the mummy, naming his new little buddy "Mii-kun." But living with a mummy might be easier said than done…!
Kakeru Utsugi launched the How to Keep a Mummy manga on the Comico app in 2014. Futabasha shipped the first book to retailers in February 2016. The fifth book hit bookstores on October 12.Crunchyroll currently distributes the title on their digital platform.
Source: Crunchyroll