This one takes the phrase "if it bleeds, it leads" pretty literally!
Earlier today, Netflix Japan released a new teaser visual for Devilman Crybaby. The image features ad copy, arranged in the shape of a beastial claw. Blood drips off the bottom to reveal the show's logo.
Devilman Crybaby will launch worldwide on January 5. Netflix will stream the show in over 190 countries. The series will be dubbed in seven languages, and subtitled in twenty-three. Dub languages include:
English
French
German
Italian
Brazilian Portuguese
Spanish
Castilian Spanish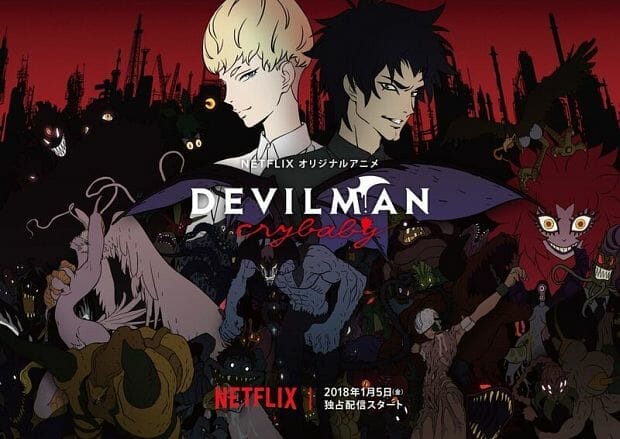 The show is a co-production between Aniplex and Dynamic Planning. Masaaki Yuasa (Ping Pong the Animation, Mind Game) will direct the title at Science SARU studio, with Ichiro Okouchi (Code Geass: Lelouch of the Rebellion, Berserk: The Golden Age films) writing the screenplay. The Eunyoung Choi will serve as animation producer on the project. Kensuke Ushio will score the soundtrack.
Avu-chan will perform the opening theme song Devilman no Uta (Song of Devilman), while Denki Groove handles closing theme song Konya Dake (Tonight Only)
The confirmed Japanese voice cast includes:
Akira Fudo: Kouki Uchiyama
Ryo Asuka: Ayumu Murase
Miki Makimura: Megumi Han
Miko: Ami Koshimizu
Sirene: Atsuko Tanaka
Kaim: Rikiya Koyama
Nagasaki: Kenjiro Tsuda
Kukun: Young Dais
Devil King Zenon: Avu-chan
As of press time, Netflix hasn't revealed the English dub cast for the show.
Netflix describes Devilman Crybaby as:
The protagonist Akira Fudo (Koki Uchiyama) learns from his best friend, Ryo Asuka (Ayumu Murase), that an ancient race of demons has returned to take back the world from humans. Ryo tells Akira that the only way to defeat the demons is to incorporate their supernatural powers, and suggests that he unite with a demon himself. Akira succeeds in transforming into Devilman, who possesses both the powers of a demon and the soul of a human. The battle of Devilman and Akira Fudo begins. The series, comprised of 10 episodes, is a Science SARU production and will launch on Netflix globally in Spring 2018.
Source: Otakomu