It looks like Mithril is heading into the blue for this final film!
Earlier today, the Full Metal Panic! Director's Cut film trilogy's official website updated with a new key visual to promote upcoming film Full Metal Panic! Director's Cut: Into the Blue. The image features lead characters Sousuke Sagara, Teletha "Tessa" Testarossa, and Kaname Chidori standing in front of an Arm Slave. Gauron's profile is shown menacingly grinning in the background.
Full Metal Panic! Director's Cut: Into the Blue hits theaters on January 20. Customers who pre-order their tickets will receive a mini-poster, while supplies last. The poster features a shot of Tessa and Richard Mardukas, which was drawn by light novel illustrator Shikidouji.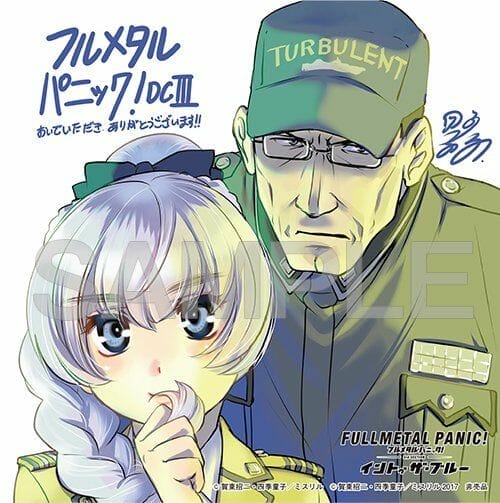 The three Full Metal Panic! Director's Cut films retell the events of the original anime series.
The original Full Metal Panic! anime is based on Shoji Gatoh (writer) and Shikidouji's (illustrator) light novel series of the same name. The 2002 series was directed by Koichi Chigira (Last Exile, Tokyo Babylon) at Gonzo and Digimation, with Osamu Horiuchi (Ga-Rei-Zero, New Cutey Honey) providing character designs. The team of Fumihiko Shimo, Koichi Chigira, and Masashi Sogo wrote the scripts.
Funimation currently holds the rights to Full Metal Panic!, along with sequel series Fumoffu! and The Second Raid. They describe the show as:
Kaname's a popular girl at her high school, but it's her popularity off campus that's the problem. Unbeknownst to Kaname, terrorists are plotting her abduction, believing she possesses the abilities of the "Whispered." That's where Sousuke enters the picture. He's a soldier from Mithril, a secret counter-terrorist unit—and he's going undercover at Kaname's school to try and keep her safe.
Source: Ota-suke