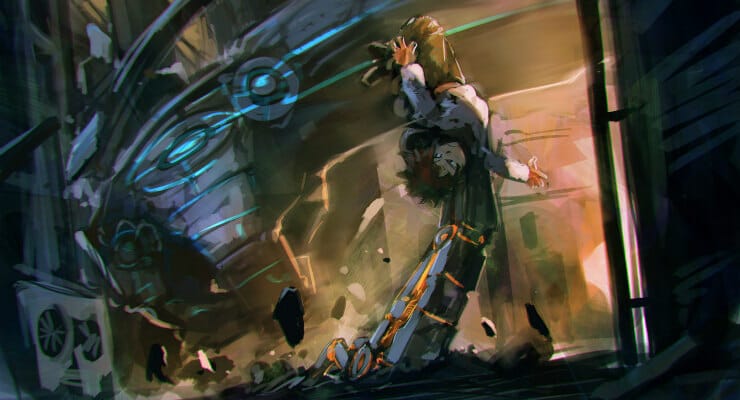 It looks like Cyber Connect2's head honcho is on the Mecha-Ude team now.
Earlier today, the official Mecha-Ude Kickstarter released a backers-only update to announce a new staff member. CyberConnect2 President and CEO Hiroshi Matsuyama is joining the project's staff as a Project Supervisor.
Moreover, creator Sae Okamoto announced that the team will begin promotion in Japan this month, with aims of starting a crowdfunding campaign for the Japanese market, so that she can hire additional staffers and increase overall production quality.
In future updates, the team will reveal the project's theme song performer, as well as additional team members who are attached to the project.
Hiroshi Matsuyama is a veteran in both the anime and gaming industries.
In the gaming world, Matsuyama is best known as director of the .hack gaming franchise, in addition to roles as Lead Designer on Final Fantasy VIII and Map Graphics Designer on Dragon Quest VIII.
In the anime world, Matsuyama has worked on some level with the entire .hack anime franchise, ultimately working as director on .hack//The Movie. He worked as an in-betweener on the Record of Lodoss War OVA series and Urusei Yatsura OVAs, and served as in-between checker on 3×3 Eyes.
The Mecha-Ude project is currently targeting a June 2018 launch, following a delay from December 2017.
Sae Okamoto will make her directorial début with the project, which is being produced by Trif Studio. Previously, she provided background art for Sushi Police. In addition, Okamoto's worked as an animator on several projects, including Tenkai Knights and Danchi Tomoo.
Other team members attached to the project include:
Compositor: Tatsushi Momen (Sushi Police, Director)
Music: Narasaki (Deadman Wonderland, Paradise Kiss)
Sound Engineer: Seiji Toda / S.O.L.I.D Sound Lab (Armored Trooper VOTOMS, Code Geass, Gundam Build Fighters)
Okamoto describes Mecha-Ude as:
Hero was a high schooler living an ordinary life.

One day, he meets a very strong and intelligent mechanical arm named "Mecha-ude". After a strange turn of events, the "Mecha-ude" started living inside Hero's hoodie and the two's life full of trouble begins.

As the boy and his "Mecha-ude" fights together and strengthen their bonds, the two also meets new friends who also fights along with each of their own unique "Mecha-ude" partners.

Out of those, one of the heroine has two "Mecha-ude" which appears out of her skirt. An active girl with a totally opposite characteristics from hero himself, he gradually becomes attracted to her.

But the two are confronted with other "Mecha-ude" users who are in search of the secret of "Mecha-ude" relentlessly.
The campaign reached its funding goal on October 15, and went on to raise $67,918 across 999 backers.
Source: Kickstarter