Shirobako's back! Kind of! Sort of! OK, it's a commercial.
On New Year's Eve, P.A. Works quietly released a new TV spot to the company's YouTube. The 30-second promo features Aoi Miyamori (voiced by Juri Kimura), Masato Marukawa (voiced by Wataru Takagi), and Tarō Takanashi (voiced by Hiroyuki Yoshino) as they talk up DoCoMo's "dAnime Store" service.
Specifically, the short starts with Aoi taking a call. Though the viewer can't hear the other end, it's clear that the call is about Musashino Animation potentially producing an advertisement for dAnime Store. This leads to Tarō excitedly saying they should do it, before Miyamori responds to state that the studio's never made a commercial.
Marukawa steps in during the last shot to confirm that he heard the news.
The TV spot features cuts, which were collaborated on with P.A. Works. The cast members reprised their roles from the TV series.
In short, this is the first new material produced for Shirobako since the show signed off in 2015.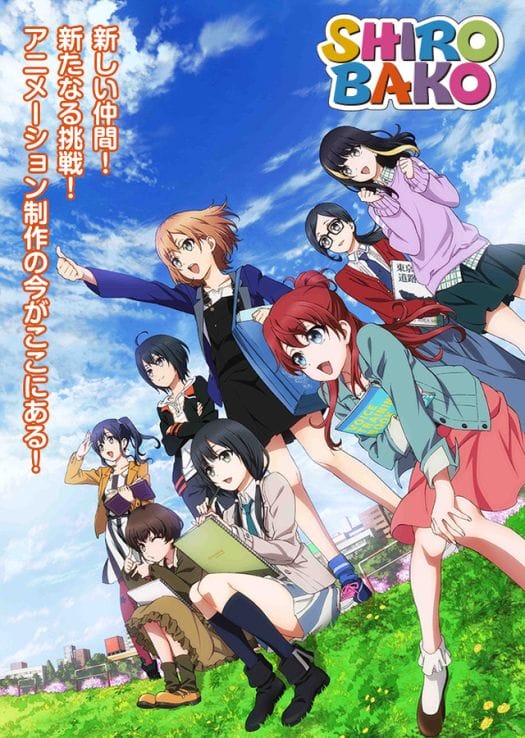 Shirobako is an original project from studio P.A. Works, which first aired in the Fall 2014 broadcast season. Tsutomu Mizushima (Genshiken, Prison School) directed the show at P.A. Works, with Noriko Morishima (Cat Planet Cuties, Super Seisyun Brothers) providing character designs. Michiko Yokote (Genshiken, ReLIFE) was in charge of series composition for the title.
Sentai Filmworks currently holds the domestic rights to the Shirobako anime. They describe the series as:
After making an animated film together in high school, Aoi and her friends Shizuka, Ema, Misa, and Midori made a promise to each other: to all get jobs in the anime industry and someday work together again.

Two years later, Aoi is learning that working as a production assistant at a small animation studio is far more demanding than she ever imagined, and Shizuka's aspiring career as a voice actor involves more time waiting tables than recording.

Meanwhile, Ema's slowly making a name for herself as a key animator, Misa's moved from 2D to 3D and now works in computer graphics, and screenwriting hopeful Midori is lagging furthest behind, still looking for her first big break. But are they ready to give up on their dreams just yet? No way! Because while anime may come from inspiration, in the end it's the ones who're willing to put in the perspiration that make their dreams real in Shirobako!
Source: Livedoor