Happy Sunday everyone, and welcome to an all-new AniWeekly! It's been a busy week, with plenty of surprises popping up to greet us with each passing day. From new show reveals, to surprising title moves and a small hint of scandal in the air, things have been exciting, to say lightly!
So, without further ado, let's get into the biggest news to hit this week.
In the News
The Coin of Controversy. Tokyo Otaku Mode announced two new members for the Otaku Coin advisory committee. The most notable of the two, though, is controversial Oculus founder Palmer Luckey.
The Sealed Card will lead the way… Crunchyroll announced that they will give Cardcaptor Sakura: The Sealed Card a theatrical run in the United States. The subtitled version of the film will hit cinemas starting on January 30.
Dreams of the grand blue. In a website update, the AnimeJapan expo accidentally revealed that Avex is producing a Grand Blue Dreaming anime adaptation.
The fantastic Mr. Fox. In addition to Grand Blue Dreaming, the AnimeJapan website reports that Success will be shopping an anime adaptation of Guang Xian Jun's Kori no Koe manhua.
Ora ora ora ora ora ora ora! Shueisha filed a trademark with the Japanese government for JoJo's Bizarre Adventure: Golden Wind. A logo was also included for the arc, which is better known as "Vento Aureo" to franchise fans.
Dreams are made on the pitch, one goal at a time. Viz Media announced that they acquired the license for the new Captain Tsubasa anime series. Viz picked up the master license to the title in North America and Latin America, which means that they picked up the digital streaming, EST, home video and merchandise rights.
Silent, but able to say so much… Eleven Arts announced that they will give the English dub for A Silent Voice a theatrical run in the United States. The film will screen in 33 theaters starting February 2.
Shirobako's back! Kinda! P.A. Works quietly released a new TV spot to the company's YouTube channel, which promotes DoCoMo's dAnime Store service. The ad features new animation and voice acting from the folks at Shirobako's Musashino Animation.
Just don't call it "Project A.I.C.O." We got a pretty big info-dump for upcoming anime A.I.C.O. -Incarnation-, which includes a new trailer and visual, as well as the main cast and crew members.
It's a clash of titans… well… metaphorical titans. A new visual for Attack on Titan's third season hit the web! The image features Levi and Kenny locked in a fierce battle.
Taking a trip to Nakano. Kemono Friends director Tatsuki took to Twitter to tease a new project. The director published a visual of two characters – a cat girl and a demon girl – standing on a train platform.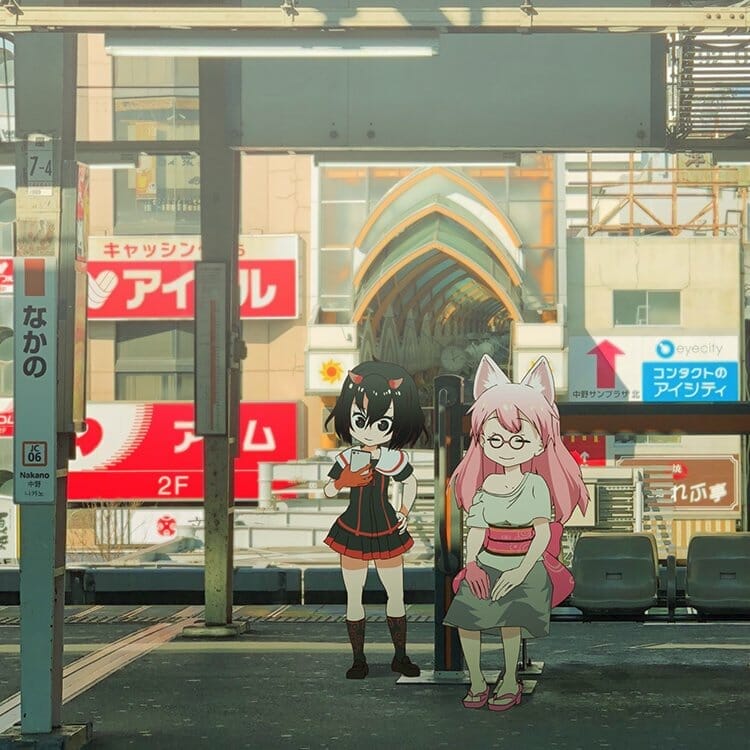 You are already BREAKIN THE LAW! during a streaming event for upcoming game Hokuto ga Gotoku, the publisher showed off over an hour of footage from the title's early game segments. This is the upcoming game from the Yakuza team that's based on Fist of the North Star
Virtual idol, real headlines. The January 13 edition of Pittsburgh's Tribune-Review newspaper featured an illustration of Vocaloid IA on their front page. The image, which is derived from a piece of key art for the character, is used to draw attention to a story on page A8.
A history of hilarity. Discotek Media started streaming the Osomatsu-kun anime on their YouTube channel. The first episode is available in subtitled format.
Mechanical arms, cyber connected. The official Mecha-Ude Kickstarter released a backers-only update to announce a new staff member. CyberConnect2 President and CEO Hiroshi Matsuyama is joining the project's staff as a Project Supervisor.
Tanya's back and she's out for brutal victory. A new trailer and key visual for the Youjo Senki: Saga of Tanya the Evil sequel movie.
Cel preservation on a grand scale. A coalition of members of the Japanese Diet, who represent the "Manga, Anime, and Games" group, introduced plans to submit a new bill. The bill, which will be introduced when the Diet convenes on January 22, will establish a new "National Media Arts Center." The new center will be tasked with collecting and storing "original editions of manga and anime cels", with the aim of preventing these materials from leaving the country.
The very CGI caterpillar. Hayao Miyazaki's Kemushi no Boro (Boro the Caterpillar) will première at the Studio Ghibli Museum on March 21. The CGI film is Miyazaki's first feature since The Wind Rises hit theaters in 2013.
From the AniBlogging Community
Let's Streisand Effect this one, guys. Lauren at Anime Feminist wrote a fantastic piece on a recent situation between fashion vlogger Tyler from ScarfingScarves and Anime Matsuri showrunner John Leigh. In the piece, Lauren lays down Leigh's numerous accusations of sexual misconduct that have cropped up over the years, and breaks down the motives behind the action. Seriously. Read this piece.
Weekly Fun Stuff!
This week, we're not hitting you with a funny video or a random quirky clip (mostly because my buffer's a little empty in the new year… oops.) Still, this one's pretty worthwhile! The folks at Crunchyroll uploaded the first episode of Recovery of an MMO Junkie to their YouTube channel. This charming series was a sleeper hit for many, and definitely worth a watch for those who haven't seen it already.
For those who've already seen it, well… here's Maru the cat trying to get into a tiny box.
Our Supporting Lovelies
The following patrons help to keep us talking nerdy to you:
Hera's Helpers
Nerdy Talkers
Cave
Mike Ferreira
Lauren Orsini
Lydia Rivers