It's already been five years… how time flies.
Earlier today, the official GA Bunko Twitter account tweeted out a brief message, which teases a "new project" in the Is it Wrong to Try to Pick Up Girls in the Dungeon? ("DanMachi" henceforth) franchise.
【ダンまち新規プロジェクト始動!】
というわけで、キャンペーンの告知を取り敢えずさせていただきましたが、新規プロジェクトというからには、"新しい何か"が動いております。なる早でお知らせしますので、今しばらくお待ちくださいませ~~ (=゚ω゚)ノ (K村) #GA文庫 #ダンまちプロジェクト

— GA文庫公式 (@GA_bunko) January 15, 2018
Rough translation below:
[New DanMachi Project Launch!]
Well, we didn't want to wait any longer to announce this, but a "new project" is in the works. We'll let you know as soon as possible, so please wait a bit longer. ~~ (= ゚ ω ゚) ノ
This new project appears to be separate from the recently launched Fifth Anniversary Campaign website and a series of DanMachi LINE stamps that hit the platform earlier today.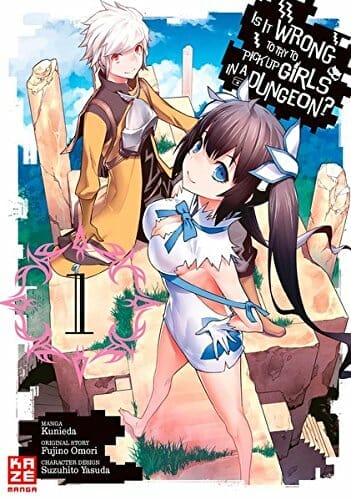 Fujino Ōmori and Suzuhito Yasuda's DanMachi light novels made their début in January 2013, under SB Creative's GA Bunko imprint. The ongoing series currently spans twelve volumes, and received an ongoing manga adaptaiton in August 2013.
Yen Press currently holds the rights to the DanMachi light novels and manga. They describe the title as:
In Orario, fearless adventurers band together in search of fame and fortune within the monstrous underground labyrinth known as Dungeon.

But while riches and renown are incentive enough for most, Bell Cranel, would-be hero extraordinaire, has bigger plans.

He wants to pick up girls.

Is it wrong to face the perils of Dungeon alone, in a single-member guild blessed by a failed goddess? Maybe. Is it wrong to dream of playing hero to hapless maidens in Dungeon? Maybe not. After one misguided adventure, Bell quickly discovers that anything can happen in the labyrinth–even chance encounters with beautiful women. The only problem? He's the one who winds up the damsel in distress!
The title spawned an anime adaptation, which aired in the Spring 2015 broadcast season. Yoshiki Yamakawa (Kill Me Baby, Little Busters!) directed the series at J.C. Staff, while Shigeki Kimoto (Sky Girls) provided character designs. Hideki Shirane (Aria the Scarlet Ammo, Queen's Blade: Rebellion) was in charge of series composition.
Sentai Filmworks currently holds the rights to the DanMachi anime.
Source: Otakomu