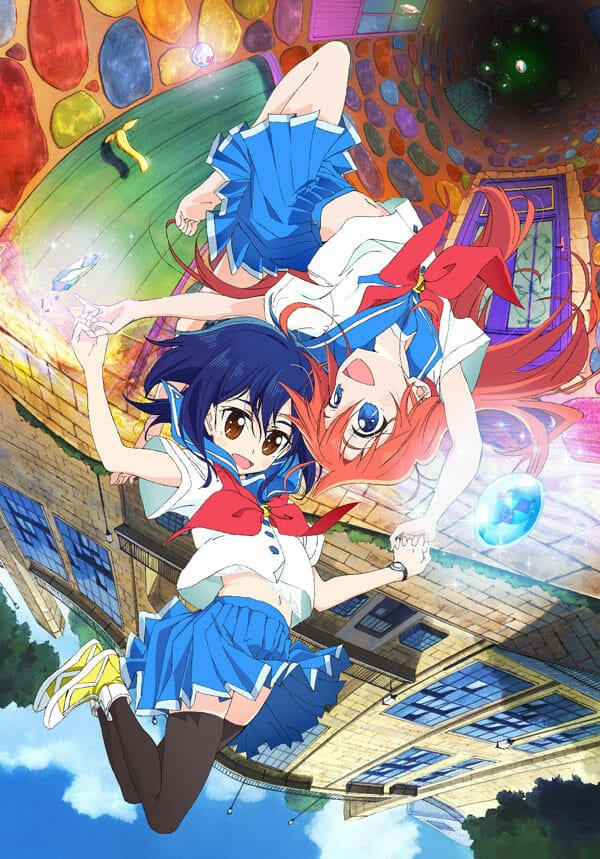 It's time to explore the depths of Pure Illusion once again.
Earlier today, Sentai Filmworks unveiled their English dub cast for Flip Flappers. The series will star the following:
Cocona: Luci Christian
Papika: Brittney Karbowski
Yayaka: Patricia Duran
Salt: David Wald
Hidaka: David Matranga
Sayuri: Chelsea McCurdy
TT-392: Jay Hickman
Yuyu: Carli Mosier
Toto: Philip Hayes
Nyunyu: Emily Neves
Mimi: Shelley Calene-Black
Irodori: Kira Vincent-Davis
Grandma: Tiffany Grant
Uexkull: Mark X Laskowski
John Swasey is directing the adaptation, which features scripts by Marta Bechtol.
Sentai also released an English dub clip, which features a somewhat tense lunch between the show's three leads.
Flip Flappers hits home video on February 27. The series will be released in standard and Premium Edition Blu-Ray sets, which retail for $69.98 and $149.98, respectively. The Premium Edition will include a 280-page artbook, a set of art cards, and a bookmark.
Flip Flappers originally aired in the Fall 2016 broadcast season, and streamed on The Anime Network in North America.
Kiyotaka Oshiyama directed the project at Studio 3Hz, with Takashi Kojima providing character designs on the project.
Sentai Filmworks describes the series as:
As a middle school student, Cocona has been trying to decide what to do with her life. Magical Girl, however, wasn't a career path that she'd ever considered. When suddenly a strange girl named Papika thrusts her into a secret organization called Flip Flap, Cocona's outlook does a radical flip-flop. Her views start to change when she is dragged into an alternate dimension called Pure Illusion where she's charged with gathering crystal shards and fighting strange creatures. Now, between running missions and facing off against a rival organization, Cocona doesn't have much time to consider alternate career choices. What are these shards, and why is gathering them so important? There's a mystery to be solved and multiple worlds to be saved in FLIP FLAPPERS!
Source: Sentai Filmworks