Kitaro fans, it's time to get hype, because this is happening!
Earlier today, Toei announced that a new Gegege no Kitaro anime TV series is in the works. A short announcement teaser, as well as the first cast and crew, the broadcast details, and several visuals were unveiled.
We break the details down below.
Trailer
The 30-second teaser opens in a Tokyo besieged by spectral baddies, before cutting between several animated cuts, and confirming the core cast members. The promo ends with an announcement that the show will air on April 9.
Key Visual
The visual features Kitaro, Rat Man (Nezumi Otoko), and Neko Musume standing before a Shinto shrine gate, as ghostly energies swirl around them.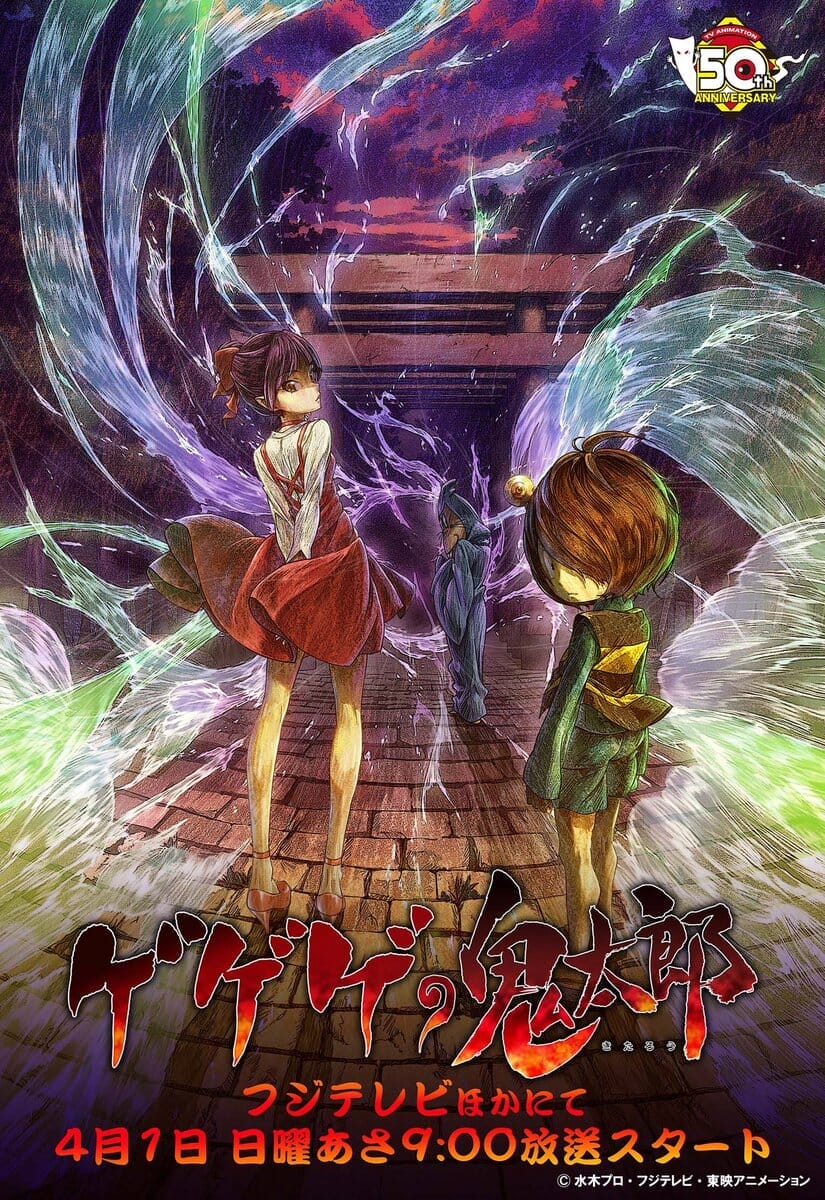 Animator Touko Yatabe also released a visual to celebrate the news, which you can check out below.
Staff
Koji Ogawa was tapped to direct the new Gegege no Kitaro anime at Toei Animation, with Sorato Shimizu (Birdy the Mighty Decode, Arjuna) providing character designs. Hiroshi Ohnogi is in charge of series composition for the project.
Other confirmed crew members include:
Producer: Yuuta Kano
Producer: Naoko Sagawa
Producer: Daichi Nagatomi
Chief Animation Director: Sorato Shimizu
Music: Yasuharu Takanashi
Music: -yaiba-
Cast
The series will star the following:
Kitarō: Miyuki Sawashiro
Medama Oyaji: Masako Nozawa
Mana Inuyama: Yukiyo Fujii
Nezumi Otoko: Toshio Furukawaas
Neko Musume: Umeka Shouji
Ittan Momen: Kappei Yamaguchi
Nurikabe: Bin Shimada
Konaki Jijii: Bin Shimada
Sunakake Baba: Mayumi Tanaka
Visuals for each of the characters were also revealed on the show's website, which you can check out below:
Broadcast
The series will begin airing on April 1, in Fuji TV's 9:00AM time slot, replacing Dragon Ball Super.
Gegege no Kitaro was created by the late Shigeru Mizuki. The series began in Kodansha's Shōnen Magazine as Hakaba Kitarō in 1960. Originally, the work was deemed too frightening for children. It was renamed to Hakaba no Kitarō, which ran through 1967. The series received its final title in 1967, and ran through 1970. By the time it exited publication, Gegege no Kitaro spanned 9 volumes.
After its manga run, the series found life as an anime property. Six TV series and nine movies were produced since the show's anime début in 1968. The most recent title, Kitarō of the Graveyard, aired on Japanese TV in the Winter 2008 broadcast season.
Toei Animation produced all of Gegege no Kitaro's anime adaptations.
Sources: Otakomu, Twitter (pKjd)