Don't worry, this time Morgana won't be telling you to go to bed when all you really want to do is play some shogi.
Earlier today, the official Persona 5 the Animation anime website updated with two new key visuals. The new images focus on Ann Takamaki and Morgana, respectively.
Ann Takamaki
Ann's visual sees her in a shop inspecting a dress from one of the display racks.
Morgana
Morgana's visual features the feline phantom thief in cat form, curled up inside Ren Amamiya's bag. The bag rests on Ren's desk, leaving the signature "Take Your Heart" message visible on the blackboard.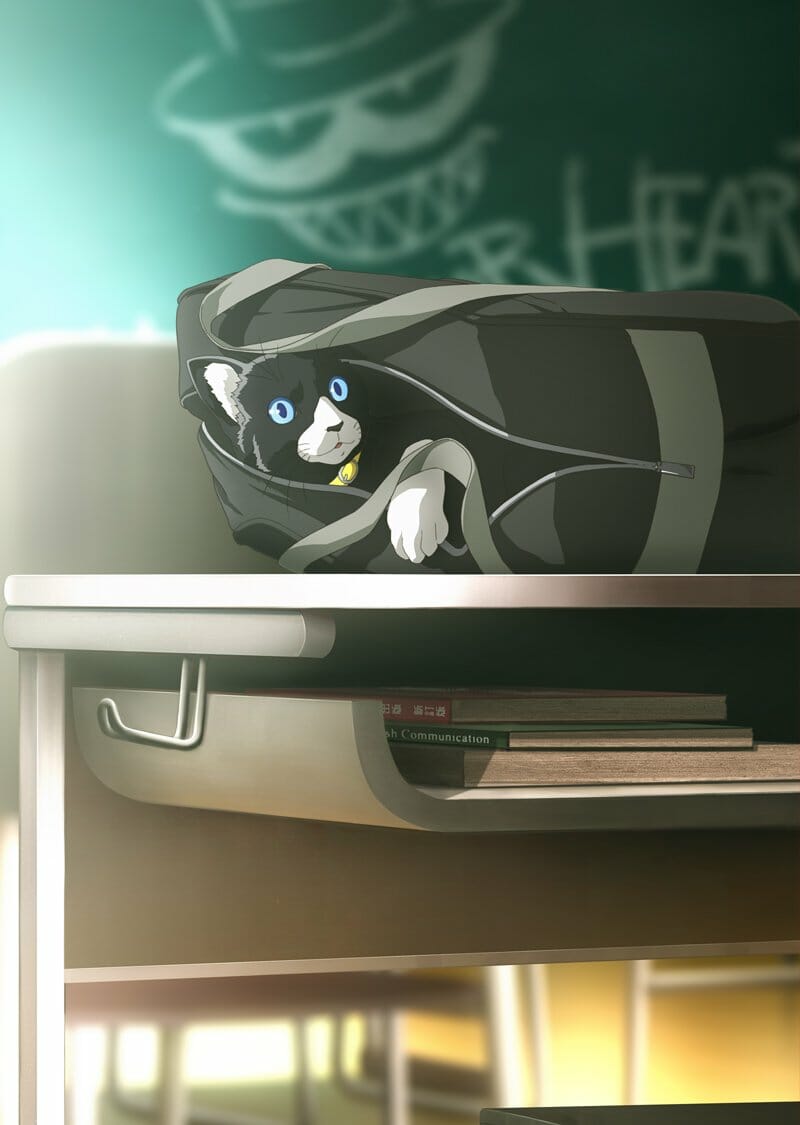 Persona 5 the Animation will air in April 2018, on Tokyo MX, Gunma TV, Tochigi TV, MBS, and BS11.
Masashi Ishihama (From the New World, Garakowa -Restore the World-) was tapped to direct the project at A-1 Pictures, with Satomi Ishikawa (Convenience Store Boy Friends) providing character designs. Shinichi Inotsume (Gangsta., Hayate the Combat Butler) is in charge of series composition, while Persona 5 composer Shoji Meguro (Persona 3, Persona 4) will score the soundtrack.
Persona franchise producer Katsura Hashino is credited with the original plot concept. Kazuma Kaneko is credited with original demon designs, while Shigenori Soejima is credited as original character designer.
The series will star the following:
Ren Amamiya/Joker: Jun Fukuyama
Ryuji Sakamoto/Skull: Mamoru Miyano
Morgana: Ikue Otani
Ann Takamaki/Panther: Nana Mizuki
Yusuke Kitagawa/Fox: Tomokazu Sugita
Makoto Niijima/Queen: Rina Satou
Futaba Sakura/Oracle: Aoi Yūki
Haru Okumura/Noir: Haruka Tomatsu
Goro Akechi: Sōichiro Hoshi
All of the cast members are returning from the original Persona 5 game.
Persona 5 was originally released on Sony's PlayStation 3 and PlayStation 4 consoles in September 2016. Atlus released the title outside of Japan in April.
The title received a 55-minute animated prologue, titled Persona 5 the Animation -The Day Breakers-, on September 3, 2016. Takaharu Ozaki directed the project at A-1 Pictures, with Shinichi Inotsume (Garo: Crimson Moon, Hayate the Combat Butler) writing the script. The team of Keita Matsumoto (Sands of Destruction, Shining Hearts) and Toshiyuki Yahagi (Joker Game) provided character designs.
Source: Twitter (P5_anime)