It looks like Toei's giving one final fond farewell to Cure Whip and company.
Earlier today, Toei Animation released a "Baton Touch" video for Hugtto! Precure. The 45-second video features Cure Whip from Kirakira ☆ Precure à la Mode making one last appearance to thank the audience as she passes the proverbial baton to Hugtto! Precure's Cure Yell.
Toei has posted similar videos for the franchise in the past, ahead of new franchise premieres.
Hugtto! Precure hits Japanese TV on February 4. The series is slated to air on ABC and TV Asahi at 8:30AM local time. The final episode of Kirakira ☆ Precure à la Mode aired today.
Junichi Sato (Aria the Animation, Sailor Moon) and Akifumi Zako (Go! Princess Pretty Cure the Movie Go! Go!! Gorgeous Triple Feature!!!, Dream 9 Toriko & One Piece & Dragon Ball Z Chō Collaboration Special!!) were tapped to direct the series at Toei Animation, with Toshie Kawamura (Glitter Force, Karneval) providing character designs. Fumi Tsubota (Pretty Rhythm Rainbow Live, 12-Sai: Chiccha na Mune no Tokimeki) is in charge of series composition.
Kanako Miyamoto will perform opening theme song We can!! Hugtto! Precure. Meanwhile, Rie Hikisaka, Rina Hon'izumi, and Yui Ogura (credited as their Precure characters) will handle closing theme song Hugtto! Mirai Dreamer (Hug it! Future Dreamer).
Other confirmed crew members include:
Music: Yuuki Hayashi
Background Artist: Nagisa Nishida
Producer: Keisuke Naitō
Producer: Takashi Tanaka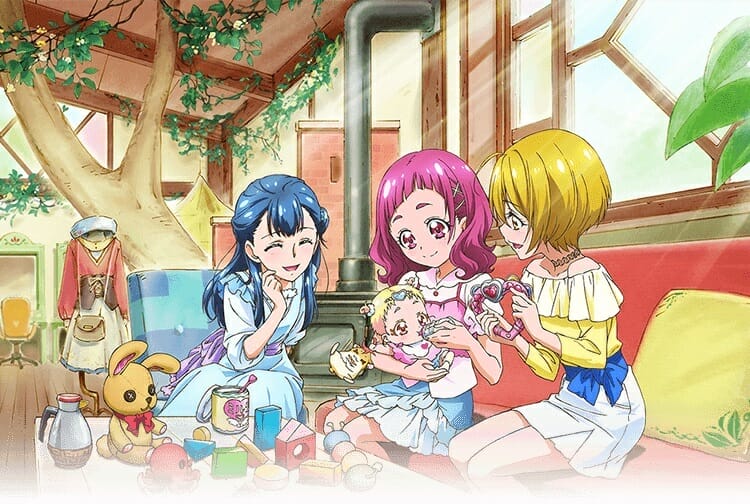 The series will star the following:
Hana Nono/Cure Yell: Rie Hikisaka
Saaya Yakushiji/Cure Ange: Rina Hon'izumi
Homare Kagayaki/Cure Étoile: Yui Ogura
Hariham Harii: Junko Noda
Hug-tan: Konomi Tada
Source: Ota-suke