We're doing this? Yep, we're doing this. Welcome to the drip-feed.
Earlier today, the official Starwing Paradox website updated with a trio of character designs, as well as details on the show's plot. We break the details down below:
Character visuals
Each of the three images features one of the main characters, presented with both a full body shot and a headshot.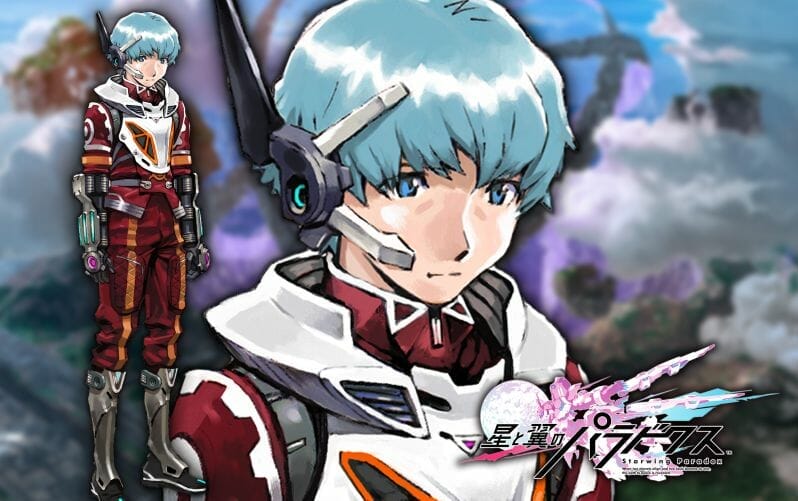 Plot
The title will be set on the planet "Meguriboshi," which is "very very very far away" from our own. The distance is so great that the light from Earth doesn't come close to reaching it.
Meguriboshi is a land of conflict, split between two nations: "Kō Country A Slegga" and "Va Led Sei Kingdom." The two kingdoms are locked in a never-ending conflict due to a form of living energy called "Star Blood" (Hoshinochi). At the front lines of both sides are the "Ae Rial": massive mechanical weapons that were developed by arms corporation Kizana.
Ae Rial are magnificent machines, which can only be truly unleashed with the power of special "AZ-One" rank pilots. These mechanized munitions have a secondary function, though. Each Ae Rial is equipped with a "Rearide System," which allows the unit to transmit information between planets. And, as luck would have it, the Rearide System just discovered another planet with sentient life and a superior aptitude.
I'll give you a moment to guess which planet this is.
(It was Earth!)
Starwing Paradox was first announced on January 31. Additional details will be announced on February 2 (Japan local time)
Yoshiyuki Sadamoto (Summer Wars, Evangelion) is providing character designs for the project, while Yoichi Kato (Aikatsu!, Monster Strike the Anime) takes charge of series composition. Sunrise will produce the animation.
Other crew members include:
Mechanical Design: Ippei Gyōbu
Mechanical Design: Junya Ishigaki
World-Building Collaboration: Ryōji Sekinishi
Music: Akio Izutsu
Producer: Naohiroshi Ogata
Cast
The project will star the following:
Mikako Komatsu
Ryoko Shiraishi
Ayaka Suwa
Source: Twitter (StarwingParadox)