It's time to get a good look at two new residents of this world.
Earlier today, the official Golden Kamuy anime website updated with a pair of character designs. Images for Toshizō Hijikata and Tatsuma Ushiyama were unveiled, which you can check out below.
Golden Kamuy will hit Japanese TV this April. Tokyo MX, Yomiuri TV, Sapporo TV, and BS11 will air the show, while Fuji TV on Demand will provide digital streams.
The show is based on Satoru Noda's manga of the same name. Hitoshi Nanba (Fate/Grand Order: First Order, Gosick) was tapped to direct the show at Geno Studio, with Kenichi Ohnuki (Gundam Build Fighters, Samurai Gun) providing character designs. Noboru Takagi (Baccano!, Durarara!!) is in charge of series composition for the project.
Man With a Mission will perform the title's opening theme, while The Sixth Lie tackles the ending theme.
Other confirmed crew members include:
Assistant Director: Takahiro Kawakoshi
Main Animator: Junichi Hayama
Firearms Designer: Koji Watanabe
Prop Designer: Shinya Asanuma
Animal Designer: Ryō Sumiyoshi
Art Director: Atsushi Morikawa
Color Designer: Takahiro Mogi
Director of Photography: Yuichiro Tozawa
CG Director: Yuuko Okumura
CG Director: Yasutaka Hamada
Editor: Gō Sadamatsu
Sound Director: Jin Aketagawa (Magic Capsule)
Ainu Language Supervisor: Hiroshi Nakagawa
Music: Kenichiro Suehiro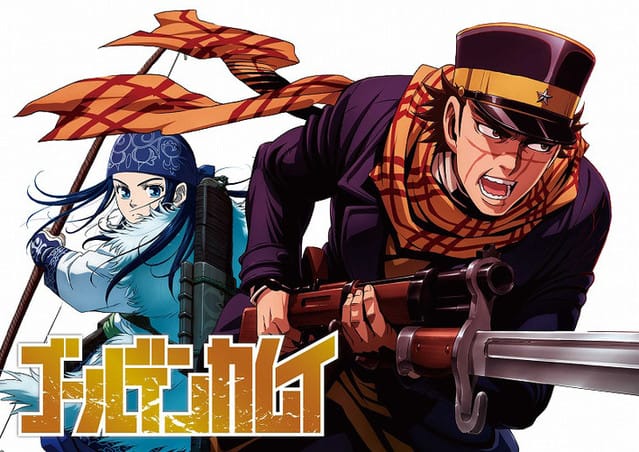 The series will star the following:
Saichi "Immortal" Sugimoto: Chikahiro Kobayashi
Asirpa: Haruka Shiraishi
"Escape King" Yoshitake Shiraishi: Kentarō Itō
Hyakunosuke Ogata: Kenjiro Tsuda
First Lieutenant Tsurumi: Houchu Ohtsuka
Genjirō Tanigaki: Yoshimasa Hosoya
Toshizō Hijikata: Jouji Nakata
Shinpachi Nagakura: Takayuki Sugou
Tatsuma Ushiyama: Kenji Nomura
Viz Media currently holds the rights to the Golden Kamuy manga, which they describe as:
In the early twentieth century, Russo-Japanese War veteran Saichi "Immortal" Sugimoto scratches out a meager existence during the postwar gold rush in the wilderness of Hokkaido. When he stumbles across a map to a fortune in hidden Ainu gold, he sets off on a treacherous quest to find it. But Sugimoto is not the only interested party, and everyone who knows about the gold will kill to possess it! Faced with the harsh conditions of the northern wilderness, ruthless criminals and rogue Japanese soldiers, Sugimoto will need all his skills and luck—and the help of an Ainu girl named Asirpa—to survive.
Source: Otakomu