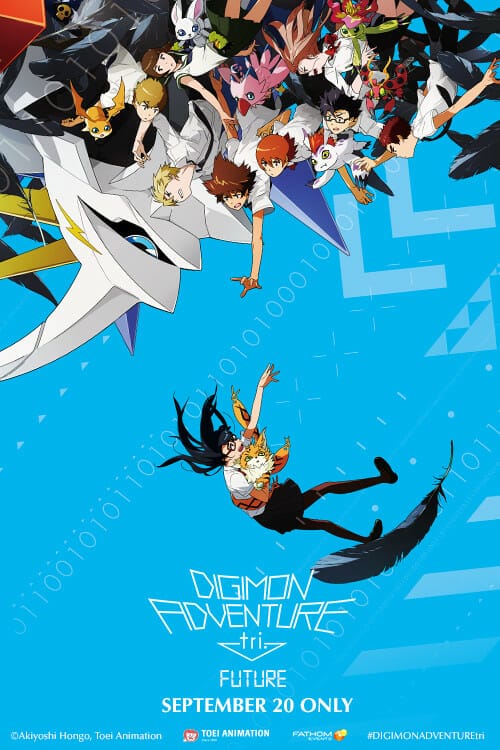 This one's sure to be a touching tribute.
Earlier today, the official Digimon Adventure tri. anime website updated with details on the closing theme for the sixth and final film, Digimon Adventure tri. Our Future (Digimon Adventure tri. Bokura no Mirai).
The closing theme will be a new version of Butter-Fly, titled Butter-Fly ~tri.Version~.. The song will include the following voices, along with that of late singer Kouji Wada:
AiM
Ayumi Miyazaki
Chika Sakamoto
Hitomi Yoshida
Junko Takeuchi
Junya Enoki
Junya Ikeda
Katori Shigematsu
Kinoko Yamada
M.A.O
Mayumi Yamaguchi
Miho Arakawa
Miwa Matsumoto
Mutsumi Tamura
Natsuki Hanae
Suzuko Mimori
Takahiro Sakurai
Yoshimasa Hosoya
Yuka Tokumitsu
Yukiko Morishita
Kouji Wada, who performed Butter-Fly originally, passed away in April 2016. The singer succumbed to upper pharynx cancer. He made his debut in the entertainment world in 1999 with the song, and would go on to perform the theme songs for five other entries in the anime franchise.
Digimon Adventure tri. Our Future will hit Japanese theaters on May 5. The feature will stream in North America with an English dub starting September 20.
Keitaro Motonaga (Magic Knight Rayearth OVA, Jormungand) was tapped to direct the film, while Yuuko Kakihara (Heaven's Lost Property) served script supervisor. Character designs were provided by Atsuya Uki (Cencoroll).
Source: MoCa News