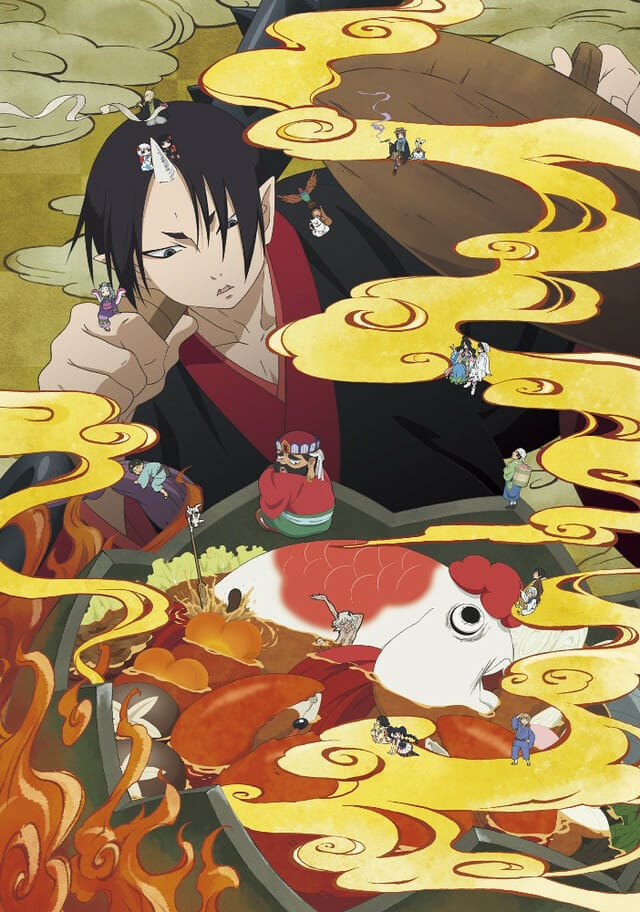 This season, we'll have some cool tunes for cooler heads.
Earlier today, the official Hozuki's Coolheadedness (Hōzuki no Reitetsu) anime website updated with new details on the upcoming second cour for the show's second season.
We break the details down below:
Theme Songs
Jigoku no Sata All Stars will perform opening theme song Haikei, Jigoku Yori (Dear, From Hell).
Premiere
The series will hit Japanese TV on April 7. The following networks will carry the show:
Tokyo MX: 4/7/2018 at 25:00 (4/8/2018 at 1:00AM)
Sun TV: 4/7/2018 at 25:00 (4/8/2018 at 1:00AM)
BS11: 4/7/2018 at 25:00 (4/8/2018 at 1:00AM)
KBS Kyoto: 4/7/2018 at 25:00 (4/8/2018 at 1:00AM)
AT-X: 4/9/2018 at 22:30 (4/9/2018 at 10:30PM)
AbemaTV will stream the show as a simulcast in Japan.
Kazuhiro Yoneda (Yona of the Dawn, Kubukibu!) took over as director on the project at Studio DEEN, with Jirō Omatsuri providing character designs. Midori Gotou (Attack on Titan: Junior High, Clean Freak! Aoyama-kun) was in charge of series composition for the show.
Sumire Uesaka will perform the ending theme to the upcoming cour.
Sentai Filmworks acquired the rights to the Hozuki's Coolheadedness anime, and streams the show's second season on HIDIVE. They describe it as:
There are hard jobs and jobs that seem outright impossible, but in the end, the most difficult job in all creation probably belongs to Hozuki, Deputy Chief to the Great King Enma. Because the Great King spends all his time sitting in judgment on the recently deceased, it's up Hozuki to keep the dark half of the afterlife running smoothly, which would be hellishly complicated even if Hell wasn't constantly short on good help. Fortunately, Hozuki's not the typical bureaucratic hothead you'd expect to find heading a department of infernal affairs. Fiendishly clever and determined enough to dedicate multiple lifetimes to a task (though not necessarily his OWN lifetimes), he'll get the job done even if it means breaking a few unbreakable rules and running rings around Hell's normal operating procedures. As for patience… well, Hell hasn't frozen over quite yet, so the verdict's still out on that, but he doesn't suffer fools lightly, let alone damned fools. After all, that Highway to Hell isn't going to get paved with just good intentions, so if someone has to suffer for all eternity, Hozuki's damned sure that it's not going to be himself in HOZUKI NO REITETSU!
Sources: MoCa news