Get ready for hype, folks, because the wilderness awaits!
Earlier today, the official My Hero Academia (Boku no Hero Academia) anime website updated with a new teaser trailer for the show's third season. The 98-second teaser features opening theme song Odd Future by UVERWORLD as a background track.
My Hero Academia's third season premieres on April 7. The new will focus on the original manga's "Forest School Trip" arc. Funimation previously confirmed that they will stream the season as a simulcast.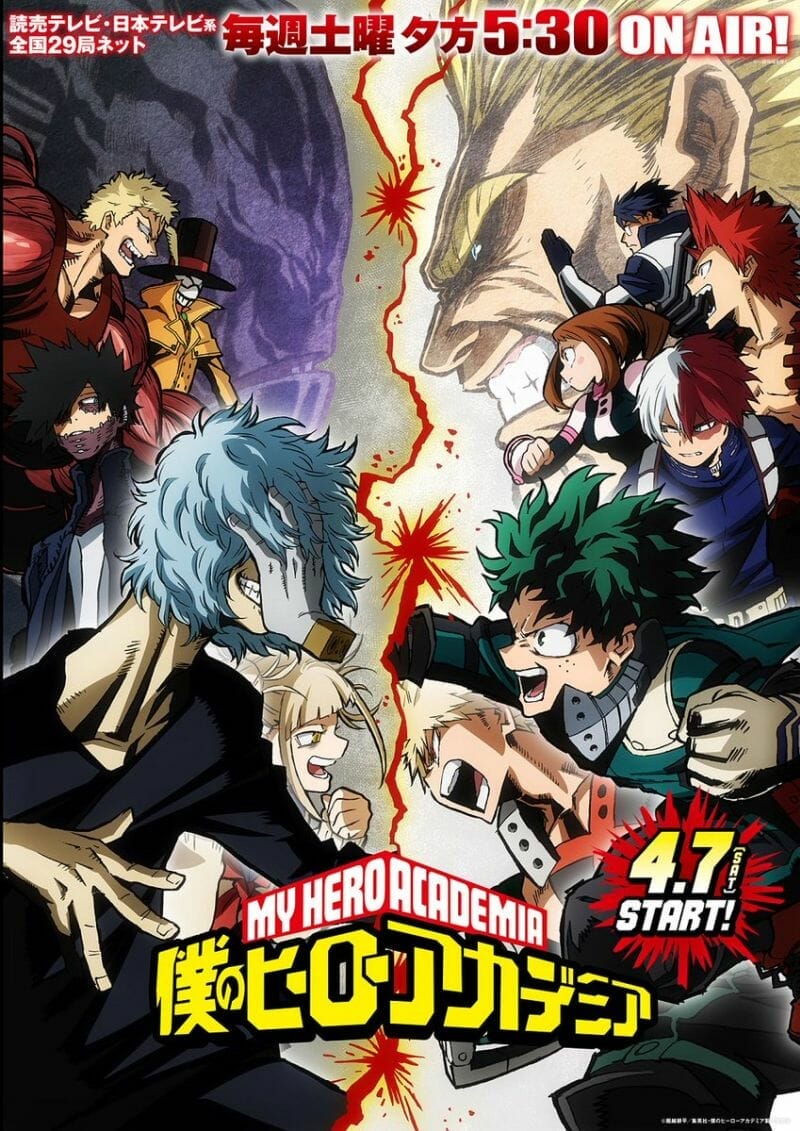 New cast members for the run include:
Mandalay ("Telepath" Quirk): Chisa Suganuma
Ragdoll ("Search" Quirk): Meiko Kawasaki
Tora ("Pliabody" Quirk): Shinnosuke Ogami
Pixie-bob ("Earth Flow" Quirk): Serina Machiyama
Kōta Izumi: Michiru Yamazaki
Mustard (Quirk: Sleep Gas): Kiyotaka Furushima
Moonfish (Quirk: Tooth Blade): Shuhei Matsuda
Muscular (Quirk: Muscle Augment): Kousuke Takaguchi
Ragdoll, Pixie-bob, Tora, and Ragdoll are members of the "Pussycats" Hero team. Mustard, Moonfish, and Muscular are members of the League of Villains. Kōta Izumi is a child who lost his parents, and grew to hate Heroes.
My Hero Academia is based on Kohei Horikoshi's manga of the same name. Kenji Nagasaki directed the first two seasons at Bones, with Yousuke Kuroda (Gundam Build Fighters, Trigun) penning the show's scripts. Yoshihiko Umakoshi (Berserk) was in charge of character designs.
Miwa will perform the show's closing theme song.
Funimation currently holds the rights to the first two seasons of My Hero Academia. They describe the second season as:
There's a new hero in town! "My Hero Academia" is a superhero origin story that soars to the top of the class!

Izuku has dreamt of being a hero all his life—a lofty goal for anyone, but especially challenging for a kid with no superpowers. That's right, in a world where eighty percent of the population has some kind of super-powered "quirk," Izuku was unlucky enough to be born completely normal. But that's not going to stop him from enrolling in one of the world's most prestigious hero academies. Now, the only thing standing between him and his first class is the academy's formidable entrance exam—nothing a little private tutoring from the world's mightiest hero can't solve.

In Season 2, it's Quirk versus Quirk as our young heroes face off in the ultimate showdown! The world-renowned U.A. Sports Festival begins now.
The first season of the show aired on TBS and MBS in the Spring 2016 broadcast season. Funimation currently holds the exclusive international home entertainment, video on demand, merchandise, and broadcast distribution rights to the property. The publisher streamed simulcasts for the series in the United States, Canada, The United Kingdom, and Ireland as episodes aired in Japan.
Source: Comic Natalie