It looks like this Super singer is making his mark on the ghostly ghouls in Kitaro's crew.
Earlier today, the official Gegege no Kitaro anime website updated with a new key visual, as well as details on the show's theme songs. We break the details down below.
Key Visual
The new visual features the major cast members arranged against a gloomy moonlit sky. Kitaro, Nezumi Otoko, and Neko Musume are front and center in the image.
Theme Song
Kiyoshi Hikawa (Dragon Ball Super) will perform the show's opening theme song. As of press time, the title has yet to be announced. Closing theme song Kagami no Naka Kara (From Inside the Mirror) will be performed by Kencha.
The series will begin airing on April 1, in Fuji TV's 9:00AM time slot, replacing Dragon Ball Super.
Koji Ogawa was tapped to direct the new Gegege no Kitaro anime at Toei Animation, with Sorato Shimizu (Birdy the Mighty Decode, Arjuna) providing character designs. Hiroshi Ohnogi is in charge of series composition for the project.
Other confirmed crew members include:
Producer: Yuuta Kano
Producer: Naoko Sagawa
Producer: Daichi Nagatomi
Chief Animation Director: Sorato Shimizu
Music: Yasuharu Takanashi
Music: -yaiba-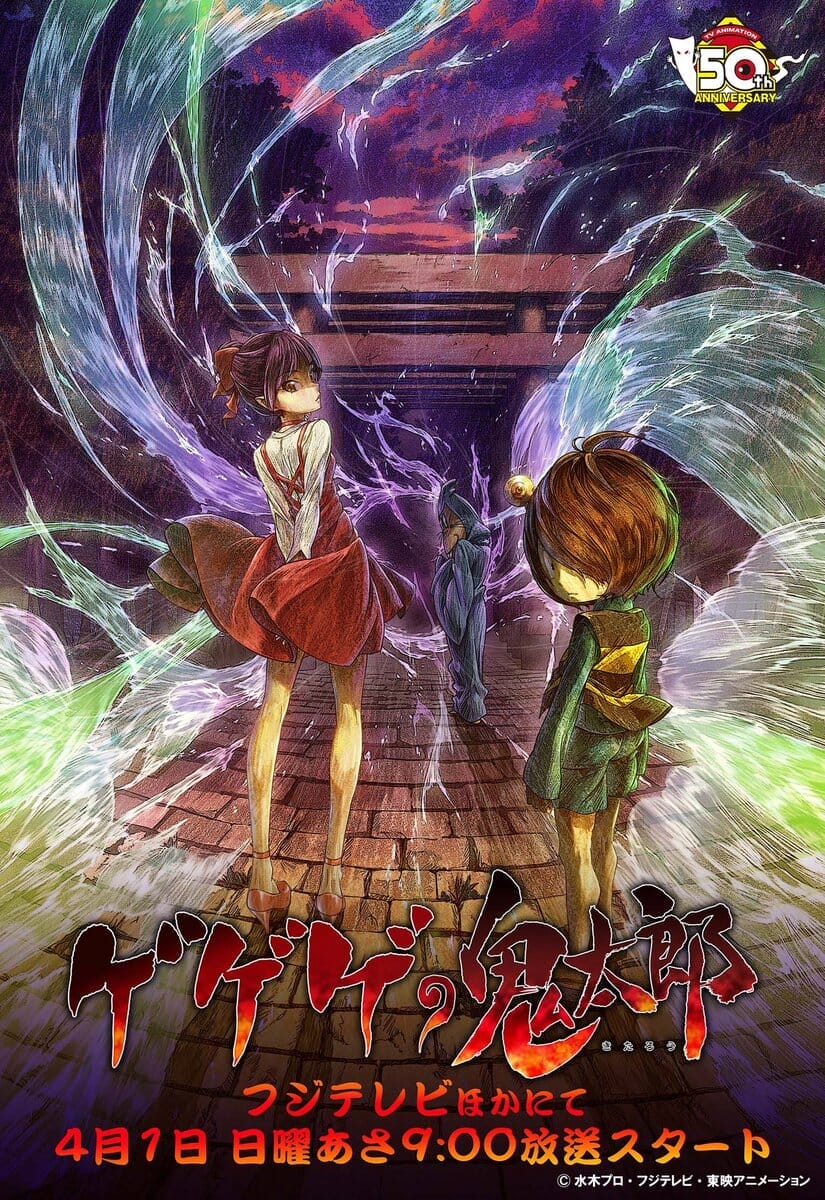 The series will star the following:
Kitarō: Miyuki Sawashiro
Medama Oyaji: Masako Nozawa
Mana Inuyama: Yukiyo Fujii
Nezumi Otoko: Toshio Furukawaas
Neko Musume: Umeka Shouji
Ittan Momen: Kappei Yamaguchi
Nurikabe: Bin Shimada
Konaki Jijii: Bin Shimada
Sunakake Baba: Mayumi Tanaka
Gegege no Kitaro was created by the late Shigeru Mizuki. The series began in Kodansha's Shōnen Magazine as Hakaba Kitarō in 1960. Originally, the work was deemed too frightening for children. It was renamed to Hakaba no Kitarō, which ran through 1967. The series received its final title in 1967, and ran through 1970. By the time it exited publication, Gegege no Kitaro spanned 9 volumes.
After its manga run, the series found life as an anime property. Six TV series and nine movies were produced since the show's anime début in 1968. The most recent title, Kitarō of the Graveyard, aired on Japanese TV in the Winter 2008 broadcast season.
Toei Animation produced all of Gegege no Kitaro's anime adaptations.
Source: Otakomu
Update 3/4/2018, 8:28PM Eastern: Animate Times reports that the show's opening song is the traditional GeGeGe no Kitaro theme song, which has been a mainstay in the franchise since the show's original run in the 1960s.