Happy Sunday, readers, and welcome to an all-new AniWeekly! Wow… a hundred and fifty installments, and nearly four years of these columns. It feels like just yesterday that we started these quirky round-ups. Through it all, we've helped to highlight the most exciting news and views from across the anime world.
I'd like to take a moment to extend my sincere thanks to all of you who've been reading, whether you're a first timer or you've been here since the very first installment, I'm glad that you've enjoyed these roundups.
But enough sentiment. The biggest happenings of the week await (and boy, did a lot happen this week!)
In the News
A perversion of justice. Rurouni Kenshin creator was sentenced for his charges of Possession of Child Pornography. The author was fined 200,000 yen ($1,896.74 USD), and will not see a jail cell. For possessing child porn. For saying in a deposition "I like the nudity of children, I bought it." Let that sink in for a second.
Arashi, get in the Liger. Zoids is back, folks! A new entry in the Zoids franchise, titled Zoids Wild, will receive an anime TV series, toys, a manga series, and a Nintendo Switch game.
Not a zero-sum game. Funimation unveiled their English dub cast for Re:Zero. Ram and Rem will be played by Ryan Bartley and Brianna Knickerbocker, respectively.
Change your passwords, folks! NIS America sent out a notice informing users that their online storefronts were compromised in a data breach. This includes the core NISA Online store, as well as the SNK Online Store.
Look, I'm gonna level with you folks… we're out of Pocky and they have some! So Bili Bili! Chinese streaming giant Bilibili officially filed paperwork for an IPO in the United States. According to the filing, the company aims to raise up to $400 million in its first round of investments.
A galaxy of stars… Sixteen cast members were confirmed for Production I.G.'s Legend of the Galactic Heroes anime series. The list has several heavyweights, including Yuuki Ono and Yuuki Kaji.
Your next challenge: the cozy chat. Indie animation group Irodori took to Twitter to unveil a new short for their Hentatsu anime project. The two-and-a-half minute feature continues the story from the first feature, and sees the two lead characters sharing a conversation in a cozy bistro.
続・趣味のアニメです #へんたつ pic.twitter.com/XiKNPYf5AL

— たつき/irodori (@irodori7) February 28, 2018
Heading out to the JAM lab. Japanese music industry group PROMIC announced that they launched the Japan Anime Music Lab website. The site, which is available in English (and other languages), aims to connect audiences to various anime song artists, plus their representatives.
I'm Gunma, you're Gunma… we're all Gunma! The first cast members were unveiled for the You don't know GUNMA yet anime series, along with a teaser trailer. The series will star Gakuto Kajiwara, Jun Kasama, and Aya Uchida.
A budding romance at Kitauji High. Several major cast members were unveiled for upcoming Sound! Euphonium movie Liz and the Blue Bird. A number of familiar faces are returning, including Tomoyo Kurosawa as Kumiko and Chika Anzai as Reina.
No, really. Why is the Kabaneri guy in this one? Upcoming Pokémon movie, Pokémon the Movie: Everyone's Story, received two trailers, a visual, and several staff members. Tetsuo Yajima will return to the director's chair for this one at Oriental Light and Magic and Wit Studio.
https://www.youtube.com/watch?v=c0arVTRwytA
Don't call it Story of Seasons. CoMix Wave Films and Haoliners are collaborating on a film, titled Shikioriori. The feature will be an anthology film, which covers three short stories. The three stories will focus around three core themes: food, clothing, and shelter. Each will also take place in a different Chinese city.
The night is short, but true majesty lasts forever. Last week, the Japan Academy held their 41st annual Japan Academy Prizes. During the show, it was announced that Masaaki Yuasa's Night Is Short, Walk On Girl film took home the award for Best Animated Work.
That's rad! A new key visual and trailer were unveiled for Hinamatsuri, fittingly on the Hinamatsuri holiday. The series will see Rie Murakawa performing opening theme song Distance.
Just beyond, an endless ocean awaits. Well, it's official! Grand Blue Dreaming is officially getting an anime series, which will be directed by Shinji Takamatsu at Zero-G. The show will hit Japanese TV this summer.
Penguins make everything better, even highways. Studio Colorido announced that they're working on an anime film based on Tomihiko Morimi's Penguin Highway novel. Hiroyasu Ishida was tapped to direct the project.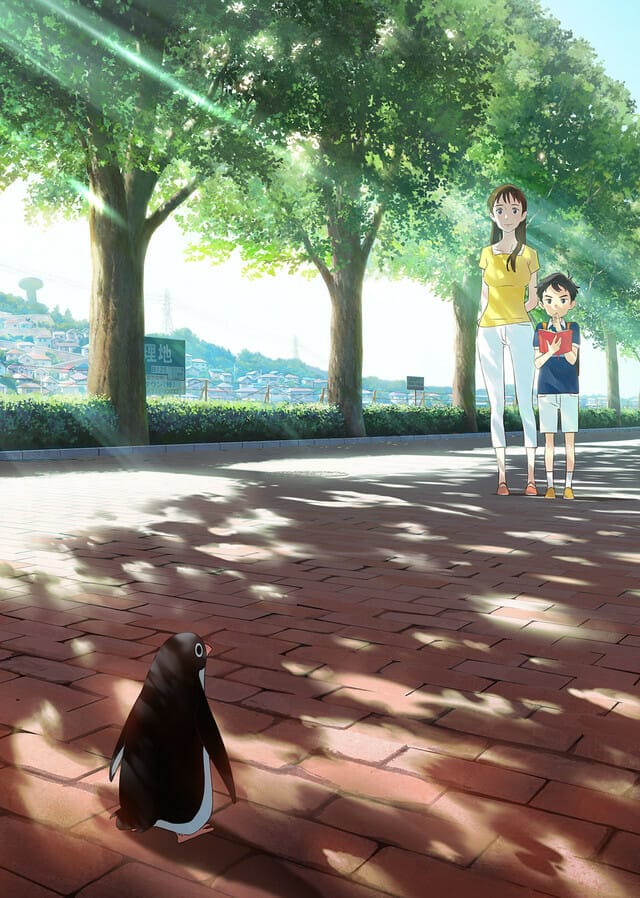 I will dive for you~! A new trailer, plus details on the theme songs for Gundam Build Divers were officially unveiled. SKY-HI will perform opening theme song Diver's High when the show airs on April 3.
A long, arduous road awaits. The core staff and cast behind upcoming anime Chio's School Road were officially unveiled. Takayuki Inagaki will direct the project at diomedia. Naomi Ōzora will play leading lady Chio Miyamo.
Kase-san and… new cast members! Five new cast members were confirmed for the upcoming Kase-san and… Morning Glories anime TV series. The roles include Ibuki Kido (Mikawa) and Yumi Uchiyama (Coach). Fukushi Ochiai was cast as a mystery role, which will be revealed later.
Join the club! A new trailer and visual for Cute High Earth Defense Club Happy Kiss! were officially unveiled, along with five new cast members. The new roles include Kousuke Toriumi as Taiju Unazuki and Yoshitsugu Matsuoka as Māsa Shirahone.
From the AniBlogging Community
A problematic representation… Anime Feminist's Kazuma Hashimoto wrote a fantastic essay on puzzle-adventure game Catherine. Specifically, Hashimoto raises a lens to general problematic treatment of transgendered individuals in the game through Erica, a trans woman who works as a waitress at in-game bar the Stray Sheep, and ties these issues to the greater views of transgendered individuals across Japan.
Bloggers (and hopeful bloggers), you need to read this! Lauren at Otaku Journalist put together a guide on how to use Google Analytics to help drive your content and build your brand. This is the type of stuff that normally comes after years of experimentation and tinkering, and something that just about every blogger and blogger-to-be should read post haste.
Weekly Fun Stuff!
This week, we're taking a trip to the world of video games. In their latest special, the Did You Know Gaming crew takes a look at the JoJo's Bizarre Adventure franchise's offbeat gaming lineage.
Our Supporting Lovelies
The following patrons help to keep us talking nerdy to you:
Hera's Helpers
Nerdy Talkers
Cave
Mike Ferreira
Lauren Orsini
Lydia Rivers
Renfamous
Phillip
You can help support Anime Herald, and get access to weekly behind-the-scenes articles for just $1 a month, through Patreon.