Soon, the somber melodies will play from beneath the boughs…
Earlier today, the official The Piano Forest (Piano no Mori) anime website updated with a new teaser trailer, as well as several cast reveals. We break the details down below:
Trailer
The 85-second trailer offers a look at the show in action, before cutting a black screen that lists the show's new cast members and the pianists who will play for the show's major characters.
A 4-minute trailer that introduces the pianists and their play style was also uploaded. You can check this out below.
Cast
The series will add the following:
Wei Pang: Yūichi Nakamura
Kōsei Hirata: Toshiyuki Toyonaga
Reiko Ichinose: Maaya Sakamoto
Lech Szymanowski: KENN
Takako Maruyama: Aoi Yūki
Sophie Ormesson: Mariya Ise
Karol Adamski: Katsuyuki Konishi
Takeshi Saga: Koji Yusa
Kōtarō Shiba: Hiroshi Yanaka
Namie Amamiya: Marie Miyake
Arisa: Ryou Hirohashi
Daigaku Kanehira: Motoko Kumai
Yōichirō Amamiya: Hideyuki Tanaka
Jean-Jacques Theroux: Bin Shimada
The confirmed pianists include (matching characters in parentheses):
Kyohei Sorita (Sosuke Ajino)
Ryoma Takagi (Shuhei Amamiya)
Wei Pang (Niu Niu)
Lech Szymanowski (Szymon Nehring)
Sophie Ormesson (Juliette Journaux)
Kotone Uehara
Modan Ooyama
Kamuro Sahara
Ayano Baba
The Piano Forest will begin airing on NHK on April 8, at 24:10 (4/9/2018 at 12:10AM).
Gaku Nakatani will direct the series at Gainax Fukushima, with Sumie Kinoshita (Girlish Number, A Sister's All You Need) filling the dual role of character designer and chief animation director. The team of Mika Abe (Danchi Tomoo) and Aki Itami (Rainbow Days, Flowers of Evil) is in charge of series composition.
The series will star the following:
Kai Ichinose (Adult): Sōma Saitō
Shūhei Amamiya (Adult): Natsuki Hanae
Kai Ichinose (Child): Ryoko Shiraishi
Shūhei Amamiya (Child): Yō Taichi
Sōsuke Ajino: Junichi Suwabe
Aoi Yūki will perform closing theme song Kaeru Basho ga Aru to Iu Koto (To Have a Place to Come Home To).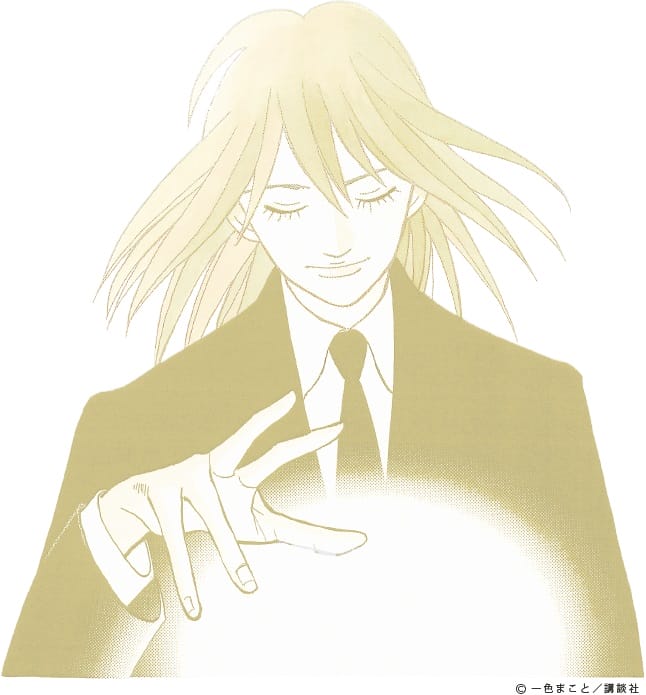 The Piano Forest manga launched in the pages of Kodansha's now-defunct Young Magazine Uppers in 1998. The series ran through 2015, switching to Weekly Morning magazine after Young Magazine Uppers' demise. The title spans 26 collected volumes, in total.
Madhouse produced an anime film based on The Piano Forest, which hit theaters in 2007. Masayuki Kojima (Made in Abyss, Monster) directed the project, while Shigeru Fujita (Eureka Seven: Hi – Evolution, Monster) provided character designs. Ryuta Hourai wrote the movie's screenplay.
Manga resource Baka-Updates describes the title as:
A tranquil tale about Shuhei Amamiya, who transfers to Moriwaki Elementary filled with hope and ambition about his new life. But it doesn't take long before he gets picked on by the class bullies, and gets involved in a dare to play the mysterious piano in the forest, leading to his meeting an enigmatic child that goes by the name of Kai Ichinose, who seems to be the only one capable of getting sound out of the thought-to-be broken piano. His ability earns him the respect of Shuhei and his music teacher, former master pianist Sosuke Ajino. At first Kai is resistant to refining his art but after hearing Sosuke play a Chopin piece he just can't seem to play by himself, he relents.
Source: Ota-suke