It's time to get a little look into this world of school romance.
Earlier today, the official Liz to Aoitori (Liz und ein Blauer Vogel / Liz and the Bluebird) website updated with a new trailer, plus several visuals.
We break the details down below.
Trailer
The minute-long teaser introduces the film's major characters and their actors, as theme song Songbirds by Homecomings plays as a background track.
Key Visual
The image features lead characters Nozomi Kasaki and Mizore Yoroizuka seated beside one another, as they play their instruments. Behind them, a fantastic scene from the book within the film is playing out.
Poster Visuals
Each of the posters features a different couple that appears within Sound! Euphonium.
Liz to Aoitori hits Japanese theaters on April 21.
Naoko Yamada (K-On!, A Silent Voice) was tapped to direct Liz to Aoitori at Kyoto Animation, with Futoshi Nishiya (Free! – Iwatobi Swim Club, Nichijou – My Ordinary Life) providing character designs. Reiko Yoshida (The Cat Returns, Girls und Panzer) is writing the feature's script.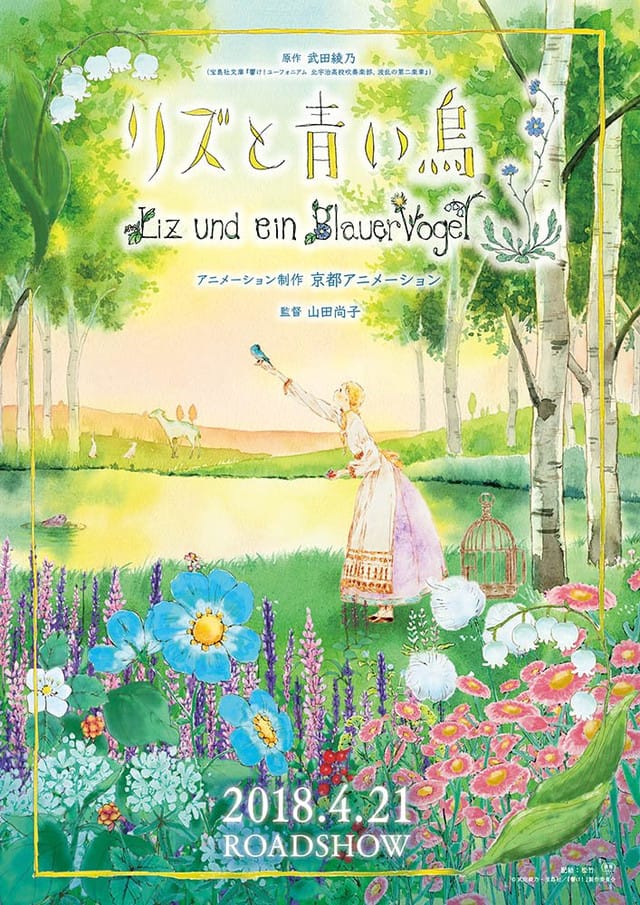 Addiitonal staff includes:
Art Director: Mutsuo Shinohara
Music: Kensuke Ushio
Color Design: Naomi Ishida
Instrument Setting: Hiroyuki Takahashi
Director of Photography: Kazuya Takao
3D Director: Tetsuo Umetsu
Sound Director: Yota Tsuruoka
Music Production: Lantis
Music Production Cooperation: Senzoku Gakuen College of Music
Music Supervision: Masahiro Ōwada
The film will star the following:
Satomi Niiyama: Houko Kuwashima
Masahiro Hashimoto: Yūichi Nakamura
Noboru Taki: Takahiro Sakurai
Ririka Kenzaki: Shiori Sugiura
Mizore Yoroizuka: Atsumi Tanezaki
Nozomi Kasaki: Nao Tōyama
Natsuki Nakagawa: Konomi Fujimura
Yūko Yoshikawa: Yuri Yamaoka
Kumiko Ōmae: Tomoyo Kurosawa
Hazuki Katō: Ayaka Asai
Sapphire "Midori" Kawashima: Moe Toyota
Reina Kōsaka: Chika Anzai
Liz: Miyu Honda
Orphan Girl: Miyu Honda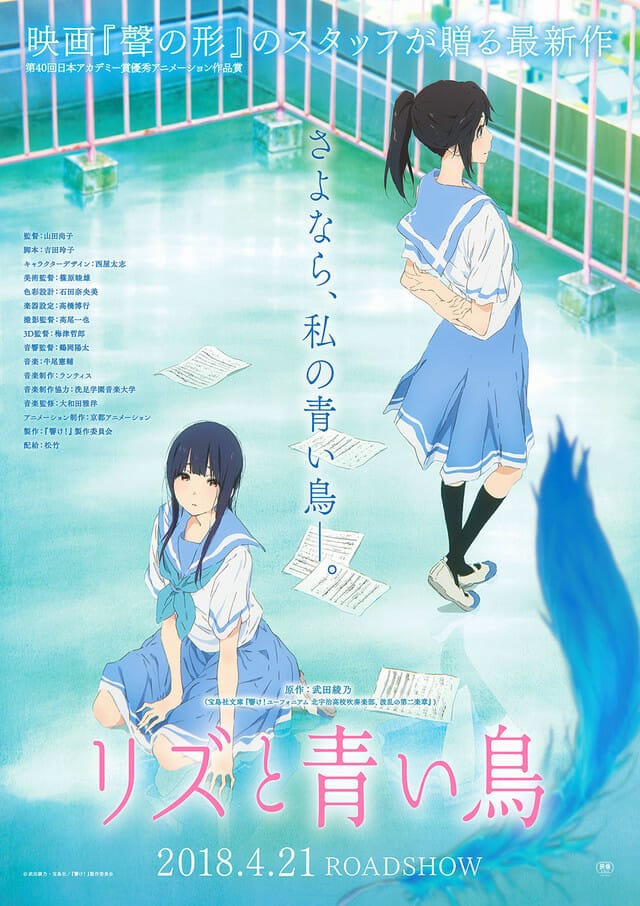 Ririka Kenzaki is a new character for the film. She's a first-year oboist who attempts to bond with upperclassman (and fellow oboe player) Mizore Yoroizuka. All other cast members are reprising their roles from the original Sound! Euphonium TV series.
Liz to Aoitori is a spinoff from Sound! Euphonium, which will focus on third-year students Nozomi Kasaki and Mizore Yoroizuka. The feature was originally unveiled in October 2017.
Sources: Otakomu, Comic Natalie