So, apparently, great criminals are tracked on Wikipedia now… odd.
Earlier today, the official Lupin the Third Part 5 anime website updated with a new trailer and key visual. We break the details down below:
Trailer
The minute-long trailer offers a look at the show in action, and introduces new characters Ami, Albert, and Goro. At the midway point, the music kicks into a Parisian-themed version of the classic Lupin III theme song.
Key Visual
The visual was drawn by character designer Hisao Yokobori. The image features main characters Lupin, Jigen, Fujiko, and Goemon, along with new character Ami Enan who are positioned in front of the Paris skyline.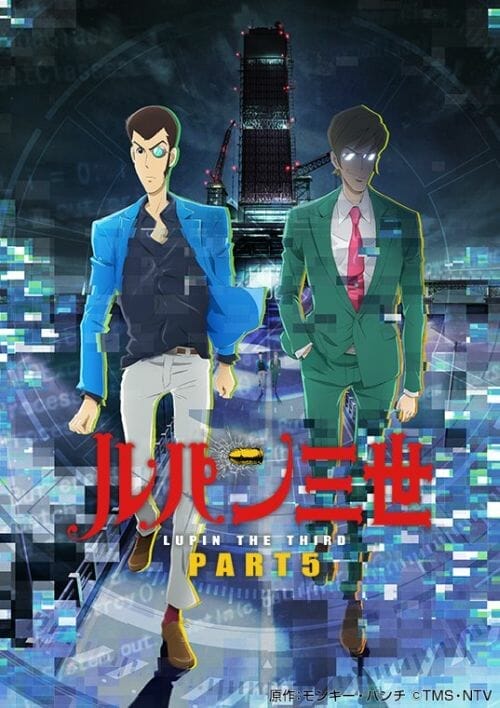 Lupin The Third Part 5 hits Japanese TV on April 3. The series will air as part of NTV's AnichU block at 25:29 (4/4/2018 at 1:29AM JST).
The full broadcast schedule is as follows (all times JST):
NTV: 4/3/2018 at 25:29 (4/4/2018 at 1:29AM)
Northern Japan Broadcasting (Toyama): 4/4/2018 at 25:29 (4/5/2018 at 1:29AM)
Sapporo TV: 4/5/2018 at 25:59 (4/6/2018 at 1:59AM)
Chukyo TV: 4/6/2018 at 25:59 (4/7/2018 at 1:59AM)
FBS Fukuoka Broadcasting: 4/7/2018 at 26:25 (4/8/2018 at 2:25AM)
Shizuoka Daiichi TV: 4/7/2018 at 24:00 (4/8/2018 at midnight)
Yomiuri TV: 4/9/2018 at 26:59 (4/10/2018 at 2:59AM)
TV Shinshu: 4/12/2018 at 25:44 (4/13/2018 at 1:44AM)
Nihonkai TV (Tottori / Shimane): 5/7/2018 at 26:05 (5/8/2018 at 2:05AM)
Nichireplus: 5/18/2018 at 21:30 (5/18/2018 at 9:30PM)
Yuichiro Yano (Lupin the Third Part 4, Aikatsu! movie) was tapped to direct the project at Telecom Animation Film, with Hisao Yokobori (Lupin III Italian Game) providing character designs. Ichiro Okouchi (Code Geass: Lelouch of the Rebellion, Kabaneri of the Iron Fortress) is in charge of series composition.
Miyuki Sawashiro will perform closing theme song Seine no Kaze ni… (Adieu) (To the Wings of the Seine… (Adieu)).
The confirmed voice cast for the project includes:
Lupin III: Kanichi Kurita
Goemon Ishikawa: Daisuke Namikawa
Fujiko Mine: Miyuki Sawashiro
Inspector Zenigata: Koichi Yamadera
Ami Enan: Inori Minase
Albert Dandridge: Kenjiro Tsuda
Goro Yatagarasu: Nobunaga Shimazaki
Lupin the Third Part 5 will be set in modern-day France. While Lupin will still fall back to his standbys, including his classic cars and trusty Walther P38 pistol, he'll also be adding a few high-tech gadgets and the raw power of the internet to his arsenal.
The title was first unveiled at last year's Japan Expo, which is held annually in Paris. At the time, a teaser visual was unveiled, which showed Lupin and Jigen atop relaxing with their car as they gaze upon Mont Saint-Michel.
Source: Ota-suke, Comic Natalie