Soon, the gates shall open anew, as a new tale winds its way through the rifts of time.
Earlier today, the official Steins;Gate 0 anime website updated with a new key visual, plus several cast reveals.
We break the details down below.
Key Visual
The image features the major cast members, set before a clockwork motif divided in twain.
Cast
The series will add five new cast members:
Nae Tennōji: Ayano Yamamoto
Alexis Leskinen: Yōji Ueda
Judy Reyes: Maya Nishimura
Katsumi Nakase: Mariko Honda
Kaede Kurushima: Hina Kino
Ayano Yamamoto is reprising her role from the previous Steins;Gate anime projects. Visuals for all five characters were also revealed, which you can check out below: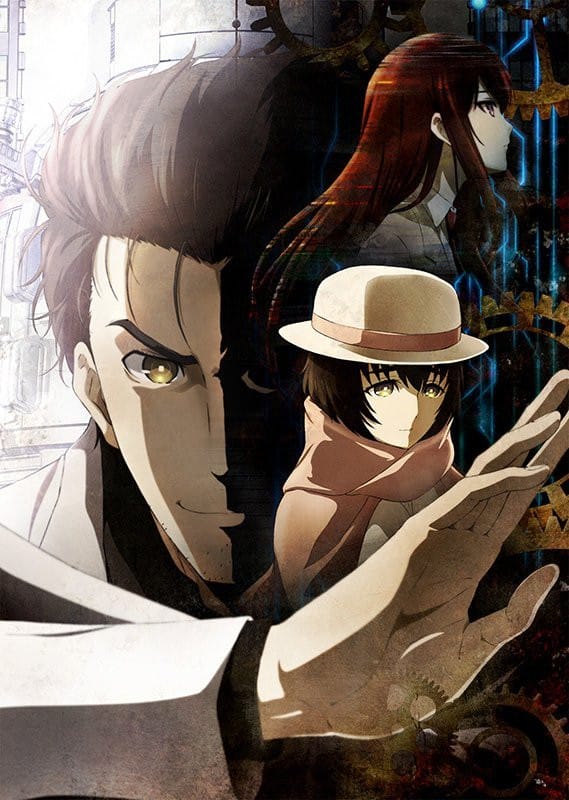 Steins;Gate 0 will hit Japanese TV in April. 24 episodes are planned, with 23 slated to air on TV, and one to serve as a home video exclusive. A stage event for the show is planned for Anime Japan 2018, which will be held on March 25. Voice actors Tomokazu Seki, Asami Imai, Sayuri Yahagi, and Mamoru Miyano will appear at the show as guests.
Kenichi Kawamura (Rozen Maiden, SoniAni: Super Sonico The Animation) will take the director's chair on Steins;Gate 0 at studio White Fox, with Tomoshige Inayoshi (Battle Spirits: Sword Eyes) providing character designs. Jukki Hanada (Love Live! School idol project, Steins;Gate) is in charge of series composition. Illustrator huke is credited with original character designs.
Hanada was also in charge of series composition for the original Steins;Gate anime. Tomoshige Inayoshi was an episode animation director for the original series.
The confirmed voice cast includes:
Rintarō Okabe: Mamoru Miyano
Mayuri Shiina: Kana Hanazawa
Itaru Hashida: Tomokazu Seki
Kurisu Makise: Asami Imai
Moeka Kiryū: Saori Goto
Ruka Urushibara: Yu Kobayashi
Faris Nyannyan: Haruko Momoi
Suzuha Amane: Yukari Tamura
Maho Hiyajō: Sayuri Yahagi
Kagari Shiina: Megumi Han
Yuki Amane: Yukari Tamura
All of the confirmed players are reprising their roles from the Steins;Gate visual novels and the 2011 anime series.
Steins;Gate 0 was announced as part of the "Steins;Gate World Line 2017-2018 Project," which was originally unveiled at this year's Anime Expo. At the convention, Kadokawa showed off a promotional trailer, which included the Steins;Gate 0 logo, as well as characters Rintarō Okabe and Mayuri Shiina clad in her Steins;Gate 0 outfit. The two are standing before the original Radio Kaikan building, which was devastated by a satellite impact. The trailer hints that the gate between "Zero" and the Beta World (where Rintarō was unable to save "her") will open.
Steins;Gate 0 is a 2015 follow-up to the original Steins;Gate. The title was released in North America in December 2015 by publisher PQube.
Sources: Comic Natalie, Ota-suke