So, yeah… the name of that attack is begging for a "taste the rainbow" chaser.
Earlier today, Crunchyroll started streaming an English-subtitled trailer for Magical Girl Ore. The promo is identical to the teaser that hit the web on February 28, albeit with English text and subtitles.
Magical Girl Ore will begin airing on April 2. Crunchyroll will stream the show as part of their Spring 2018 simulcast lineup. The premiere schedule is as follows:
AT-X: 4/2/2018 at 22:00 (4/2/2018 at 10:00PM)
Tokyo MX: 4/2/2018 at 25:40 (4/3/2018 at 1:40AM)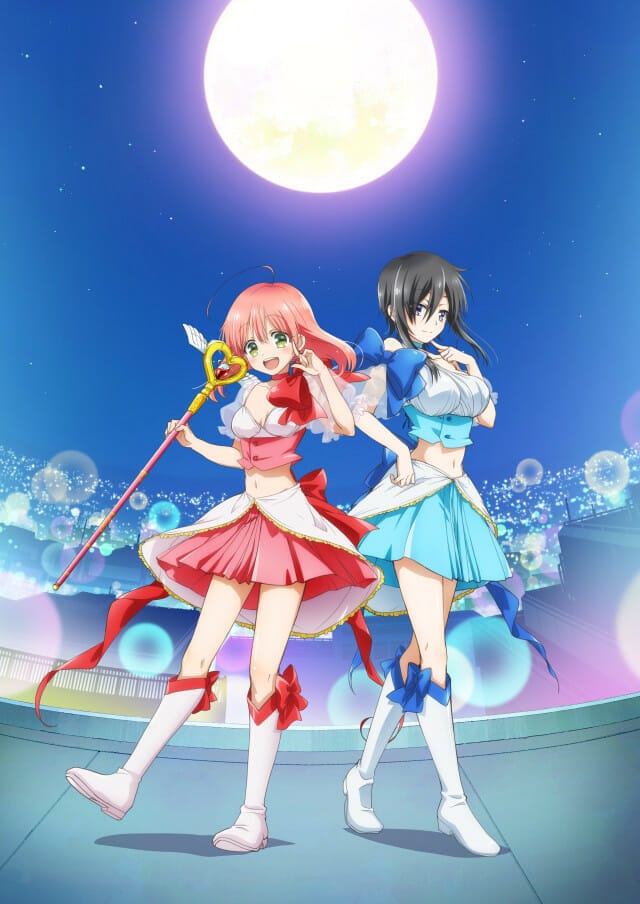 The series is based on Chokusen Moudama's manga of the same name. Itsuro Kawasaki (L/R: Licensed by Royalty, Rental Magica) was tapped to direct the project at studio Pierrot+, with Yukiko Ibe (Onigiri, Jewelpet Twinkle) providing character designs.
Ayaka Ohashi, who plays Saki Uno in the show, will perform intro song Noisy Love Power ☆. STAR☆PRINCE, a unit made up of Toshiyuki Toyonaga and Kouji Yusa, will perform ending theme Garasu no Ginga (A Galaxy of Glass).
The previously confirmed voice cast includes:
Saki Uno: Ayaka Ohashi
Sakuyo Mikage: Sachika Misawa
Saki Uno (Transformed): Kaito Ishikawa
Sakuyo Mikage (Transformed): Wataru Hatano
Mohiro Mikage: Toshiyuki Toyonaga
Hyōe: Koji Yusa
Konami Yamo: Showtaro Morikubo
Sayori Uno: Aya Hisakawa
Kokoro-chan: Kazuya Ichijō
Chokusen Moudama's Mahou Shoujo Ore manga launched in the pages of Fusion Product's Comic Be magazine in 2012. The series spans two collected volumes.
Manga resource Baka-Updates describes the title as:
15 year old girl is a newbie idol in love with her best friend's brother who is also a popular idol.

But she runs into a scary yakuza guy and finds out her mother was an ex-magical girl, the yakuza was her mascot. Her love interest gets kidnapped by demons that look like burly men with cute squirrel heads. So she contracts the yakuza to become a magical girl, which in this story means she turns into a handsome guy in a magical girl outfit. And her love interest shows an attraction towards her magical guy form? But her best friend (her love interest's sister) turns out to be in love with her and later also becomes a magical crossdressing guy to save her life.

Thus their manager is a magical girl geek and decides to make them into an idol unit.
In 2014, news broke that the title would receive an anime adaptation. A promo push was reportedly planned, yet the show never seemed to materialize.
Source: YouTube (Crunchyroll)