Today's new term is "stunt casting"!
Earlier today, Magical Girl Site fans flocked to the "Magical fest. ~Kitto Kitara Fukō ni Naru~" fan event. During the show, it was announced that "Virtual YouTuber" Kizuna Ai will join the show's cast. The character will play Administrator B (Okame).
The official Magical Girl Site Twitter account also updated with the video of the reveal.
【\追加キャスト発表!/】
サイト管理人 捌(おかめ)役としてバーチャルYouTuber #キズナアイ さん @aichan_nel が出演決定!
声優初挑戦!? ご期待下さい!#KizunaAI #魔法少女サイト pic.twitter.com/KpROpD8gA9

— 「魔法少女サイト」アニメ公式 (@MGSanime) March 18, 2018
Magical Girl Site hits Japanese TV on April 6. The series will air on the following networks:
TBS: 4/6/2018 at 25:55 (4/7/2018 at 1:55AM)
MBS: 4/6/2018 at 26:25 (4/7/2018 at 2:25AM)
BS-TBS: 4/7/2018 at 24:30 (4/8/2018 at 12:30AM)
SBS: 4/17/2018 25:58 (4/18/2018 at 1:58AM)
ATV: 4/23/2018 at 25:28 (4/24/2018 at 1:28AM)
AT-X: 4/11/2018 at 22:30 (4/11/2018 at 10:30PM)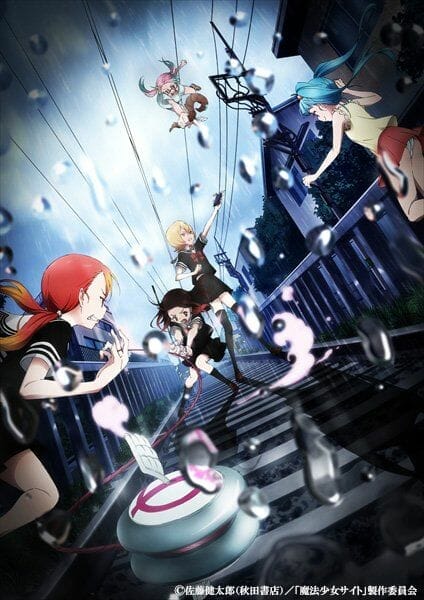 TBS and MBS will air the show during their Animeism block. As a reminder, Amazon holds the exclusive streaming rights to all Animeism titles for the forseeable future.
The series will be helmed by Tadahito Matsubayashi (Tokyo Ghoul: Pinto) at Production doA, with Takayo Ikami (Yurikuma Arashi, Beautiful Bones: Sakurako's Investigation) taking charge of series composition.
The confirmed voice cast includes:
Aya Asagiri: Yuko Ōno
Tsuyuno Yatsumura: Himika Akaneya
Rina Shioi: Aina Suzuki
Nijimi Anazawa: Yū Serizawa
Sarina Shizukume: Haruka Yamazaki
Kaname Asagiri: Nobuhiko Okamoto as
Kiichirō Misumi: Tatsuhisa Suzuki
Keisuke Naoto: Yūya Asato
Magical Girl Site is a spinoff from Kentaro Satō's Magical Girl Apocalypse, which ended publication on August 12. The ongoing title launched on the Champion Tap! website in July 2013.
Seven Seas currently holds the domestic rights to Magical Girl Site, which they describe as:
Asagiri Aya is a young girl who has fallen victim to bullies at her school. Looking for a way to escape her troubles, she looks to the Internet for distraction, when a mysterious website called "Magical Girl Site" appears. Simply viewing the page is all it takes to hurtle Aya headlong into the deadly world of the Magical Girl Apocalypse. There, it's fight or die, against a seemingly endless array of savagely adorable, frilly-skirted killing machines, each armed with magical powers and an unquenchable thirst for blood and chaos.
Source: Otakomu