Happy Sunday, readers, and welcome to an all-new AniWeekly! This week's been filled with surprises for fans new and old, with classic revivals, and fan-favorite continuations all making the headlines.
From girls with guns to award-winning adventures, this week's slate has something for even the most jaded of fans. So, without further ado, let's get to the details.
In the News
A mob of happy fans. It's official: Mob Psycho 100 is getting a second anime season! Even better, the core staffers will return to work on the project at Bones.
Back in the hole! (Aah!) Award-winning TV series Made in Abyss is receiving two theatrical movies! OK, they're compilation movies, which will recap the events of the original TV series. Both flicks will hit theaters this winter.
A rebellion, reborn. The official Code Geass Twitter account updated with details on the upcoming sequel project. The project will be a film trilogy, which carry the Re;surrection subtitle.
Let's get surreal. The first cast and crew members were unveiled for the Asobi Asobase anime series. The series is assembling a strong staff, which includes director Seiji Kishi and writer Yuuko Kakihara.
Dropping the beat! GoHands and Frontier Works are working on an original anime project, titled W'z. The project is aimed at women, and will feature musical contributions from more than 20 artists.
Holy stunt casting, Batman! During a fan event, news broke that Virtual YouTuber Kizuna Ai will join the voice cast for Magical Girl Site.
Kyoko's Revenge isn't over yet! Skip Beat! is finally getting a wide release in the west. Pied Piper's Blu-Ray set will hit retailers on June 10 with a suggested price of $59.99.
Straight from the coloring world… P.A. Works opened an official website to announce a new anime project, titled Iroduku Sekai no Ashita kara. Toshiya Shinohara was tapped to direct the project.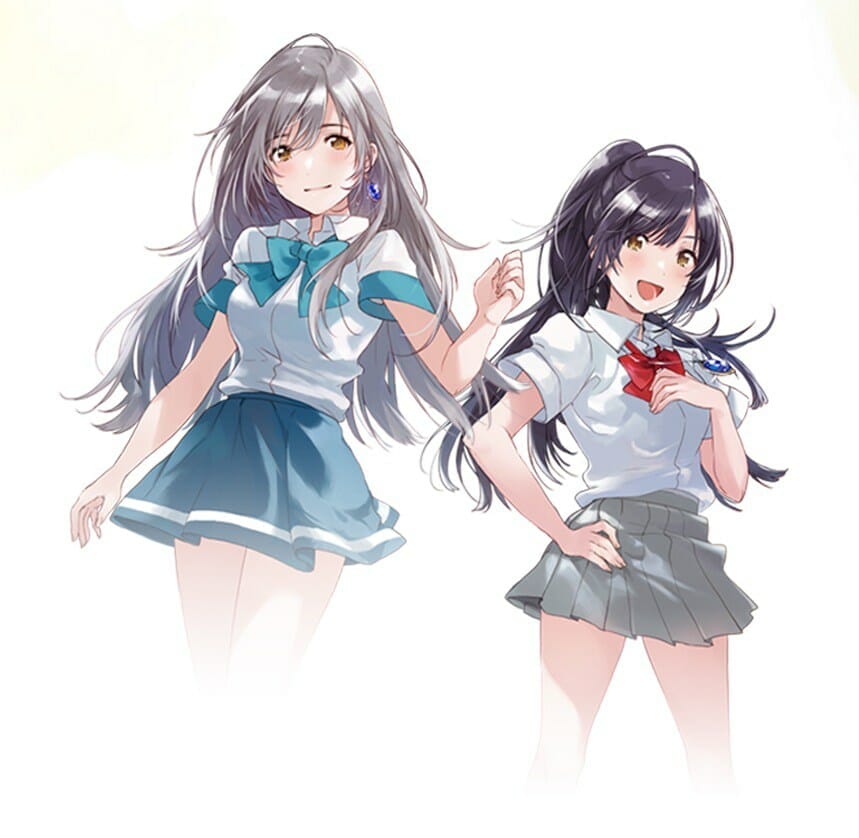 Tiger and… Decker? Remember that Tiger & Bunny anime project we mentioned a while back? Well, it's officially been unveiled! The new project is a buddy cop series titled Double Decker! Doug & Kirill.
What does the fox say? Studio 3Hz opened an official website and Twitter account for a new anime project, titled Blackfox. Ghost in the Shell: The New Movie director Kazuya Nomura is helming the project.
The Dark Knight rises in the Land of the Rising Sun. A new trailer, plus the full Japanese cast for Batman Ninja hit the web. The list of roles is impressive, with names like Yuuki Kaji, Akira Ishida, and Atsuko Tanaka playing prominent parts.
Blues Drive Monster~ Can't you just smash up this melancholy world of ours? A new key visual for FLCL 2 & FLCL 3 hit the web. It is amazing. That is all.
It's time to meet the landlady. A new trailer, plus the core crew members for Miss caretaker of Sunohara-sou hit the web. Masamune-kun's Revenge director Mirai Minato will helm this project at Silver Link.
Don't be foolish you foolish fool wearing the foolishly foolish clothes. The Ace Attorney anime is officially getting a second season this fall.
'Cause baby you're a firework! GKIDS announced that they acquired the rights to SHAFT's Fireworks, Should We See it from the Side or the Bottom? anime movie. The feature is slated to hit theaters this summer.
There's girls, there's songs… this one has "hit" written all over it! Studio DEEN's Ongaku Shōjo anime short will receive a TV series. Najica Blitz Tactics director Yukio Nishimoto will helm the project.
Get ready to go BALLISTIC! Anime Central announced that they will screen the world première of a new Gunsmith Cats anime short. In addition, the film's director and composer, as well as series creator Kenichi Sonoda will attend the convention as guests.
Better late than never…? Netflix USA announced that Violet Evergarden will hit their service on April 5. One full week after pretty much every other region has seen the finale and moved on to the new season of shows.
Farewell, ACJ. We hardly knew ye. Bandai Namco Rights Marketing announced that they will merge with Anime Consortium Japan (ACJ, henceforth). The merger, which will take place on March 20, will ultimately see ACJ dissolved, as it's absorbed into Bandai Namco Rights Marketing.
Not quite a split-up, but… ouch! A member of Kalafina is officially leaving the group. The decision was made after Yuki Kajiura's departure from Space Craft Produce last month.
The greatest brawler is back! The first cast and crew members for the Baki anime were officially announced. Nobunaga Shimazaki will play the titular Baki Hanma in the series.
Honey Flash! Two new cast members were confirmed for Cutie Honey Universe. Atsuko Tanaka will play the villainous Sister Jill.
The mysteries of the Saiyans shall be unlocked. The first cast and crew members for the Dragon Ball Super movie were officially unveiled. Tatsuya Nagamine is directing the project, while series creator Akira Toriyama writes the scripts and designs the characters.
From the AniBlogging Community
The world of crystal gems… Atelier Emily returns to Land of the Lustrous for look at the show's visual language. Specifically, her latest argument examines the visual bookending that frames the show, and its use of common motifs to create a familiar, yet fresh experience through the show's run.
Lovers of a certain age… Dee at AniFem takes a look at Ristorante Paradiso and After the Rain, two titles that deal with age-gap romances. In particular, they break down the differences between the two shows, and what makes Ristorante Paradiso so charming, while After the Rain comes across as, well… kind of skeevy.
Weekly Fun Stuff!
What's better than Chihayafuru? Chihayafuru as performed by cats! This minute-long video is an adorable tribute to the cult classic anime and manga series… though it loses points for not being titled Chihaya-MEW-ru.
Our Supporting Lovelies
The following patrons help to keep us talking nerdy to you:
Hera's Helpers
Nerdy Talkers
Cave
M. Ferreira
Lauren Orsini
Lydia Rivers
Renfamous
Phillip
You can help support Anime Herald, and get access to weekly behind-the-scenes articles for just $1 a month, through Patreon.