It looks like Toonami wasn't the only one dropping bombs today.
Earlier today, the official Japanese website for FLCL: Progressive and FLCL: Alternative updated with details on the titles' casts, as well as key visuals and a trailer.
We break the details down below.
Trailer
The 76-second teaser offers a new look at the titles in action. Theme songs Star Overhead and Spiky Seeds play as background tracks.
Key Visuals
The FLCL: Alternative visual features Haruko seated beside her Vespa. Kana Kawamoto sits on the back of the bike, looking away from the camera.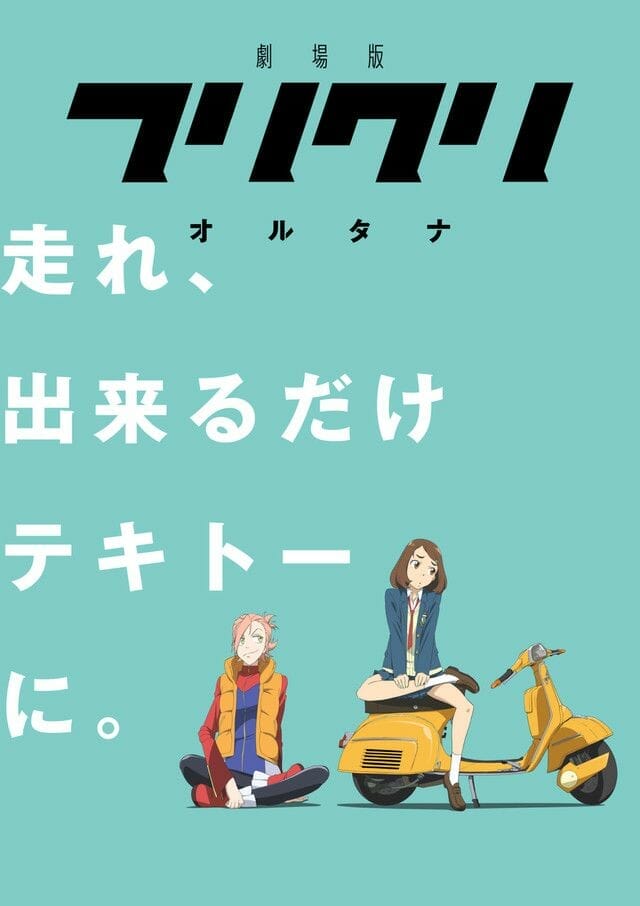 The FLCL: Progressive visual features Haruko leaning on a car, which has Hidomi seated on the hood. Ide is in the car's driver's seat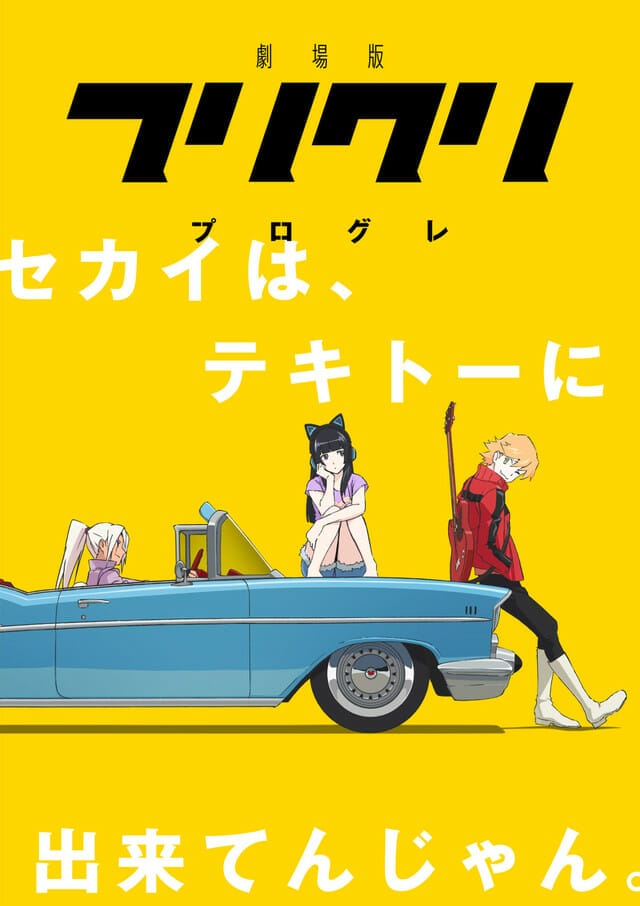 Cast
The titles will cast the following (Romanizations not official):
FLCL: Alternative
Haruko Harahara: Mayumi Shintani
Kana Kawamoto: Karen Miyama
Tomomi Heta (Pez): Yuri Yoshida
Sei Yajima (Hijiri): Riho Iida
Mitsuru Motoyama (Mossan): Mutsumi Tamura
Sudō Kan: Katsuyuki Konishi
Mon Sasaki: Takuma Nagatsuka
Aida-ben: Ryouta Suzuki
Shizuka Kōmoto : Miki Itou
Bunta Kōmoto: Maho Masaka (真坂真帆)
Yōga Denisu: Katsuji Mori
Maki Kitaki: Kaya Matsutani
Taichi Kanda: Yutaka Aoyama
FLCL: Progressive
Raharu Haruha: Megumi Hayashibara
Jin'yu: Miyuki Sawashiro
Hidomi Hibarirō: Inori Minase
Ideko: Jun Fukuyama
Goro Mori: Tomo Muranaka
Maruko Nogata: Masatomo Nakazawa
Aiko: Tomoyo Kurosawa
Hinae Hibarirō: Kikuko Inoue
Masurao: Kouji Ohkura
Eyepatch (Aipatchi): Takayuki Sugo
Tamurokichi: Jin Urayama
Tami Hanae: Reiko Suzuki
Theme Songs
The Pillows will perform Star Overhead as the theme song for FLCL: Alternative, and Spiky Seeds as FLCL: Progressive's opening theme.
FLCL: Alternative will hit Japanese theaters on September 7. FLCL: Progressive will open three weeks later, on September 28.
Kazuya Tsurumaki (FLCL, Gunbuster) is supervising the project, which features character designs by Chikashi Kubota (One-Punch Man, Corpse Princess). Hideto Iwai is writing the screenplay, and Kiyotaka Oshiyama (Space Dandy) is in charge of mechanical designs.
Yoshiyuki Sadamoto (Neon Genesis Evangelion, Summer Wars) is credited as original Character Designer. Katsuyuki Motohiro is credited as Supervising Director.
The Pillows will score the titles' soundtracks. Production I.G. is producing the animation.
That said, the two projects will feature different sets of directors. The list of directors for each project is as follows:
FLCL: Progressive
Kazuto Arai
Toshihisa Kaiya
Yuki Ogawa
Yoshihide Ibata
Kei Suezawa
Hiroshi Ikehata
FLCL: Alternative
Yutaka Uemura
Kiyotaka Suzuki
Adult Swim describes the FLCL: Progressive as:
FLCL: Progressive tells the story of 14-year-old Hidomi, her classmate Ide, and two otherworldly beings, "Jinyu" and "Haruha Raharu," who are determined to unlock their hidden potential. Mixed up in this is an all-powerful force known as "ATOMSK," a gorgeous vintage car… and a certain Vespa Scooter.
Adult Swim describes FLCL: Alternative as:
The series centers on the misadventures of 17-year-old Kana, a high school junior who spends her days hanging out with her besties, Mossan, Hijiri, and Pets. They live unremarkable lives, until the day a Mecha falls out of the sky, along with a strange woman named "Haruko." Her plans for Kana and her friends involve the force known as "ATOMSK." Kana will have to risk everything to decide whether or not to help… like she really has a choice!
Sources: Comic Natalie, Otakomu