It's almost time for the Quinx Squad to dispatch.
Earlier today, Funimation started streaming an English dub trailer for Tokyo Ghoul:re Trailer. The minute-long promo introduces the major CCG Investigators.
The series will hit Japanese TV on April 3. The full broadcast schedule is as follows:
Tokyo MX: 4/3/2018 at 23:00 (4/3/2018 at 11:00PM)
Sun TV: 4/3/2018 at 24:00 (4/4/2018 at Midnight)
TV Aichi: 4/3/2018 at 26:35 (4/4/2018 at 2:35AM)
TVQ Kyushu Broadcast: 4/3/2018 at 28:05 (4/4/2018 at 4:05AM)
BS11: 4/3/2018 at 26:30 (4/4/2018 at 2:30AM)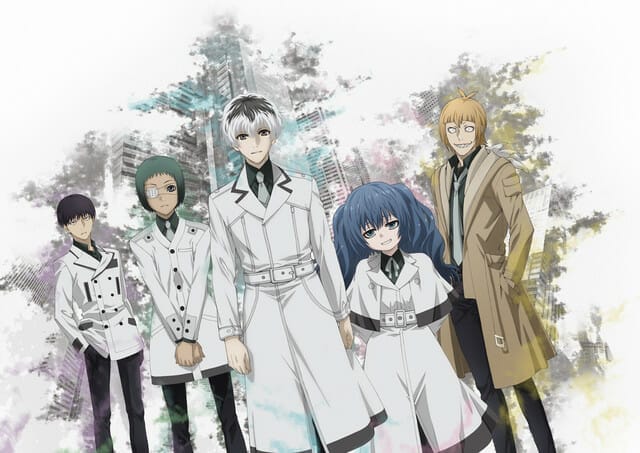 Funimation will stream the series as part of their Spring 2018 simulcast lineup. The first episodes will receive a SimulDub day and date with the Japanese broadcast.
Odahiro Watanabe (Soul Buster) will direct the project at Studio Pierrot, with Atsuko Nakajima (Ranma ½, You're Under Arrest!) providing character designs. Chuuji Mikasano (Tokyo Ghoul, Tokyo Ghoul √A) is in charge of series composition for the title.
Rock band Ziyoou-vachi will make their anime song debut with closing theme Half.
Funimation describes the show as:
A thrilling new chapter unfolds in Tokyo just two short years after the raid on Anteiku. Countering a resurgence of ghouls, the CCG selects young officer Haise Sasaki to lead an unruly team of humans infused with ghoul powers. Known as the Quinx Squad, they walk the line between humans and ghouls to rid the world of its most daunting threat. But no one said it would be easy. Let the hunt begin.
Tokyo Ghoul:re is based on Sui Ishida's manga of the same name. The title, which is a sequel to Ishida's Tokyo Ghoul, kicked off in the pages of Shueisha's Weekly Young Jump magazine in October 2014. The ongoing series currently spans thirteen collected volumes, with the most recent book hitting stores on October 19.
Viz Media currently holds the rights to the Tokyo Ghoul:re manga. They describe the series as:
Haise Sasaki has been tasked with teaching Qs Squad how to be outstanding investigators, but his assignment is complicated by the troublesome personalities of his students and his own uncertain grasp of his Ghoul powers. Can he pull them together as a team, or will Qs Squad first assignment be their last?
Source: YouTube (Funimation)