It looks like the puzzle master, himself, is back!
Earlier today, the official Layton Mystery Tanteisha: Katori no Nazotoki File (Layton Mystery Detective Agency: Kat's Mystery-Solving Files) anime website updated with two new cast members. The show will add the following roles:
Professor Herschel Layton: Kouichi Yamadera
Ura Brames: Manami Miyaji
Layton Mystery Tanteisha: Katori no Nazotoki File will hit Japanese TV on April 8.
Susumu Mitsunaka (Haikyu!!, Cuticle Detective Inaba) will direct the project at Liden Films, with Yoko Takada providing character designs. Akihiro Hino (Mobile Suit Gundam AGE) is in charge of series composition. Hino is also credited as the original creator and creative director for the series.
Opening theme song Change! will be performed by Kana Adachi. The show's closing theme, which is untitled as of press time, will be performed by Kana Hanazawa.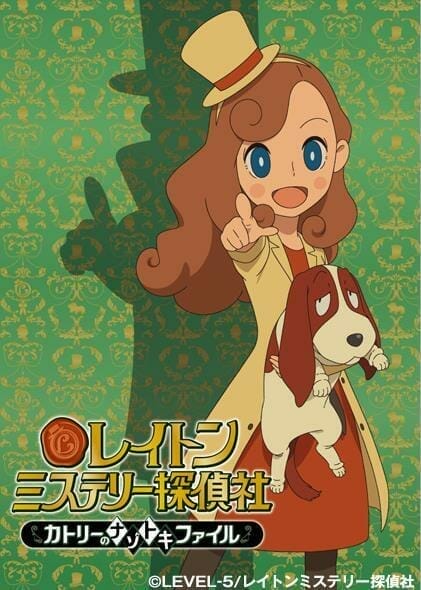 Other confirmed crew members include:
Music: Tomohito Nishiura
Original Character Design: Takuzō Nagano
Art Director: Takamasa Nakakuki
Sound Director: Ryō Tanaka
Director of Photography: Ayumi Okano
Assistant Director: migmi
Color design: Takahiro Mogi
Creative Director: Akihiro Hino
Prop Design: Takayuki Onoda
Sound Effects: Yuusuke Inada
The series will star the following:
Katrielle "Kat" Layton: Kana Hanazawa
Sherl: Juurouta Kosugi
Noah Montor: Kyousuke Ikeda
Darjeeling Aspoiro: Youhei Tadano
Simon Wright (Episode 1): Tsubasa Imai
Geraldine Loyer: Hibiki Yamamura
Hanazawa is reprising her role as Kat from the previously released video game. All other roles have been recast. Tsubasa Imai is a singer and actor, who is making her anime début in a guest role. A visual for Imai's character was released, which you can check out below:
Layton Mystery Tanteisha Katori no Nazotoki File is based on 2017 game Layton's Mystery Journey: Katrielle and the Millionaires' Conspiracy. The series will focus on Katrielle "Kat" Layton, daughter of the famed Hershel Layton. Much like her father, Kat solves mysteries throughout London with the aid of her talking dog Sherl.
Source: Comic Natalie