Now the whole world can see the amazingness that is Kitaro!
Yesterday, Crunchyroll announced that they will stream the new GeGeGe no Kitaro anime series as part of their simulcast lineup. The first episode went live on March 31 at 7:30PM Pacific (10:30PM Eastern) for users in the following regions:
North America
Latin America
Australia
New Zealand
South Africa
Europe
The series began airing in Japan today at 9:00AM local time, replacing Dragon Ball Super.
Koji Ogawa was tapped to direct the new GeGeGe no Kitaro anime at Toei Animation, with Sorato Shimizu (Birdy the Mighty Decode, Arjuna) providing character designs. Hiroshi Ohnogi is in charge of series composition for the project.
Other confirmed crew members include:
Producer: Yuuta Kano
Producer: Naoko Sagawa
Producer: Daichi Nagatomi
Chief Animation Director: Sorato Shimizu
Music: Yasuharu Takanashi
Music: -yaiba-
Kiyoshi Hikawa (Dragon Ball Super) will perform the show's opening theme song. As of press time, the title has yet to be announced. Closing theme song Kagami no Naka Kara (From Inside the Mirror) will be performed by Kencha.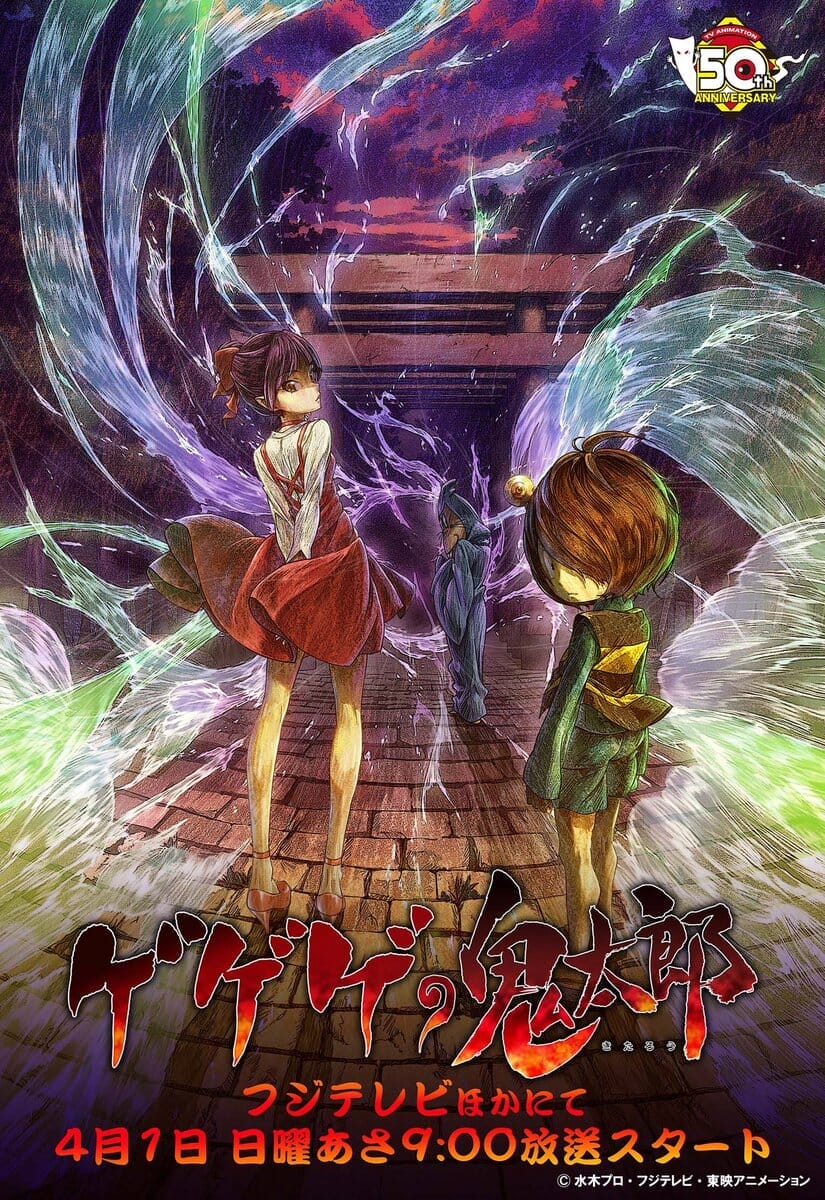 The series will star the following:
Kitarō: Miyuki Sawashiro
Medama Oyaji: Masako Nozawa
Mana Inuyama: Yukiyo Fujii
Nezumi Otoko: Toshio Furukawaas
Neko Musume: Umeka Shouji
Ittan Momen: Kappei Yamaguchi
Nurikabe: Bin Shimada
Konaki Jijii: Bin Shimada
Sunakake Baba: Mayumi Tanaka
GeGeGe no Kitaro was created by the late Shigeru Mizuki. The series began in Kodansha's Shōnen Magazine as Hakaba Kitarō in 1960. Originally, the work was deemed too frightening for children. It was renamed to Hakaba no Kitarō, which ran through 1967. The series received its final title in 1967, and ran through 1970. By the time it exited publication, Gegege no Kitaro spanned 9 volumes.
After its manga run, the series found life as an anime property. Six TV series and nine movies were produced since the show's anime début in 1968. The most recent title, Kitarō of the Graveyard, aired on Japanese TV in the Winter 2008 broadcast season.
Toei Animation produced all of Gegege no Kitaro's anime adaptations.
Source: Crunchyroll