Hosts: Patrick Delahanty (Founder), Mara Carpathian (Vice Chair), Christian Daly (Chairman), Elliot (Facilities Liaison)
It seems like an eternity ago, but there was once a time when the Ocean State had its own anime con… for one year. Dubbed the Providence Anime Conference, the event was billed as the world's first 21+ anime convention. The con was held at Rhode Island Convention Center from October 3 – 5, 2008.
Though the event was well-received by its attendees (yours truly, included) and guests alike, and the panels were full to capacity, the event was doomed by the time the doors opened on day one. The conference opened registration, expecting to cap out at 2,000 attendees. They received just over 10% of that in their final ticket sales count. As of this moment, the event's Twitter account, which has been dormant since 2009, boasts nearly seven times as many followers as there were actual attendees at the show proper.
The question remains to this day: how did an event with such promise go so wrong?
In the Providence Anime Conference: 10 Years Later panel, event founder Patrick Delahanty, convention chair Christian Daly, Vice Chair Mara Carpathian, and Facilities Liaison Elliot set out to do that in a playful postmortem. Through the hour-long conference, Delahanty and company bubbled over the ins and outs of what went wrong, telling the affair through a myriad of war stories, and even proving that there are some potential upsides to totally whiffing on execution.
The event began as a brainchild of Patrick Delahanty, who was Anime Boston's chairman at the time. He explained that he wanted to build an event for a more mature audience, where people could drink, and didn't have to deal with younger badge-holders screaming in the halls, or random attendees assaulting folks with yaoi paddles. With this in mind, he decided to move ahead and write a proposal.
Mind you, the proposal included a few "offbeat" comments. Highlights included:
Older anime convention attendees have stopped going to conventions, due in part to a few immature teens that annoy or offend older and more mature attendees.
The desire for an 18+ or 21+ convention would let older fans enjoy their hobby among friends without the distraction of screaming fangirls and smelly fanboys.
At the time, Delahanty noted, the sentiment arose from his days immediately following his tenure as convention chair. In 2006, he moved to guest staff. He recounted a Vic Mignogna panel that he had worked, which was dominated by younger fans who would beg the actor for hugs, or ask him to recite specific lines as opposed to asking actual questions. He had also seen the audience of Arisia, which catered to a far older audience than most cons.
The timing was decided as to avoid the proverbial storms that are Otakon and Anime Expo, as well as the very real winter storms that plague Rhode Island from November through March. And, as Rhode Island didn't have a major convention at the time, it seemed ripe to claim. The location setup was similar to that of the Hynes, the RI Convention Center had a wealth of floorspace to work with.
Then came the challenge of choosing a name. The crew wanted to avoid the whole "Japanese Word-con" format (i.e. Mikkakan, Katsucon, Kumoricon), as it invites confusion. The team followed the advice of Anime on DVD forum poster Megazone, who noted during the naming campaign for Anime Boston that "Anime Boston tells you not only what it is, but where it is, so it's advertising within itself." The idea of calling it a "conference" was to instill a sense of professionalism into the event, and to appeal to the older crowd – "The Star Trek guys!"
Delahanty continued, explaining that the registration proposal was offbeat from the start. Ticket sales worked on the assumption that this convention would crush 2,000 attendees (big mistake), and wouldn't bother with at-door registrations. The pre-order discount would be awarded by number of registrations, as opposed to specific date gates. He joked that it made the event "really easy to budget, or so I thought until we broke that budget!"
The contracts were signed… and some huge mistakes were made in the process. Carpathian noted that they "could have read some things better, maybe done some better research […] One thing we didn't really realize was that Boston was an area that was dying for an anime convention. Providence? Not. Perhaps it could, but maybe not a 21+ convention. Certainly not, like, an academic conference. Certainly not this thing that just didn't really know what it was that we, it was really kind of over-ambitious." She added that, by failing to do their research, the deal "bit [the team] in the ass butt-hard."
Delahanty and Daly chimed in, agreeing that they were definitely feeling some arrogance for hitting a grand slam with Anime Boston. As a result, they signed a truly awful contract with the Westin Hotel.
In 2007, the convention was ready to announce. The website was launched, because they revealed the 2008 event at Anime Boston 2007. As expected, it went over as well as a curse word in church… Patrick groaned at the memory of the time.
And, well, it's easy to see why. The video of the reveal is still online, and it is super awkward. Check it out!
With the event announced, nothing exactly happened on the public side. On the operations side, the crew started to build a staff. They didn't want to burn out the Anime Boston staff, so they started to invite "The B Team" – the folks who "had potential", as opposed to the current Anime Boston leadership.
In doing so, though, many people who were expecting invites started to grow resentful of the Providence staff. This led to infighting and animosity, including one "for your own good" vote that was straight-up hurtful.
To promote the Providence Anime Conference, the team went to various events, including:
First Night Boston
Otakon
Anime Boston
AnimeNext
Connecticon
Sadly, the Providence banner was placed low on the display, and generally remained hidden when people stopped by the booth. Mara, who was desperate to have more people registering, brought in her friend, who was cosplaying as Dragon Ball Z's Android 18. They "exploited [her] friend and her youthful sexuality," by having the cosplayer bend over the table and eat a banana suggestively, while yelling things about the convention… mostly about "getting drunk and watching cartoons, and sexy times."
No, really.
The convention also advertised in Anime Insider, which was targeted toward the tween demographic.
On top of this, the crew made one surprising, and very crucial mistake. Delahanty noted that, as he was putting the panel together, he realized that the convention never promoted itself in Rhode Island.
Kind of an oversight, there.
He noted that, for Anime Boston, the staff went directly to anime clubs to talk with people and build excitement. They didn't even set foot into the Ocean State unless they were touring the event facilities. Carpathian noted that there was a plan to advertise and promote, it was just never implemented for, well, reasons.
Then came Anime Boston 2008, which has gained notoriety as LineCon among its attendees. A new registration system implementation went awry, leading to massive registration lines, as people waited for up to ten hours to get into the event. Because of this, pre-registrations went up late for Anime Boston. And, because Providence Anime Conference was using the same system, its own registration window was pushed back.
To promote the event at Anime Boston, the crew hosted a panel… on Easter Sunday at 1:00PM. Delahanty noted that there were more people in the room for the ten-year panel than there were for that event.
Registrations went online shortly after Anime Boston. They waited for that big flood of registrations, which never came. Delahanty remarked that "it's like 'Ohhhhhh shit. We have a problem!'"
Due to the stress of the registration woes, the person in charge of pre-registrations (and chair of Providence Anime Conference) up and quit. Mara quickly found herself over her head, leading Christian Daly to step into the lead. He likened the experience as: Do you remember in the Big Lebowski, when The Big Lebowski is yelling 'The plane is crashing into the MOUNTAIN!'
Delahanty chimed in, noting that the event's plan to not over-stress the team was working out swimmingly. He confirmed that Daly was head of exhibits in Anime Boston and Providence Anime Conference, and he's PAC chairman, and he's head of the New England Anime Society.
Daly noted that he tries to follow the motto set by Golgo 13, "get things done, get things done quickly," but added that he spent a lot of time stressing right out.
Things quickly went into emergency mode, due to the low attendance. Guest booking changed, moving away from academic guests like Helen McCarthy to more recognizable names like Chris Ayres and Kevin McKeever. The pre-registration price increases were nixed entirely, but they couldn't lower the rate as they'd have to pay folks who already bought badges.
All the while, the convention's PR manager had simply disappeared. She had moved to Alaska, and plans that had been had and money that was budgeted never got spent. All the while, the PR person kept sending false assurances that everything was fine. In the end, firing the girl fell upon Mara, who gave an ultimatum: "You have the choice of you can resign to me now, or you can wait until we have a vote of no confidence in you and we kick your ass out of here." The PR person resigned three weeks ahead of the conference. She promised to not retaliate against the convention if they choose to seek legal action.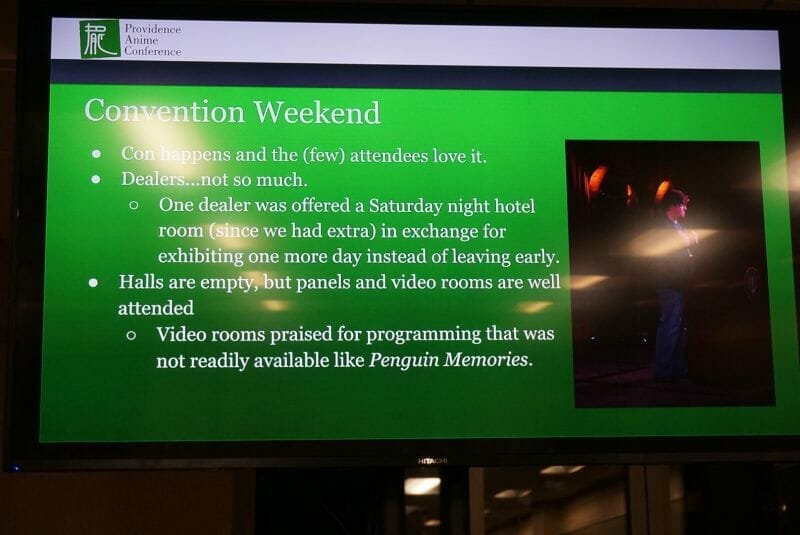 With three weeks left, the crew was floundering. A person from Bawl's soda (Hey, remember that?!) wanted to promote their wares at the event… but ultimately got cold feet. "Damn it! Damn it, we lost that Bawl's promotion!" Mara cried with exasperation. Screams of "shit!" became a frequent occurrence in the build-up, especially as they realized how awful the contracts were.
The contracts were so bad that it was cheaper to have the event run with zero attendees, than to cancel (Editor's Note: welcome to Rhode Island…).
Elliot explained that due to his previous work with the Sheraton in Boston, he had an in to negotiations. More important, the hotel couldn't try to bullshit him. Having came on after the ink was dry on the contracts, though, he couldn't work much magic on that front. He took one look at the contract, and said "Yeah, we signed this, we're shit out of luck"
Apparently, the agreement guaranteed 3,000 room nights at the Westin Hotel (three nights for 1,000 people, in layman's terms), which was over $10,000 in guaranteed payments to the hotel that they could use or lose. The Westin was apparently very accommodating, and allowed Elliot to use the funds for whatever he wanted… alcohol aside. As a result, every single staffer got their own room. Even Anime Boston staff who wanted to visit got their own rooms. Friends and friends of friends got rooms… whatever it took to get butts into seats.
In addition, every single staffer received breakfast. As in full-on breakfast. Every staffer who drove in got parking.
Then came the day of the convention. The event was a huge hit with the attendees. The halls were empty, but the panels and video rooms were jam packed with people. The biggest highlight from the video programming, Delahanty noted, was Penguin Memories: a rare OVA that was fan-subbed by Neil Nadelman for the con. The feature was produced by Suntory, which tells the tale of a penguin whose slice-of-life life was torn asunder when he was drafted to fight in Vietnam. Years later, the penguin is plagued by flashbacks and repercussions.
The Masquerade became a no-prize costume exhibition, which only ran for a fraction of its 90-minute planned run time. To fill time, the staff lipsynched parts of Dr. Horrible's Sing-Along Blog.
Meanwhile, the bar was serving stiff drinks. "It was like 'Here, this is for your sorrows'," Elliot joked. Delahanty added that, while Anime Boston holds a strict "no drinking on duty" policy, the Providence Anime Conference team needed it. They recounted the Extreme Geek panel, in particular, where people were joining in, totally buzzed. Likewise, they recounted a room full of inebriated folks watching Titanic: The Legend Continues.
The dealers, on the other hand, hated the situation. One dealer was actually offered a Saturday hotel room to keep their shop open for the full event. Daly noted that there needed to be some real mea culpas needed to be issued the following year.
Delahanty noted that he ran a panel called "How to Start an Anime Convention" during the conference. According to Delahanty, during the presentation, he slowly came to a realization that Providence Anime Convention was a textbook example of "What not to do when starting a con."
According to Elliot, even with the room giveaways, the freebies, the nonstop room service, and other giveaways, the convention still didn't come close to touching the room guarantee cost.
Carpathian quipped that PAC was "the best Anime Boston staff retreat ever!"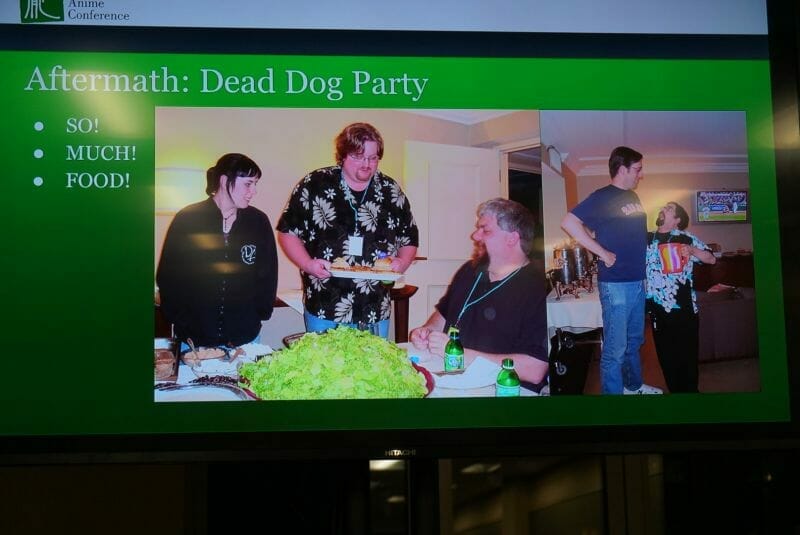 The "Dead Dog" staff party was the stuff of legends. "The fall of goddamn Rome," as Carpathian commented. The staff received a full-course buffet, which included prime rib, potato stations, and a made-to-order bruschetta station. The morning after the Dead Dog, the Providence Anime Conference staff were greeted with a full breakfast buffet, and even more food!
The PAC team's presentation was a fascinating piece of oral history, which shed light on a beloved, if unsuccessful event in our subculture's history. The tales of early arrogance and staff fights were underscored beautifully by the absurd, whether it was the tale of the PR representative who disappeared to Alaska, or Elliot's discussions about "rooms on rooms." The hosts delivered their tales with a punchy, self-deprecating sense of humor, which helped to really underscore just how surreal the event was for the folks running the show.
Though Providence Anime Conference is dead and buried, it's clear that there was some real love for the event from the folks who attended it, and those who ran it. It was a rare, valuable look at these observations from the inside, accented by the rare photos and relics from the convention. (Delahanty actually wore an original PAC shirt to the panel)
I don't expect the crew to tell these tales onstage again for another five or ten years, so to be able to catch this was a rare opportunity to enjoy that massive unwritten, quickly vanishing oral history that binds our fandom's earlier days together.