All-Might is looking mighty energetic in this new trailer.
Earlier today, the official My Hero Academia THE MOVIE: Futari no Hero (My Hero Academia the Movie: The Two Heroes) website updated with a new teaser trailer. The 30-second promo introduces "I Island", and offers a quick glimpse at a much younger All-Might.
At the end of the promo, All-Might cries "Let's go!"
My Hero Academia THE MOVIE: Futari no Hero hits Japanese theaters on August 3.
The film will be set overseas, on a massive, man-made floating city known as "I Island." The feature is set during the Forest Training Arc, and promises to show the "younger days of All-Might."
The My Hero Academia anime TV series will return to Japanese TV on April 7. The new will focus on the original manga's "Forest School Trip" arc. Funimation will stream the first six episodes day and date with the Japanese episode premieres. The new season will run for 25 episodes.
My Hero Academia is based on Kohei Horikoshi's manga of the same name. Kenji Nagasaki will return to direct the new season at Bones, with Yousuke Kuroda (Gundam Build Fighters, Trigun) penning the show's scripts. Yoshihiko Umakoshi (Berserk) is in charge of character designs.
UVERWORLD will provide opening theme song Odd Future, while Miwa performs the show's closing theme song.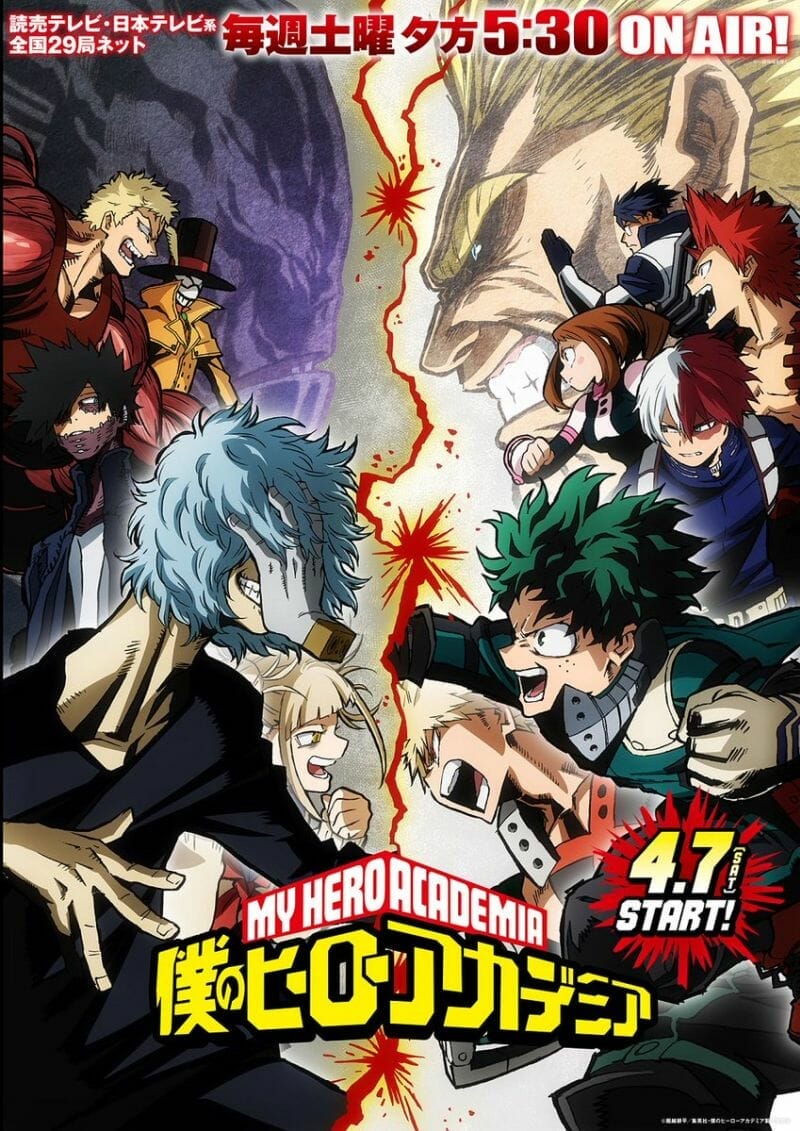 New cast members for the run include:
Mandalay ("Telepath" Quirk): Chisa Suganuma
Ragdoll ("Search" Quirk): Meiko Kawasaki
Tora ("Pliabody" Quirk): Shinnosuke Ogami
Pixie-bob ("Earth Flow" Quirk): Serina Machiyama
Kōta Izumi: Michiru Yamazaki
Mustard (Quirk: Sleep Gas): Kiyotaka Furushima
Moonfish (Quirk: Tooth Blade): Shuhei Matsuda
Muscular (Quirk: Muscle Augment): Kousuke Takaguchi
Twice (Quirk: "Double"): Daichi Endō
Mr. Compress (Quirk: "Compress"): Tsuguo Mogami
Spinner: Ryō Iwasaki
Magne (Quirk: "Magnetism"): Satoru Inoue
Ragdoll, Pixie-bob, Tora, and Ragdoll are members of the "Pussycats" Hero team. Mustard, Moonfish, and Muscular are members of the League of Villains. Kōta Izumi is a child who lost his parents, and grew to hate Heroes.
Funimation describes the new season as:
Summer is here, and the heroes of Class 1-A and 1-B are in for the toughest training camp of their lives! A group of seasoned pros pushes everyone's Quirks to new heights as the students face one overwhelming challenge after another. Braving the elements in this secret location becomes the least of their worries when routine training turns into a critical struggle for survival.
Source: Twitter (heroaca_movie)