It looks like this sweet love story will get its time on the big screen.
Earlier today, the official Kase-san And Morning Glories (Asagao to Kase-san) anime website revealed new details on the OVA's upcoming theatrical run. The title will open on June 9 at the Shinjuku Baltic 9 and Ikebukuro HUMAX Cinema.
Tickets will go on sale on April 14, with a suggested price of 1,840 yen ($17.24 USD). Folks who pre-order will receive a limited edition Mobike card, as well as a set of postcards (while supplies last). The postcards will feature images by prominent yuri manga artists:
Gido Amagakure (Sweetness and Lightning)
Akiko Morishima (Seijun Shoujo Paradigm)
Mera Hakamada (The Last Uniform)
Yoko Imamura (Honto no Kanojo)
Milk Morinaga (Girl Friends)
The Asagao to Kase-san OVA will will receive a limited theatrical release. 20 theaters across Japan will screen the title starting June 9.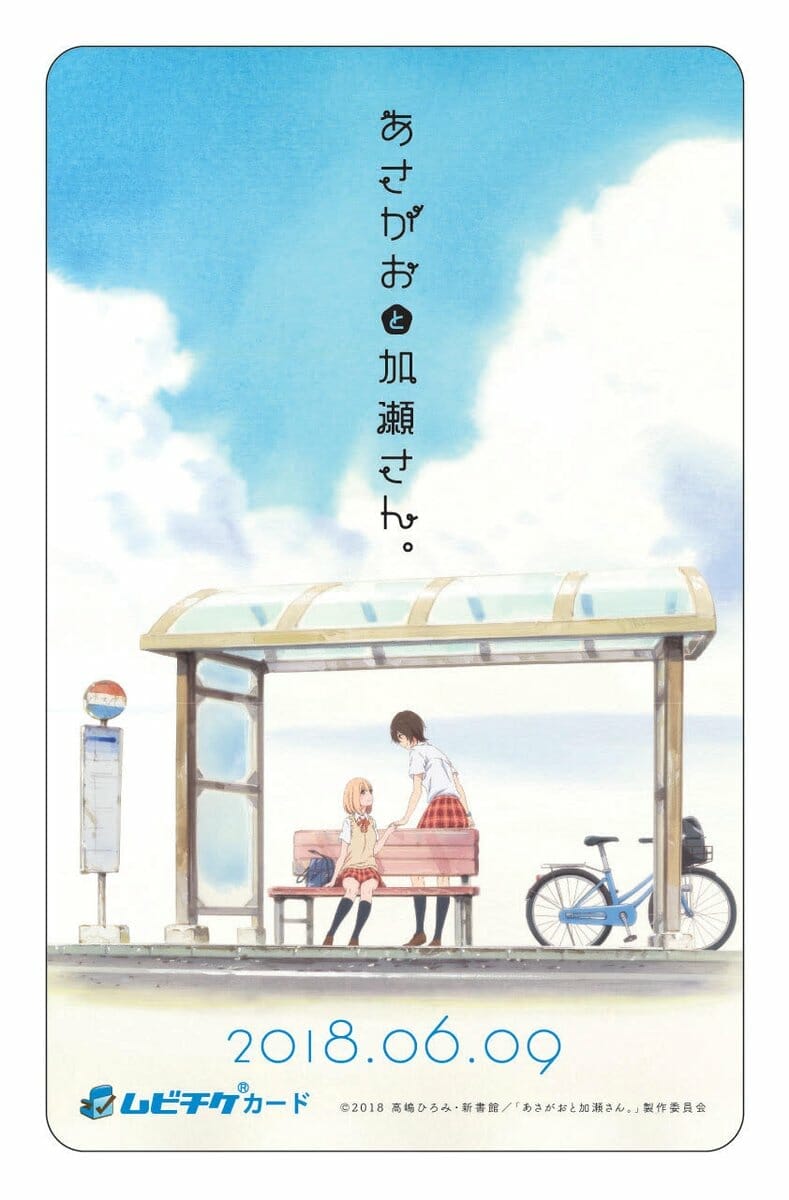 A drama CD for the property is also in the works. The CD, which will include an 18-minute program, will ship with the special edition of the manga's fourth volume on May 20. The CD, fittingly, will play out one of the stories in the book.
Takuya Satō (Steins;Gate, Girls Beyond the Wasteland) will direct the OVA at studio ZEXCS, with Kyuta Sakai providing character designs. rionos will score the show's soundtrack.
Minami Takahashi and Ayane Sakura will perform opening theme song Asu e no Tobira (Door to Tomorrow).
The confirmed voice cast includes:
Yui Yamada: Minami Takahashi
Tomoka Kase: Ayane Sakura
Mikawa: Ibuki Kido
Inoue-senpai: Minako Kotobuki
Coach: Yumi Uchiyama
Sensei: Masumi Asano
??: Fukushi Ochiai
Hiromi Takashima's Kase-san and… manga began publication in Shinshokan's Hirari and Flash Wings magazines. The ongoing series currently spans three collected volumes, with the most recent hitting stores in November 2015. Asagao to Kase-san is the first story in the series.
Seven Seas currently holds the domestic rights to Kase-san and…. They describe the series as:
Yamada may be shy and rather clumsy, but the flower gardens at her school have always brought her happiness. Suddenly, a different sort of beauty catches her eye—the vivacious track star, Kase-san. Although the two girls don't seem to have much in common, they soon start a romance where each must learn an important lesson in tending their budding relationship. Can the two girls, so different from each other, learn how to make their first love blossom?
Source: Otakomu