Soon, this promised flower will bloom in theaters across North America.
Earlier today, Eleven Arts announced that they acquired the North American distribution rights to Maquia:​ When the Promised Flower Blooms​. The film will hit theaters across North America on July 20.
Tickets to the film are available via Eleven Arts' website. 49 theaters across the United States have been confirmed, as of press time. Eleven Arts hasn't yet announced their list of Canadian theaters.
The publisher released an English trailer for the feature, as well as a series of stills, which you can check out below:
Trailer
Stills
Maquia: When the Promised Flower Blooms hit Japanese theaters on February 24. Anime Limited distributed the feature in the United Kingdom and Ireland.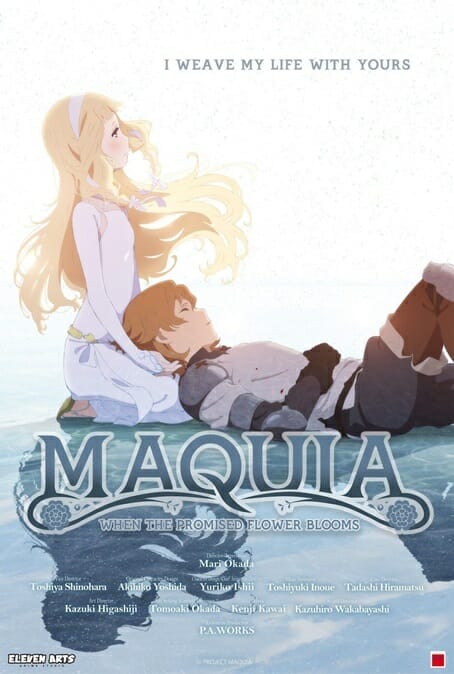 Mari Okada (Anohana, Anthem of the Heart) made her directorial début with the feature. She helmed the film and wrote the script at P.A. Works. Yuriko Ishii (Kuromukuro, Persona -trinity soul-) provided character designs for the project, while Toshiya Shinohara (Black Butler, A Lull in the Sea) served as chief director.
Rionos performed the film's ending theme song, Viātor.
Other confirmed crew members include:
Music: Kenji Kawai
Original Character Design: Akihiko Yoshida
Art Director: Kazuki Higashiji
Art design: Tomoaki Okada
Sound Director: Kazuhiro Wakabayashi
Chief Animation Direcor: Yuriko Ishii
Conceptual Design: Tomoaki Okada
The confirmed voice cast includes:
Maquia: Manaka Iwami
Erial: Miyu Irino
Leilia: Ai Kayano
Clear: Yuuki Kaji
Rashine: Miyuki Sawashiro
Lang: Yoshimasa Hosoya
Mido: Rina Satou
Tita: Yōko Hikasa
Medmel: Misaki Kuno
Isol: Tomokazu Sugita
Baro: Hiroaki Hirata
Eleven Arts describes Maquia: When the Promised Flower Blooms as:
The people of Iorph live far away from the lands of men, weaving the happenings of each day into a fabric called Hibiol. They live for centuries while maintaining their youthful appearance. Maquia, an orphaned Iorph girl, lives her life in an oasis surrounded by friends, yet somehow feels "alone". But the tranquil lives of the Iorph are shattered in an instant when the Mezarte army invades their territory on a dragon fleet, seeking the blood that grants the Iorph long life. Maquia manages to escape, but loses her friends and her home in the chaos. She then encounters an orphaned baby who is "alone". Maquia raises this boy "Ariel", with the help of some new friends. But as the era changes, the bond between Maquia and Ariel changes too, amidst a backdrop of racial tensions between the Iorph and the Mezarte. This is a story of irreplaceable time, woven by two lonely people who can only find solace in each other.
Source: Eleven Arts (Press Release)