Allow me to  start with the Designer Toy Awards. After that, I'll cover the festival proper.
First, the winners:
Best Blog (Fan Voted): The Toy Chronicle
This was The Toy Chronicle's second victory. They are a major player in the toy coverage field.
Best Online Toy Store (Fan Voted): Rotofugi
Chicago's own Rotofugi toy store partners with Rotofugi gallery. The gallery is currently hosting Another World (the works of Ben Stevens, Tony Rabit & Will Rimel). They'll be following that up with an exhibit of Jesse LeDoux's work. They're a cool place to check out if you're in the second city (named as such because the first one burned down).
Best Toy Store (Fan Voted): Playhouse
It's an international competition, and Thailand's own Playhouse won the crowd's support.
Best Licensed: Mondo Iron Giant by Mondo & Bigshot Toyworks
My word, this is awesome: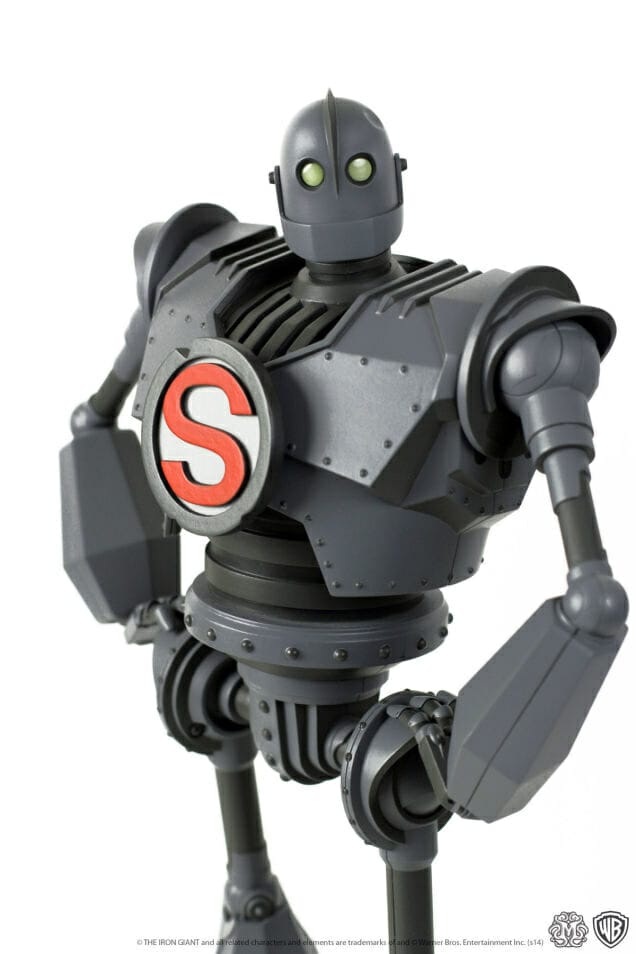 Best Mini Series: Gold Life by Huck Gee & Mighty Jaxx
It was a good year for Huck Gee.
Best DIY Platform: The Blank by Huck Gee
A very good year.
Custom of the Year (Fan Voted): B.F.U. BabyTEQ Armor by Quiccs
Does this guy remind anyone else of this guy?
Best Non-Plastic: Omen fade wood by Coarse Toys
Whereas these feel like they could have come from a charming 80's movie.
Brand of the Year: Mighty Jaxx
They earned it with a strong performance. Also, I like anything that tweaks Jeff Koons.
Hall of Fame: Brothersworker figures by Brothersfree
Hall of Fame: Dunces series by Gary Baseman
Hall of Fame: Fafi Girls by Fafi
Hall of Fame: MC Supersize by Ron English
Hall of Fame: To-Fu Oyako by Devilrobots
I'm curious who the overall "Greatest of All Time" is in the field. Is it a contentious debate, or is there one clear leader?
Lifetime Achievement: Tatsuhiko Akashi
As the CEO of Medicom Toy Corporation, this feels deserved for Tatsuhiko Akashi.
Best Non-Licensed: Darth Trump by Time Bandits x Special Ed Toys
Custom of the Year: Luke & Tapistree by Gary Ham
Wowsers! That must have taken at least a few days to complete. At least.
Best Resin: The Astronaut by Alex Pardee & ToyQube
Twenty bucks says that Douglas can't put his helmet back on.
Best Sofubi: Bake Kujira by Candie Bolton
Sofubi refers to soft vinyl. I have to say this was a deserving victor.
Best Vinyl & Plastic: Do Not Disturb by Coarse Toys
If Murakami had made these, we'd see them on an art blog and in a museum.
Break Through Artist: Candie Bolton
Just a true artistic genius. Also, there was no way I wasn't posting a link to this.
Toy of the Year (Fan Voted): Maguro by Mame Moyashi
A new perspective on sushi. The Facebook page shows their travels.
Artist of the Year (Fan Voted): Juan Muniz
A crowd favorite.
Toy of the Year: King Korpse by James Groman & Instinctoy
Undead kaiju are rare, and this was very well done. Nice work by James Groman and Instinctoy.
Artist of the Year: Jon-Paul Kaiser
Either they were giving him the award, or they were walking the plank. I'd say they made the right decision.
Altogether it was a solid year for the designer toy industry. The awards evening itself was a bit of a blur as they had a well stocked cash bar. I do recall Morgan Spurlock did a nice job hosting.
As for the inaugural Five Points Festival, it was loaded.
Some highlights for me
The maps in particular were stunning:
He first showed up on my radar with this masterpiece.
Concrete Jungle: Yeah…
Run Rabbit Productions: If fishes had wishes, what would they wish for?
Fenway Fan: This was jaw-dropping in person.
Zhi Luo: If I say this was charming AF, will you take it in the spirit it was intended? :)
Fashion! But seriously, her stuff is quite cool.
The Little Italy Street Art Project
AKA, the L.I.S.A. Project. They invited kaNO to do a piece in honor of the festival.
Matthew Lineham: Yes, this is exactly how the 80's were. Trust me on this.
Spitfire Labs: Their video game controllers were absurd. Simply amazing work.
Jcorp (Potentially NSFW)L  We might be looking at one of the final bosses in Cuphead.
Jim McKenzie I loved both The Scarecrow and The Walrus King
Joe Cosentino: A ton of great stuff here, but my favorite is American Psycho. Plugged In was up there for me as well.
Mike Caprotti: Such a wonderful wedding invitation.
John Bellotti Jr.: His love of Godzilla matches mine.
Sean Carlson: Scroll down to his New York City scenes. Just tremendous.
Tim Chamberlain: To anyone who has to work retail, I "solute" you.
Wayward Raven Media: Notable because of the glorious Damn Heroes. (Note, it'll take a few strips before it finds its stride. Also, the art gets notably better as time goes on.
Dave Fox: Dave Fox came to my attention via Satan's Prep. The art and concept are both tremendous. The story didn't quite live up to its potential though. Also, the art style changes significantly for the worse roughly half way through to book. Alas. Cool cover though.
The food scene was solid. I enjoyed some Korilla BBQ while I was there. As with Tokyo X Brooklyn, I'd recommend adding a few more options next time around if possible.
There were two major sponsors, And, given the locations, it felt a bit like the anchor stores at the mall. When you entered, you were greeted by Midtown Comics. They were handing out 20% off coupons and had a full staff to help people find whatever they were looking for. That might sound annoying, but it was actually quite the opposite. They didn't bother people who were knew what they wanted. Rather, they were there to help the people who were came to festival without having a great deal of knowledge about comics and graphic novels, and were able to serve as guides and curators. Seeing a grandmother discover Saga was a nice touch.
The second major sponsor was Lagunitas. The beer truck was a bit of a walk from the entrance (although, being outside, it was visible when you were approaching the festival). Lagunitas has dealt with a bit of snobbery in response to their decision to join with Heineken. For those of you who have read Shibumi, by Jonas' swallowed balls, it was their destiny! Wherever you stand on the corporatization of the craft beer industry, though, the brew itself  was pretty good.
Finally, there were two booths that stuck in my memory well after the festival finished. The first was Karlen Tam. I first became familiar with Karlen Tam via Japanese Folktales. What caught my eye this time was the absolutely gorgeous Encounters with the Imaginary. It's the first book created by a collective of artist collectives, Boneshaker Press. You can find their works via Gumroad.
Someone Has Died. I'm not even going to try and explain it. Thankfully, they're happy to:
It's a "name your own price to download" experience, so if you'd like to check it out for yourself, it's print and play.
I had a great time at the Five Points Festival. It, along with, Anime NYC, has given New York a huge boost in our local entertainment convention options.
Thanks to Clutter Magazine and Leftfield Media for putting the festival together.
P.S. Clutter Gallery is hosting a RYCA exhibition at their Beacon location starting this weekend. Biggie continues to Hypnotize.
P.P.S Five Points Fest will be returning this year the Brooklyn Expo Center on June 2nd. There will be beer.