Happy Sunday, readers, and welcome to an all-new AniWeekly! This week was filled with surprises, with a gaggle of fan events that were packed with surprises! The one that had me most excited, though, didn't even come from the anime world! Last week, Sega announced that Sakura Wars was coming back, after being dormant for thirteen years.
That said, though, the entire week was loaded with big reveals. So, without further ado, let's get to all the content that's fit to print!
In the News
Plus Ultra Assemble! My Hero Academia is partnering with Marvel Comics to promote the Avengers: Age of Ultron flick. As part of the promotion, the My Hero Academia cast appeared in a series of trailers and a special poster visual that mimics the Avengers movie's poster.
3, 2, 1, let's… eat fancy desserts? Animate announced that they will host a Cowboy Bebop café as part of the franchise's 20th anniversary celebration. The café, which is a collaboration with Sunrise, will be held at the Good Smile × Animate Cafe locations in Akihabara and Osaka Nihonbashi.
Hello, police? Kanko Nakamura's Uchi no Maid ga Uzasugiru! (Our Maid is Way Too Annoying!) manga will receive an anime TV series. The title will be directed by Masahiko Ohta and written by Takashi Aoshima, both of whom worked on Himouto! Umaru-chan.
The promised flower shall bloom soon enough… Eleven Arts announced that they acquired the North American distribution rights to Maquia:​ When the Promised Flower Blooms​. The film will hit theaters across North America on July 20.
Not quite a demon king you'd expect… matoba's As Miss Beelzebub Likes manga is getting an anime adaptation.
Fun-Fun Learn-chan? NHK announced that they are working with the Irodori animation group for their Yoroshiku! Fun-Fun TV show. The three-person group, which includes Kemono Friends director TATSUKI, designed main character Funfun, as well as handled the main CGI production for the character.
Where pigs and bunnies roam free… or something. A new cast member, plus a pair of video promos were revealed for Seishun Buta Yarou wa Bunny Girl Senpai no Yume wo Minai. The series will add Nao Tōyama as Tomoe Koga.
【キャラ別PV公開②】
キャラクターボイス入りPV古賀朋絵(cv:東山奈央)バージョンを公開いたしました!
ぜひご覧ください!https://t.co/cMHeFSd07h#青ブタ pic.twitter.com/9p5jTokLqD

— アニメ「青春ブタ野郎はバニーガール先輩の夢を見ない」公式 (@aobuta_anime) April 9, 2018
A powerful message. Atsuko Enomoto, who played Yukino Miyazawa in Kare Kano, came out with her own #MeToo story, talking about sexual harassment and bullying that she had endured in the earliest days of her career.
A radiant time! The Annecy International Animated Film Festival announced that they will screen NHK's upcoming Radiant anime. The title will be shown as a work-in-progress presentation.
Pow-pow, Parn! Sneaker Bunko unveiled four projects for Record of Lodoss War's 30th anniversary. The most exciting of these, without a doubt, is the upcoming PC game that is bound for Steam!
False love, real people. The latest issue of Weekly Shonen Jump announced that Nisekoi will get a live-action film in December.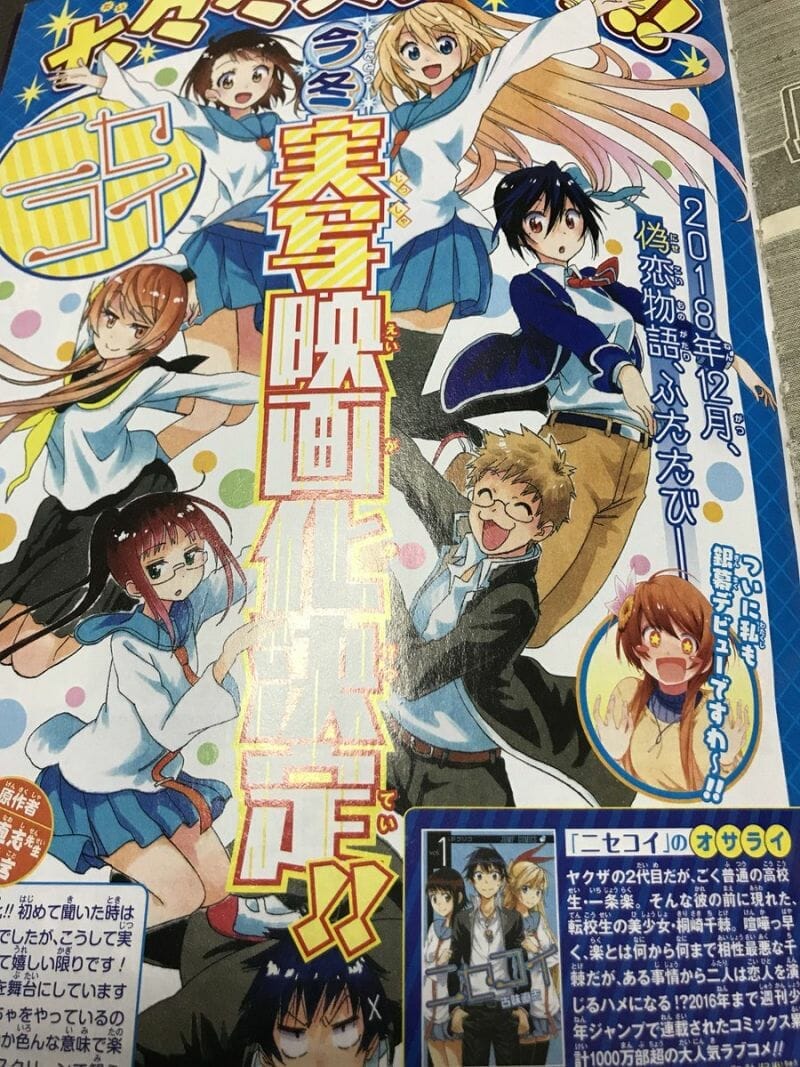 Red sky at night… ah, crap. Netflix launched a placeholder page for Dragon Pilot – Hisone and Masotan. This is the first confirmation of international distribution by the provider, who is streaming the series in Japan.
Other World Swindle Mage is go! The upcoming third volume of Takeru Uchida and illustrator Karin Suzuragi's Isekai Cheat Magician manga includes an announcement that the project will receive an anime adaptation.
What was lost is now found again! The Netflix press room's listing for Lost Song updated with a global premiere date for the series. According to the listing, the series will launch on Netflix on September 30.
We need to go back, Marty! Back to the future! During a recent fan event, news broke that Mobile Suit Gundam 00 will receive a sequel anime. Seiji Mizushima is returning as director, while Yousuke Kuroda will pen the scenario again.
Teikoku Kagekidan, Sanjou! Sega announced that a new Sakura Wars video game is in the works! The project, which has a working title of Shin Sakura Taisen (New Sakura Wars) will return the franchise to its roots in Tokyo, albeit in the year 1940.
A truly calamitous engagement. Gonzo announced that they're working on a new show for Summer 2018, titled Calamity of the Zombie Girl. The show is on track for a July 4 premiere.
Thanks for the memories, Keiko. The official Kalafina LINE blog announced that Keiko will be leaving the group at the end of her contract term.
From the AniBlogging Community
Girls are… half of the world. Brooke Holden took to Medium to publish a personal, intimate piece that meshes her own experiences with dysphoria with the poignant final pages of Shūzō Oshimi's Inside Mari manga. This is a brilliant piece, one that encapsulates everything that is dysphoria, told through the frame of reference of the manga. Dysphoria is something that countless trans individuals grapple with daily. It's a debilitating, often paralyzing feeling that can pull you straight to the depths of despair. To see it explained so clearly, so eloquently, moved me to tears. Please… read this and share Holden's piece.
Gotta make it back in time. Atelier Emily takes a look at Steins;Gate 0, as she muses about returning to the franchise, and the generally bittersweet opening installment.
Surviving the anime con storm. Beneath the Tangles' Lady TeresaChristina wrote up her experiences at Sakura-Con. In the piece, which is part survival guide, part report, she discusses the struggles with the "3-2-1 system" (Now 6-2-1 – 6 hours of sleep, two meals, one shower), the best places for introverts to hang out, the very real struggle with running a panel (can totes relate), and the formal ball.
It's a work… in progress? sdshamshel at Ogiue Maniax took at look at the recent rise in sakuga fans in the anime fan community, and made an intriguing comparison to wrestling's concept of "workrate."
Weekly Fun Stuff!
For folks who couldn't make it to C2E2 for the big FLCL panel, the folks at Syfy have you covered. The company's YouTube uploaded the panel, which includes appearances by Haruko actress Kari Wahlgren, Adult Swim's Jason DeMarco, and Production I.G.'s Maki Terashima-Furuta as hosts, in its entirety for folks to check out.
Our Supporting Lovelies
The following patrons help to keep us talking nerdy to you:
Hera's Helpers
Nerdy Talkers
Alec Delaney
Cave
Lauren Orsini
Lydia Rivers
Renfamous
Phillip
Samantha Ferreira
Vadim Chirchakov
You can help support Anime Herald, and get access to weekly behind-the-scenes articles for just $1 a month, through Patreon.