So, ah… I hope UC2 doesn't turn into G-Saviour 2…
Earlier today, Sunrise hosted the "Gundam Franchise's New Work Unveiling" live streaming event. During the show, the studio showed a visual, which outlines the basic flow of events, and highlights potential upcoming works in the Universal Centural (U.C.) timeline.
Notable items include three previously-unannounced projects:
U.C. 0097: Mobile Suit Gundam Narrative (November 2018)
U.C. 0103: Mobile Suit Gundam: Hathaway's Flash (Kido Senshi Gundam: Senko no Hathaway) (Tentative: Fall 2019)
U.C. 0104: Mobile Suit Gundam UC2 (Tenative Title, "International Drama Format") (Tentative 2022)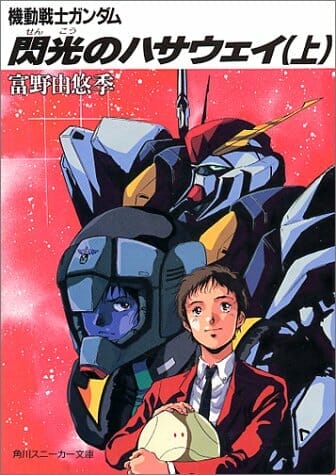 Mobile Suit Gundam: Hathaway's Flash is tentatively slated to be a film trilogy. The project shares the title of a novel trilogy by series creator Yoshiyuki Tomino, which ran from 1989 through 1990.
The title is set in the events following Char's Counterattack, telling the tale through the eyes of Bright Noa's son, Hathaway Noa.
Today's news comes hot on the heels of the announcement that Mobile Suit Gundam Narrative will debut in November.
Shunichi Yoshizawa will direct Mobile Suit Gundam NT at Sunrise, with Se Jun Kim (Mobile Suit Gundam Twilight AXIS) providing character designs. Harutoshi Fukui (Mobile Suit Gundam UC, Star Blazers: Space Battleship Yamato 2202) is writing the title's screenplay.
Sunrise describes the project as:
The year U.C. 0097 — The year in which Laplace's Box was opened. Though the "Universal Century Charter", which acknowledges the existence of Newtypes and their rights, was revealed, the world hasn't changed significantly.

The conflict known as the "Laplace Incident" appears to have ended with the collaps of the Neo Zenon force kown as "The Sleeves." In the final battle, two Full Psycho Frame Mobile Suits showed power that went beyond human knowledge. The threat of the White Unicorn and Black Lion were sealed away, kept away from public consciousness, they should have been forgotten…

However, the RX-0 Unicorn 03, which had thought to be lost two years ago, began to appear within the Earth Sphere once more. The immortal Golden Phoenix… its name is "Fennex."
Sources: Otakomu, Comic Natalie, Animate Times