Content Warning: Descriptions of Watsuki's buying child pornography from his confession.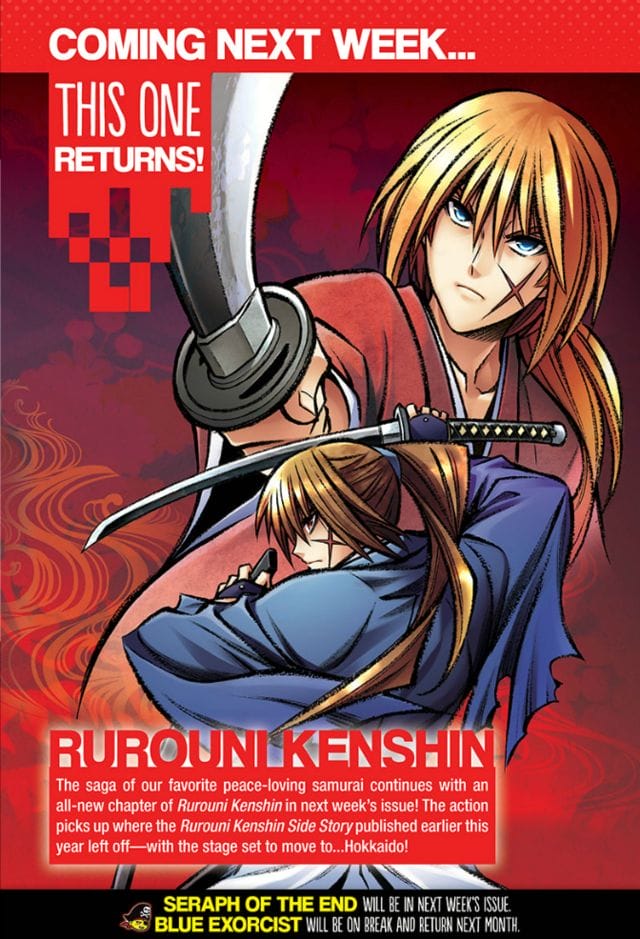 They couldn't even wait a freakin' year…
Earlier today, Shueisha's Jump SQ magazine announced that Nobuhiro Watsuki's Rurouni Kenshin manga will return to their publication in their June 4, 2018 issue. The full statement is below:
We are deeply sorry for the inconvenience and readers caused to our readers and people involved with this work, as it's been on hiatus for a long time.

Though the writer is still in a time of reflection and repentance right now, we feel that it's also the responsibility of the writer and publisher to respond to the various voices we've received through his work. We have decided to restart the series in this magazine's July issue (in stores June 4).

Thank you for understanding.

Shueisha Jump Square Editorial Department April 23, 2018
Rurouni Kenshin's "Hokkaido Arc" manga was officially suspended in November, after Nobuhiro Watsuki was arrested for possession of child pornography. The artist was sentenced and assessed a 200,000 yen ($1,847.40 USD) fine in February for a "Simple Possession of Child Pornography" charge.
Watsuki was charged with Simple Possession of Child Pornography in November 2017. According to investigators at the time, Watsuki possessed numerous DVDs, which contained nude footage of girls as young as their early teens. He stored the discs in a Tokyo office, with authorities confirming that he maintained the collection at the office through October 2017.
This investigation comes on the heels of a second unrelated child pornography investigation, which saw investigators searching the author's home. Watsuki was under suspicion that he had purchased child pornography. During this first investigation, authorities found several DVDs.
In his deposition, Watsuki stated that he "liked girls aged from late elementary school to the second year of junior high school." Sankei News notes that Watsuki also stated "I like the nudity of children, I bought it."
Nobuhiro Watsuki, real name Nobuhiro Nishiwaki, was born on May 26, 1960. The author is best known for his work on Rurouni Kenshin, which ran from 1994 through 1999 in Weekly Shonen Jump, and sold over 60 million copies across the globe. The series inspired a 95-episode anime series, which ran from January 1996 through September 1998, as well as numerous anime films and OVAs. A live-action film trilogy was also produced, which hit Japanese theaters from 2012 through 2014.
Watsuki recently launched a new arc of the Rurouni Kenshin manga with his wife, Kaoru Kurosaki. The ongoing series launched in September, and was receiving an English simulpub from Viz Media. The arc has since been been suspended by Shueisha, due to the charges against Watsuki.
Source: JumpSQ