Hah! Totally called it. The Bean Bandit rides again!
On April 23, the official Project B.B. Twitter account posted an update stating that Project B.B.'s full title is Project Bean Bandit. The tweet added that the title will be funded via Kickstarter. Further details will be announced during the teaser's première event, which will be held at Anime Central on May 18.
Anime"Bean Bandit" will be back! by kickstarter! #RidingBean #GunSmithCats #AnimeProjectBeanBandit #アニメビーンバンディット 5月18日以降のアニメセントラルにて詳細発表!18thMay〜 #AnimeCentral

— KenichiSonoda"BEAN BANDIT"@KICKSTARTER (@Anime_ProjectBB) April 23, 2018
Rough Translation: Anime"Bean Bandit" will be back! by kickstarter! #RidingBean #GunSmithCats #AnimeProjectBeanBandit #AnimeBeanBandit Details to be announced on May 18 at Anime Central! 18thMay〜 #AnimeCentral
Project Bean Bandit's director and composer, as well as series creator Kenichi Sonoda will attend Anime Central as guests. The pilot shown at the con will be a "short/trailer format."
Shuzilow.HA (also known as Shujirou Hamakawa) is directing the feature at Passione, while Marco D'Ambrosio (JoJo's Bizarre Adventure, Vampire Hunter D: Bloodlust) scores the soundtrack.
Kenichi Sonoda's Riding Bean launched in the pages of Monthly Comics Noisy in 1988. The title ran for just four chapters, and remains unfinished.
The title was originally conceived as an OVA, which hit retailers on February 22, 1989. Yasuo Hasegawa (Ai no Kiseki – Doctor Norman Monogatari, Cosmos Pink Shock) directed the feature at studios AIC, ARTMIC, and Youmex, with Sonoda providing character designs and writing the screenplay.
AnimEigo released the title in North America on Blu-Ray, DVD, and VHS.
Following Riding Bean, Sonoda launched the Gunsmith Cats manga in Kodansha's Monthly Afternoon magazine in February 1991. The series ran through June 1997, and spans eight collected volumes. A sequel, titled Gunsmith Cats BURST ran from September 2004 through October 2008 in Afternoon magazine.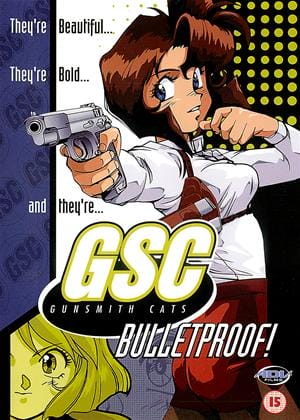 The series received a three-episode OVA in 1995. The project was directed by Takeshi Mori (Stratos 4, Vandread) at Oriental Light and Magic, with Kenichi Sonoda (Bubblegum Crisis, Gall Force) and Norihiro Matsubara (Pokémon: Black and White, Berserk) teaming up to provide character designs. Atsuji Kaneko wrote the screenplay.
Jazz drummer Peter Erskine composed the show's soundtrack.
ADV Films released Gunsmith Cats in North America on VHS in 1996. The series received a DVD release in 2001, followed by a re-release under ADV's "Anime Essentials" imprint in 2004. The series has been out of print since the mid-2000s.
In December, AnimEigo announced that they acquired the license for the Gunsmith Cats OVA series. The publisher succesfully crowdfunded the title, raising more than $350,000 by the time the campaign closed on April 23.
ADV described the OVA as:
They're here! Chicago's most lethal ladies have finally made it back to DVD. Join the pistol-packing Rally Vincent and her partner, grenade happy Minnie May Hopkins, as they infiltrate a gun running operation at the "suggestion" of the ATF. Burn up the highway in Rally's Shelby GT-500 as she chases a psychopathic Russian assassin who's kidnapped Minnie. And then watch the bullets fly in a duel to the death with a cache of illegal weapons as the prize.