No longer shall we say "good day."
Earlier today, Right Stuf's Nozomi Entertainment label announced that their license for Maria Watches Over Us (Maria-sama ga Miteru) is expiring. The company is selling their remaining stock of the title's DVD sets for $12 each, as of press time.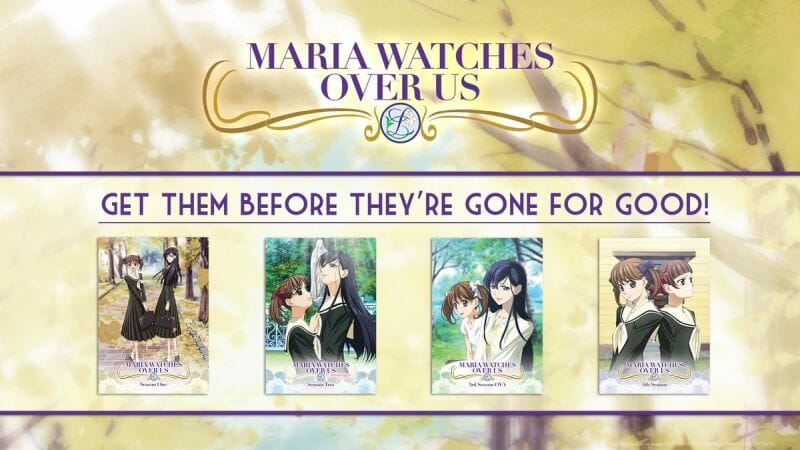 Maria Watches Us is based on Oyuki Konno's novels of the same name. The first season was directed by Yukihiro Matsushita (Looking Up At The Half-Moon, Sugar Sugar Rune) at Studio DEEN, with Akira Matsushima (Rave Master, Tales of Zestiria the X) providing character designs. Reiko Yoshida (Bakuman., K-On!) handled series composition for the title.
Maria Watches Us originally began airing in the Winter 2004 broadcast season. The title received two additional TV seasons, as well as an OVA series.
Right Stuf describes the title as:
When Yumi Fukuzawa entered the Lillian Girls' Academy, a prestigious all-girls Catholic school in Tokyo, she never imagined she would catch the eye of beautiful and demure Sachiko Ogasawara, one of the school's most popular students. Now Sachiko has offered to be Yumi's soeur, her "sister" and guide for all her years at the academy. The whole idea has Yumi completely flustered – after all, they hardly know each other!

The entire campus is abuzz with rumors about the two of them, but Yumi is conflicted over accepting Sachiko's offer. While she admires Sachiko, being her soeur would also mean constantly being at the center of the entire school's attention!
Source: Twitter (NozomiEnt)