Surely, there's a pun that involves "conceiving of this concept." Eh, it's a PSP game adaptation by Gonzo… I'm not going to try too hard.
Earlier today, an official website and Twitter account for an anime adaptation of Spike Chunsoft's Conception: Ore no Kodomo o Undekure! opened their doors. The site includes a teaser visual, as well as the first staffers.
We break the details down below:
Key Visual
The image features lead character Itsuki Yuge, presented in a stark monochrome red. He's standing against a background plastered with English text.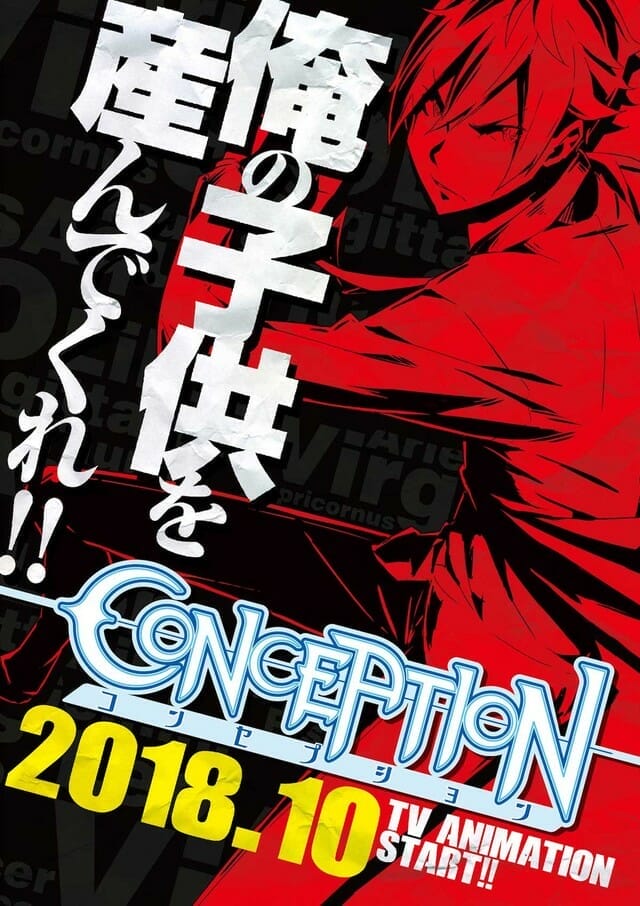 Staff
Keitaro Motonaga (Digimon Adventure tri., Jormungand) is directing Conception at Gonzo, with Yousuke Okuda (Is the order a rabbit?, Blend S) providing character designs. Yuuko Kakihara (Digimon Adventure tri., Persona 4: The Animation) is in charge of series composition for the project.
Premiere
Conception: Ore no Kodomo o Undekure! will hit Japanese TV in October.
The original Conception: Ore no Kodomo o Undekure! video game launched on Sony's PSP handheld on April 26, 2012. In its opening week, the title moved 29,846 units, which was enough to secure fifth place on Media Create's weekly sales charts.
The game received a sequel, titled Conception II: Children of the Seven Stars, on August 22, 2013. The game was sold via the Nintendo 3DS, PlayStation 4, PlayStation Vita, and Steam. Atlus released the title in North America in April 2014.
Source: Comic Natalie