The boys of the Iwatobi Swim Club are back for another season… and it's coming up quick!
Earlier today, an official website for upcoming anime Free! Dive to the Future opened their doors. The site includes a key visual and two teaser videos, along with the show's main cast and crew.
We break the details down below.
Announcement Teaser
The minute-long video opens with still shots of the main cast members, set to a lilting piano melody. As the music starts to swell, the show cuts to footage showing the present-day.
Trailer
The 45-second promo kicks off with a thumping EDM piece, as the promo flies through shots of the major characters. The piece finally ends on the key visual, which was released today.
Key Visual
The image features the main members of the (former) Iwatobi Swim Club in their warm-up clothes, as they head toward the pool.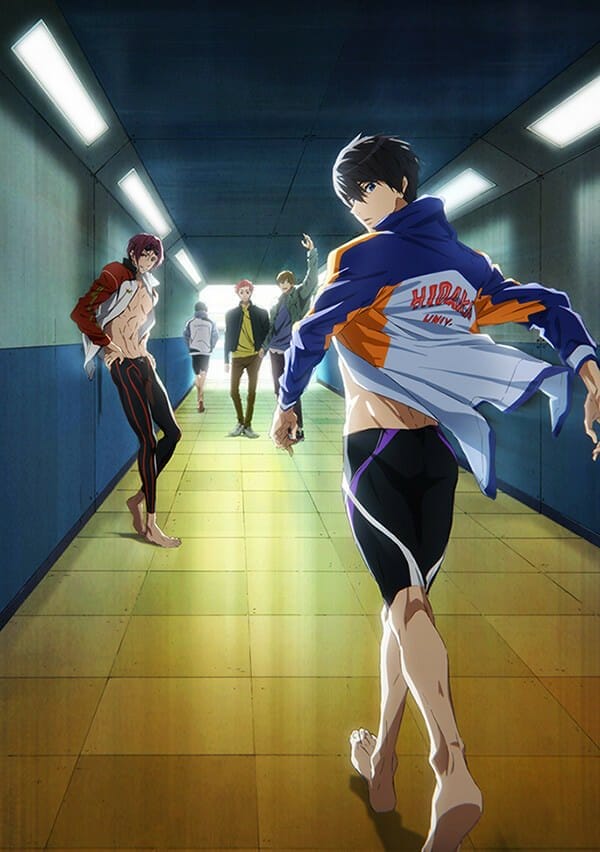 Staff
Eisaku Kawanami (Free! -Take Your Marks-, Free! -Timeless Medley-) will return to the director's chair for Free! Dive to the Future at Kyoto Animation and Animation DO. Futoshi Nishiya (Free! franchise, A Silent Voice) will reprise his role as character designer, while Masahiro Yokotani (Free! – Iwatobi Swim Club, Re:ZERO -Starting Life in Another World-) returns to tackle series composition.
Other confirmed crew members include:
Chief Animation Director: Futoshi Nishiya
Art Director: Shingo Kasai
Color Design: Yūka Yoneda
3D Director: Yuji Shibata
3D Art: Joji Unoguchi
Prop Design: Seiichi Akitake
Director of Photography: Kazuya Takao
Music: Tatsuya Kato
Sound Director: Yota Tsuruoka
Sound Production: Lantis
The confirmed team members are all returning from previous installments of the Free! anime franchise.
Cast
The series will star the following:
Haruka Nanase: Nobunaga Shimazaki
Rin Matsuoka: Mamoru Miyano
Makoto Tachibana: Tatsuhisa Suzuki
Asahi Shiina: Toshiyuki Toyonaga
Ikuya Kirishima: Kouki Uchiyama
Theme Songs
OLDCODEX will perform opening theme song Heading to Over.
Premiere
Free! Dive to the Future hits Japanese TV in July. ABC, Tokyo MX 1, BS-11, and TV Aichi will carry the series.
Plot
Kyoto Animation describes Free! Dive to the Future as:
Haruka has graduated from high school, and came to know the joyous bonds that connected swimming to his future. He's reuinted with Asahi, whom he swam relays with in Tokyo.

It reawakens those memories of junior high in both students… and the appearance of Ikuya from "that time" even awoke in their hearts. Makoto, who came up from afar, is chasing a new dream in Tokyo, and Rin, who left for Sydney, joins up in a truly unexpected place.

Is it a new battle that awaits in their future? Or are they confronting the past that they left behind, instead?
The first Free! anime, Free! Iwatobi Swim Club, hit Japanese TV on July 7, 2013. The series was directed by Hiroko Utsumi at Kyoto Animation, with character designs by Futoshi Nishiya. The team of Masahiro Yokotani and Reiko Yoshida wrote the show's scripts.
Crunchyroll is currently streaming the show on their digital platform. They describe the show as follows:
Nanase Haruka loved to be in the water – loved swimming. In elementary school, Nanase Haruka, Tachibana Makoto, Matsuoka Rin, and Hazuki Nagisa attended the same swimming class together. Time passed, and as Haruka was living an uneventful high school life, he suddenly encountered Rin again. Rin challenged Haruka to a race and showed him how much stronger he had become. Soon enough, Makoto and Nagisa also rejoined the group, and along with a new classmate, Ryugazaki Rei, they established the Iwatobi High School Swimming Club.
Sources: Otakomu, Animate Times, Comic Natalie