I've been through the desert on the song with no name~… (Wait… we're not going in this direction? Crud.)
Earlier today, the official K project website updated with a key visual and main cast for upcoming sixth film Circle Vision ~Nameless Song~. We break the details down below:
Key Visual
The image features Yashiro, Kuroh, and the mysterious boy standing against a white background, which is emblazoned with the film's title. Kuroh is holding a bamboo umbrella.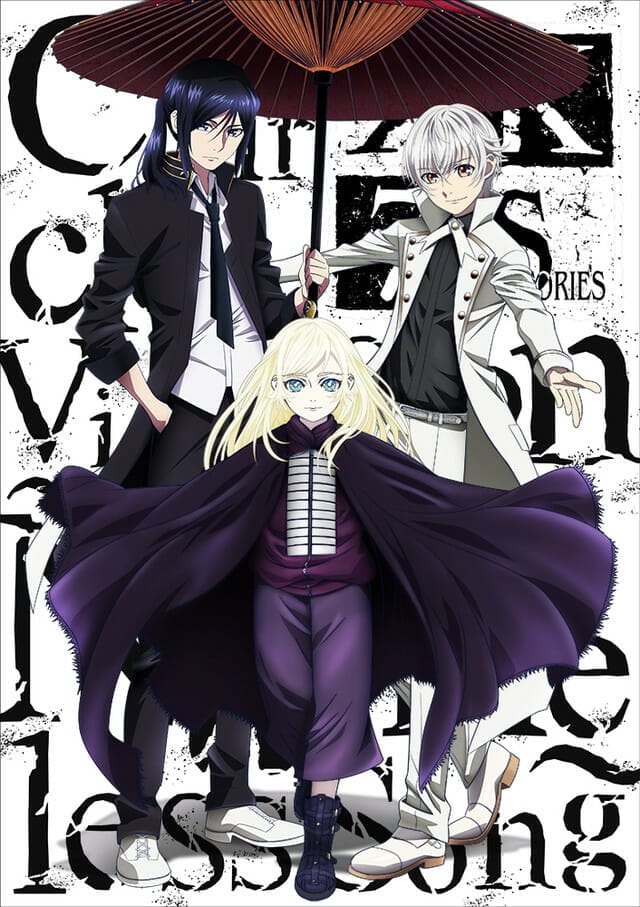 Cast
The film will add four new cast members:
Yashiro Isana: Daisuke Namikawa
Kuroh Yatogami: Daisuke Ono
Mysterious Boy: Ayumu Murase
Neko: Mikako Komatsu
Visuals for the characters were also revealed, which you can check out below.
Tickets
Tickets will go on sale for the film via the K Fan Clan fan club. Folks who pre-purchase tickets through the Fan Clan will receive an alternate ticket design and a special ticket case.
Viz Media announced that they licensed the K: Seven Stories project at their Anime Boston Panel on March 30.
Series director Shingo Suzuki (Coppelion) will return to direct and provide character designs for the project at GoHands, with GoRA handling and overseeing the scripts. Mikio Endo is returning to score the soundtracks. Both GoHands and GoRA are credited with the original concept.
Angela will perform theme song SURVIVE!. Each ending theme song will be named after the film's subtitle.
The full release schedule for the Seven Stories line is as follows:
7/7/2018: K: Seven Stories Episode 1: R:B ~Blaze~
8/4/2018: K: Seven Stories Episode 2: SIDE:BLUE ~Tenrō no Gotoku (SIDE:BLUE ~Like Sirius)
9/1/2018: K: Seven Stories Episode 3: SIDE:GREEN ~Uwagaki Sekai~ (SIDE:GREEN ~The Overwritten World)
10/6/2018: K: Seven Stories Episode 4: Lost Small World ~Ori no Mukō ni (Lost Small World ~To the Far side of the Cage)
11/3/2018: K: Seven Stories Episode 5: Memory of Red ~BURN~
12/1/2018: K: Seven Stories Episode 6: Circle Vision ~Nameless Song~
Several of the films share titles with existing works within the franchise. K: R:B, K SIDE:BLUE, and K:SIDE:GREEN are all light novels within the franchise. K: Memory of Red is a manga by GoRA and illustrator Yui Kuroe that ran from May 2012 through August 2013.
K: Lost Small World is an ongoing manga series by GoRA and illustrators Ookita and Yoru. The series, which currently runs in Hatsu Kiss magazine, received a light novel adaptation in 2014.
The K: Seven Stories film project was first announced in April 2016.
Viz Media holds the domestic rights to K, K: Missing Kings, and K: Return of Kings. The series is currently available for streaming via Hulu and Viz Media's website.
Sources: Comic Natalie