My fellow anime fans, good evening.
It's been a while since I've held one of these "State of the Herald" chats. So, ah… sorry 'bout that. ????
Things have been a bit hectic since the start of the new year. If you've noticed, we've pretty much doubled down on news content, bringing out 7-15 articles every single day! And for a while, it seemed to be the right way… traffic was growing, and we appeared to be on the grow!
We quickly learned that this wasn't sustainable, though. Those seven to fourteen stories began taking upwards of eight hours per day – on top of the day jobs that we normally work to live. And, well… I'm the news desk girl in addition to the editor-in-chief. So, work began to pile up. And through it all, I wrote, trying to keep up with every single story that came through the pipeline. Those 4-5 hour nights quickly became 7-10 hour nights that spilled into the waking hours of the morning. Doing the math, I was facing down 96-108 hour work weeks, just trying to keep up with the torrent of the news. Other projects languished, and bigger pieces were eaten up by the rolling tidal wave that is the daily news cycle.
Obviously, that's not healthy. Like, at all. We're not ANN or Crunchyroll, and we never will be. And while I can sling news with the best of 'em, I'm only human. We don't have a 24-hour news team, nor do we have a gigantic budget, nor a major cash-rich backer. We don't have insiders, or industry veterans on the team, and we've always operated primarily as outsiders. In short: we're just a bunch of truly amazing, fantastic people doing what we can to bring you the very best content possible.
In November, we vowed to enter 2018 with the motto of You Deserve Better. I feel like we've done a pretty awful job at that so far. So, rather than continue our self-destructive path, we've decided to change how we approach Anime Herald, both as a concept and as an organization.
Over the weekend, we issued a poll via social media. So, before we get to the findings, a huge thanks to the folks who answered!
The Survey
For this survey, we asked three questions:
How often do you visit Anime Herald?
What types of content do you prefer to read?
What format would you prefer to see in the future?
We'll break the data down below.
How often do you visit Anime Herald?
Looking at the data, the vast majority of respondents stated that they visit The Herald every few days, or rarely. Just 9.5% of our readers visit daily, same goes for monthly. So, with this in mind, we have a lot of readers who come back from time to time for our content, but we're not that "go to" destination for you folks just yet. In all, going by our sample, about 76.2% of our readers keep coming back within the course of a month. That's awesome, and we love you guys too!
What types of content do you prefer to read?
Now here's where things get interesting. Though Editorials won out with 38.1% of the vote, we had no blow-out winner. Moreover, we had a custom item, which was basically an "all of the above." For the informal analysis, we split that percentage between news reporting and features, with a whopping 78.6% of our readers preferring features to just 21.4% of avid news readers.
So, by focusing entirely on our news content, we were leaving a ton of our readers in the cold. This… is not good. At all. It means that we've been following the wrong leads, taking the wrong lessons from our traffic data over the past six months.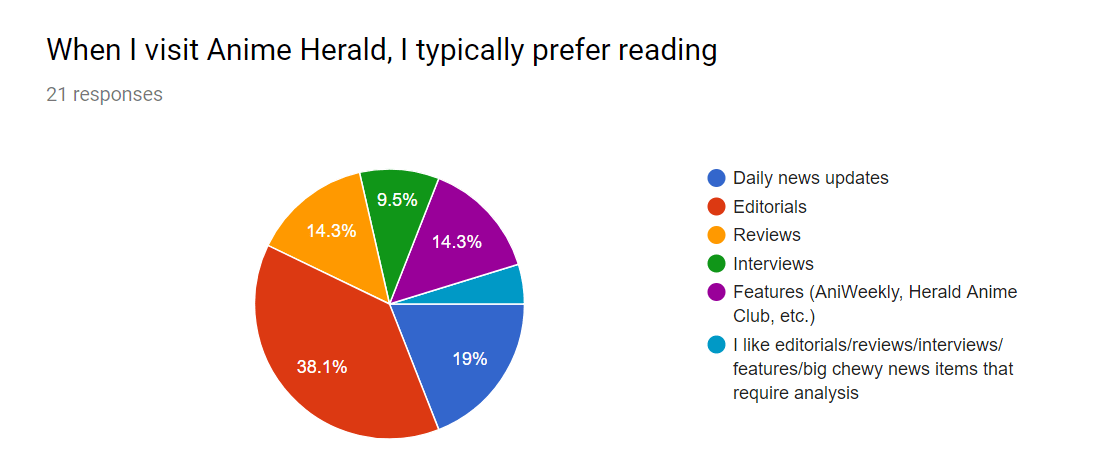 What format would you prefer to see in the future?
This was an intriguing split, actually! The clear winner in this case was going with a magazine-styled approach – a majority of the folks who responded – 52%, to be exact, stated that they'd like us to take more of a "magazine-styled" approach. After that, the next winner was "do away with the news entirely, just go full-on blog and do features." 19% of those polled asked us to take more of a newspaper approach – 2-4 news articles a day, with features and secondary columns mixed in for good measure.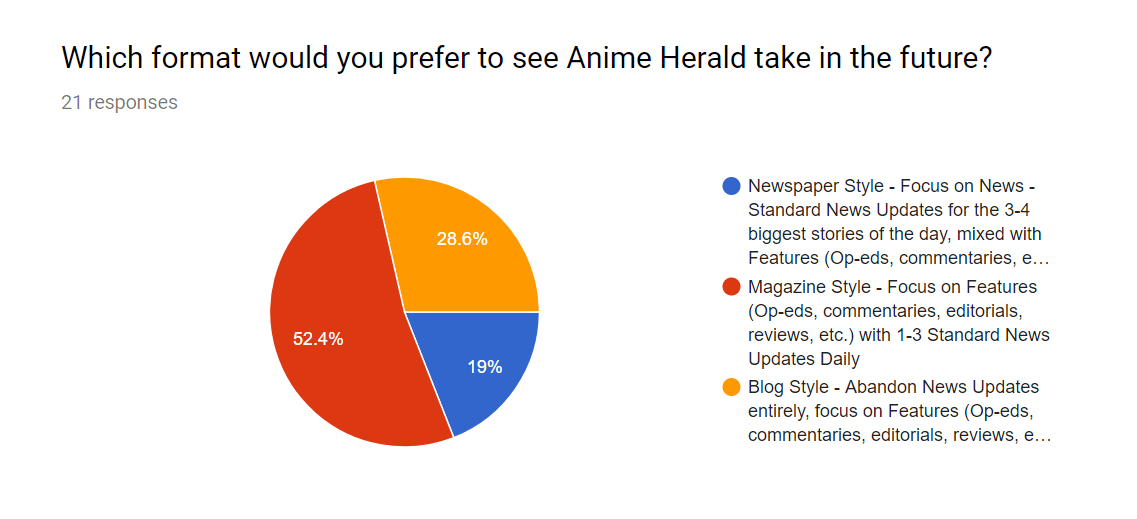 So, where does that leave us?
Right now, Anime Herald is at a crossroads. We're about to embark on a wonderful transformation that will allow us to flex our collective muscle, and the more than 20 combined years of experience and expertise we have here (Yes, Wikipedia, we've been doing this for a long time. We are experts, Wikipedia!).
The daily news will always be a part of who we are because, let's face it: I'll never stop reading the J-Blogs. However! It's going to be a more backseat part of things going forward. Starting today, we'll be publishing three to four news articles, and that's it… barring something huge. Granted, bets are off at conventions we cover, since we're there, and they're nice enough to host us, but that's another story entirely!
We'll be taking an approach that isn't unlike a typical anime magazine: big on features, big on longreads and extended pieces, lighter on the hardcore news writing until we can afford to bring in a full time reporter.
This weekend, we'll be going dark for a few hours, so that we can introduce a new layout and infrastructure that truly represents our new direction.
We started 2018 by saying you deserve better… and we're ready to start bringing that to you as we talk nerdy in ways you never thought possible. Turn the lights down, because things are going to get geeky in here.
~ Samantha Ferreira, editor-in-chief