Content Warning: Translations of Mine's tweets include racial epithets aimed toward Chinese and Korean people. These include trigger words for certain lewd acts.
On June 6, the official [New Life +] Young Again in Another World (Nidome no Jinsei o aIsekai de) anime website updated with a notice, explaining that the show was cancelled.
The site is currently inaccessible to users outside of Japan. For Japanese users, the page notice, reads: "Since we announced the anime, we've not taken the recent series of incidents lightly, and inform you that the broadcasting and production of this anime is cancelled. I apologize to you, as well as the many people who were involved with production on this project, and I hope that we haven't caused you worry or inconvenience."
Moreover, publisher Hobby Japan posted a notice stating that the [New Life+] light novels will see all shipments halted until further notice. The full notice is as follows: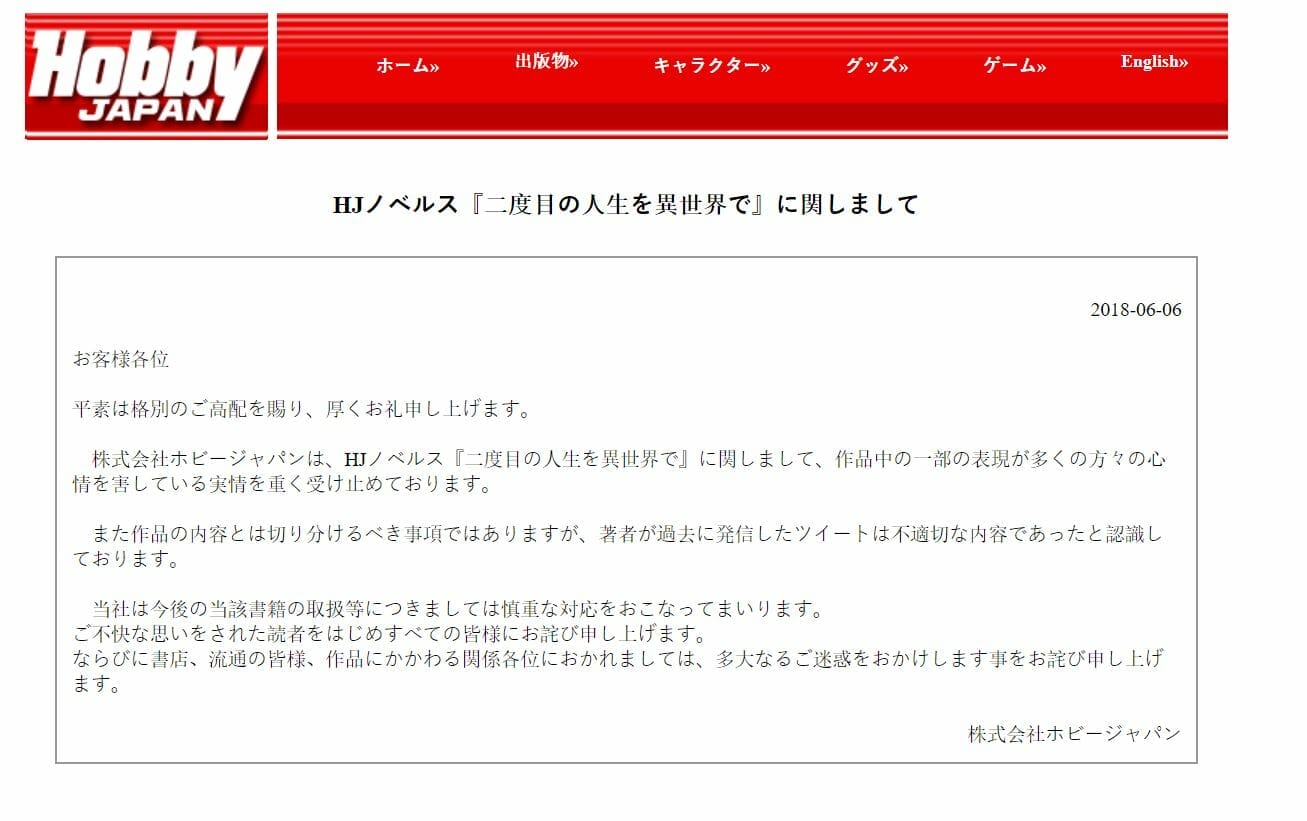 Dear Customers,

We would like to thank you very much for your continued patronage. Hobby Japan, Co., Ltd. truly accepts the expressions in a work can hurt the feelings of many people, regarding HJ Novels' [New Life +] Young Again in Another World.

Although we feel that it is important to judge a work on its own merit, we recognize that the tweets sent by the author in the past were inappropriate.

We will carefully deal with future handling of such titles.

We apologize to everyone, including readers who were made uncomfortable.

We would also like to apologize to any inconvenience caused to bookstores, distributors, and all other related parties.
The Background
The news comes in the wake of events that unfolded over this weekend. On May 30 and 31, Twitter user SonmiChina, a self-described "Chinese [person] born in Japan," unearthed and posted images of several tweets from MINE's Twitter feed. On May 30, the user posted images from MINE's Twitter feed which date back to through 2015. The tweets feature the author using numerous derogatory remarks to describe China and its people, which SonmiChina refers to as "hate speech."
The tweets have since been deleted as of press time, though they referred to China as "bug country", among other epithets. We've provided rough translations below, though we'd like to warn you again about our Content Warning.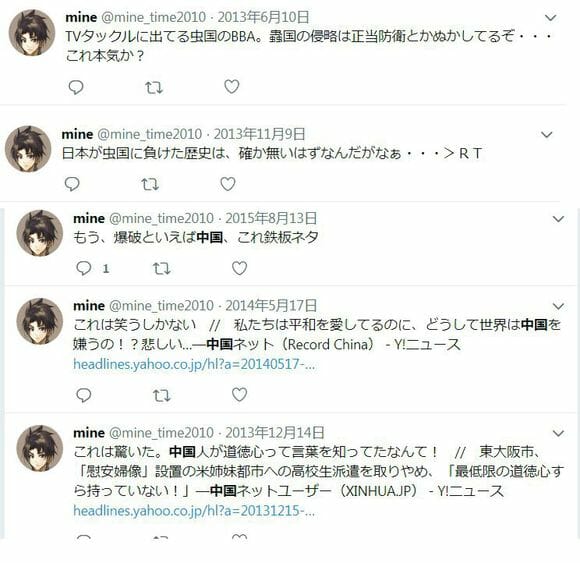 Rough Translations:
"Old farts from the bug country on TV [Tatsukuru? – タツクル]. We have a legitimate need to defend our country and you're pursuing… are you serious?" – 6/10/2013
"The history of Japan is being lost to that bug country, though I suppose there is no certainty…" – 11/9/2013
"The blast and the bugs are already in China, this is an iron-clad fact." (Mō, bakuha to ie go wa Chūgoku, kore teppan neta) –
"I have to laugh // Though we love peace, why does the world hate China?! Sad… – China Net" – 5/17/2014
"This surprised me. I didn't know that the Chinese knew the word 'morality'! // [Comfort in Learning] High school students are sent to visit US sister cities. – 'I don't even have the smallest road!' – Chinese Net User (XINHUA.JP)" – 12/4/2013
A day later, SonmiChina posted a second image, which chronicled similarly denigrating comments toward people of Korea, often referring to the nation as "Rape Country."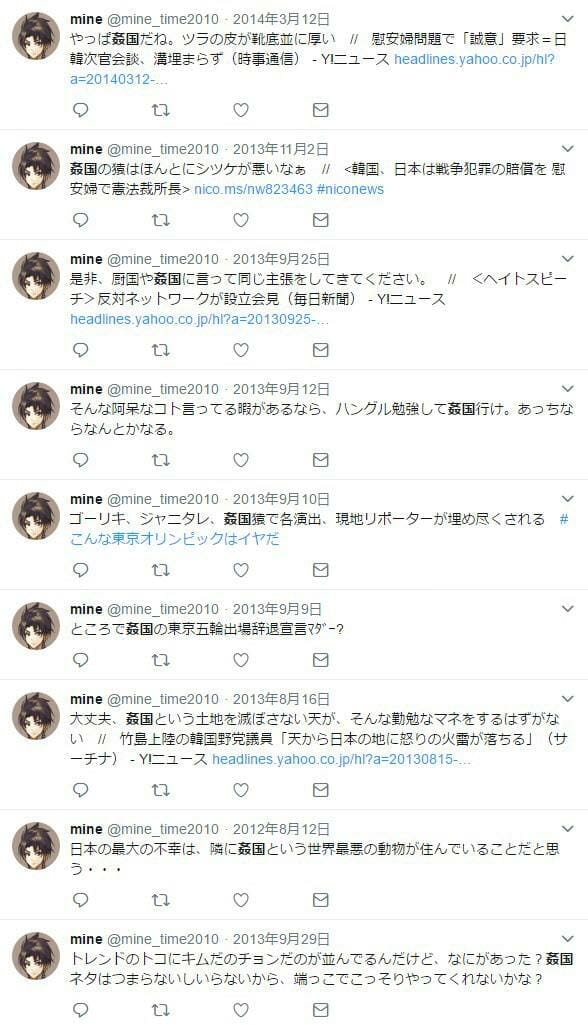 Before we begin, I'd like to offer up a couple of translator's notes – "Rape country" is a literal translation. The tweets use the characters "姦" ("Kan" – "Rape") and "国" – "koku" – country. This can mean two things: "Country of adultery" or the more literal "Rape Country." Given the crass nature of the tweets, we are going with the former, as it fits the context.
Moreover, I was unable to translate the final tweet. For that, I apologize.
"They're a country of bastards. Their skins are as thick as their shoe soles. // Regarding the problem of comfort women 'sincerity' Request = Day. Conference between vice-ministers buries the issue." – 3/12/2014
"This country of adulterers/rapists is truly sickening // This morning, the country of Japan wrestles war crime charges [from Korea] regarding comfort women." – 11/2/2013 (Note: Actual translation is "Kan-koku no ami wa hontōni shitsuku ga warui nā" – "This state of rape country truly is bad/sick.")
"By all means, please make the same claim by saying the kitchen is the same as the rape country. // The Opposition Establishes a Conference (Mainichi Shimbun) Y! News" – 9/25/2013
"Such an idiot. 'If you have enough free time to say it, learn Hangul and tell them yourself.' I think I'll manage just fine, buddy." – 9/12/2013
"Drugs, Janitale (Genitals?), each of these apes commits adultery. The local reporters are drunk. #IDontWantThisTypeofTokyoOlympics" – 9/10/2013
"By the way, did the Tokyo Olympic Games decline the rape country's declaration?" – 9/9/2013
"OK, Heaven that doesn't smite the rape country, can't be doing a diligent job managing things. // Representative Takeshima of the Opposition Party: "Heavy fire and thunder will fall on the land of Japan from the sky." (Saana) Y! News" – 8/16/2013
"I feel that the greatest misfortune of the great land of Japan today, is that she lives next-door to a rape country filled with animals." – 8/12/2012
The Immediate Aftermath
The tweets spread quickly, garnering more than 300 Retweets and 181 Likes after being posted. Japanese outlets, including industry blog Yaraon!, began to pick up on the work.
Meanwhile, HJ Novels' tweets regarding the work were quickly saw an uptick in comments by readers, who expressed outrage at Mine's tweets (and a large number expressing similarly racist sentiments).
On June 5, author Mine posted a formal apology for his comments to Twitter.
Rough Translation: [Apology] I deeply apologize for the inappropriate remarks, which have made many people feel very uncomfortable.
Rough Translation: These were remarks made on topics in which I did not accurately grasp the facts, and didn't harbor any deep ideas. But I deeply regret that I went too far with my comments, and though I don't expect everyone who was offended to forgive me, I'd like to offer a sincere apology.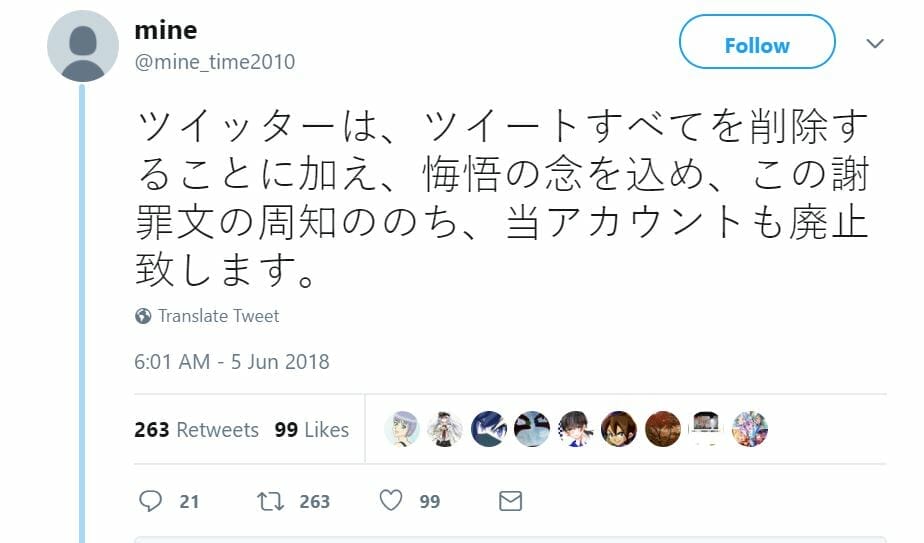 Rough Translation: In addition to deleting all offending tweets, I am deleting this account after this apology reaches people.
Rough Translation: Moreover, I apologize for the poor expression in [New Life+] Young Again in Another World. It is because of my own poor language expression and thoughtless remarks that I have caused discomfort in the books.
Rough Translation: It's for that reason that we will stop publishing the "Let's be a novelist" section, and re-review the content so that we never make people uncomfortable again. Also, in regards to the published version, I will consult with our publisher as to whether we can correct the books.
Rough Translation: I deeply apologize to everyone who has been made uncomfortable by this incident, and to those readers whom we have inconvenienced.
The Later Aftermath
Following Mine's apology, the main voice cast for the [New Life +] Young Again in Another World anime adaptation published notices that they would be quitting the production. Specifically, four actors announced that they would no longer play parts in the show:
Toshiki Masuda (Renya Kunugi)
Megumi Nakajima (Rona Chevelier)
Kiyono Yasuno (Shion Femme Fatale)
Nanami Yamashita (Creator)
Nanami Yamashita's announcement came through her talent management agency, 81 Produce, who published a notice.
We've provided the resignation announcement below:
Toshiki Masuda
【スタッフ】日頃より増田俊樹への応援誠にありがとうございます。
先日、増田俊樹が功刀蓮弥役として発表されましたアニメ「二度目の人生を異世界で」につきまして、この度降板させて頂く事が決定いたしました事をご報告させていただきます。
スペースクラフト・エンタテインメント株式会社

— 増田俊樹official (@Masuda_Toshiki) June 6, 2018
[Staff] Thank you fo much for supporting Toshiki Masuda every day. Mr. Masuda recently announced that he was acting as Renya Kunugy in the anime "[New Life +] Young Again in Another World." He has decided to leave production as of this time. Spacecraft Entertainment Co., Ltd.
Megumi Nakajima
【ご報告】日頃より弊社所属声優・中島愛を応援頂きまして誠にありがとうございます。先日、中島愛がローナ=シュヴァリエ役として発表されましたアニメ「二度目の人生を異世界で」につきまして、この度降板させて頂くことが決定いたしました。
イーストーン・ミュージック

— 中島 愛 official (@mamegu_staff) June 6, 2018
[Report] We want to sincerely thank you for your continued daily support of our company's voice actor Megumi Nakajima. The other day, it was announced that she would play Rona Chevalier in the anime "[New Life +] Young Again in Another World." It was decided that she will step down at thi stime. ESTONE MUSIC
Kiyono Yasuno
日頃より安野希世乃へ応援頂き誠にありがとうございます。

先日安野希世乃がシオン=ファム=ファタール役として発表されました、アニメ「二度目の人生を異世界で」につきまして、この度降板させて頂く事が決定いたしました事をご報告させていただきます。

エイベックス・ピクチャーズ株式会社

— 安野希世乃 official (@Yaskiyo_manager) June 6, 2018
Thank you very much for your continued support of Kiyono Yasuno in her daily work. The other day, it was announced that Ms. Yasuno would play Shin Femme Fatale in the anime "[New Life +] Young Again in Another World." She has decided to leave the project at this time. Avex Pictures Corporation
81 Produce
Thank you very much for supporting Nanami Yamashita every day. The other day, it was announced that Ms. Yamashita would play the Creator in the anime "[New Life +] Young Again in Another World." We are reporting that she had decided to step down at this time. -81 Produce Co., Ltd.
Shortly after the news went live, the official [New Life +] Young Again in Another World anime website became inaccessible to readers outside of Japan. All tweets relating to the anime on the show's official account have since been deleted.
The anime was slated to air this October with Seven Arc Pictures producing.
Sources:
Editor's Note: Translations are rough, and for that I apologize. If there are any inaccuracies spotted, please let us know and we will be happy to make corrections. -SF