The man behind Kiheitai shall return, ready for vengeance… presumably.
Earlier today, the the live-action Gintama film franchise's official website updated with a new cast reveal for Gintama 2. The account confirmed that Tsuyoshi Dōmoto will reprise his role as Shinsuke Takasugi.
A visual for the character was also revealed, which you can check out below:
Gintama 2 hits Japanese theaters on August 17.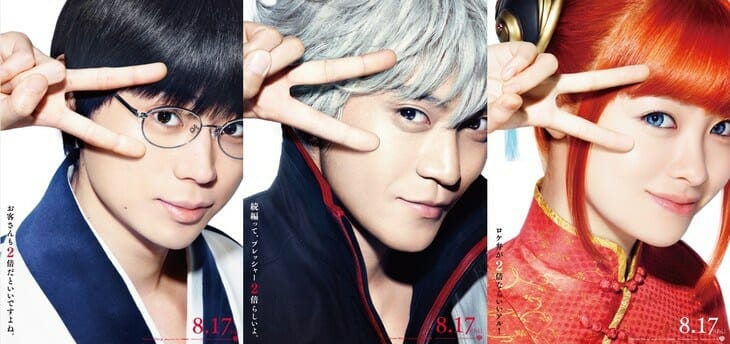 Yūichi Fukuda will return to the director's chair on the project and, like the first film, will write the script.
The confirmed cast members include:
Gintoki: Shun Oguri
Shinpachi Shimura: Masaki Suda
Kagura: Kanna Hashimoto
Tae Shimura: Masami Nagasawa
Kotaro Katsura: Masaki Okada
Gengai Hiraga: Tsuyoshi Muro
Ayano "Otose" Terada: Midoriko Kimura
Isao Kondo: Nakamura Kankurō VI
Toushirou Hijikata: Yūya Yagira
Jiro Sato is returning as a cast member as well, though he will not be reprising his role as Henpeita Takechi.
The first Gintama movie opened in Japanese theaters on July 14, 2017. In its first six weeks, the movie managed to bring in 3.48 billion yen ($31,796,794.80 USD).
The Gintama films are based on Hideaki Sorachi's manga of the same name. Sorachi's original manga kicked off in the pages of Shueisha's Weekly Shonen Jump on December 8, 2003. The title's final chapter will run in Weekly Shonen Jump on February 5. Ultimately, the title will span 73 collected volumes.
Several anime adaptations were produced, including four TV series, five OVAs, and three films.
Viz Media currently holds the license for the Gintama manga. Funimation will release the third anime season on Blu-Ray and DVD starting in March, and Well Go USA will ship the first live-action film on March 6.
Source: Comic Natalie