These kings are shining a new light on the world next year.
Earlier today, fans of the King of Prism anime franchise flocked to the "King of Prism Rose Party 2018" event. During the show, it was announced that a new project is in the works, titled King of Prism: Shiny Seven Stars.
King of Prism: Shiny Seven Stars will be an anime TV series, as well as a feature film series. The first cast and crew, as well as a key visual were revealed for the project. We break the details down below.
Trailer
The two-minute teaser introduces the major cast members, along with their cast members. A vocal theme plays in the background as the promo flies through stills of the characters.
Key Visual
The image features Shin Ichijō, standing with other off-camera cast members. They're making the group's traditional "star" hand symbol.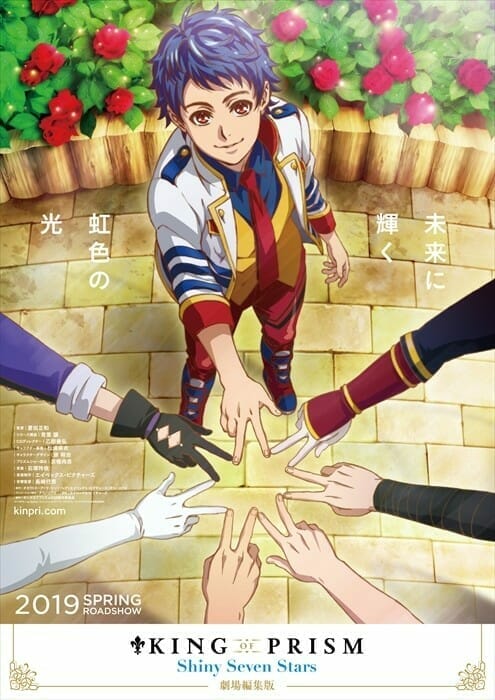 Staff
Masakazu Hishida (Pretty Rhythm All Star Selection, King of Prism: PRIDE the HERO) will direct the project at Tatsunoko Production, with Mai Matsuura (Cheating Craft, Pretty Rhythm All Star Selection) providing character designs. Jou Aoba (KING OF PRISM by PrettyRhythm, King of Prism: PRIDE the HERO) is in charge of series composition.
Other confirmed crew members include:
Music: Rei Ishizuka
Prism Show Director: Takahiko Kyōgoku
CG Director: Yoshihiro Otobe
Music Production: Avex Pictures
Sound Director: Yukio Nagasaki
Distribution: Avex Pictures
Original Concept: TAKARA TOMY A.R.T.S, syn Sophia, Avex Pictures, Tatsunoko Pro
Cast
The series will star the following:
Shin Ichijō: Junta Terashima
Yukinojō Tachibana: Sōma Saitō
Taiga Kōgami: Tasuku Hatanaka
Kakeru Jūōin: Taku Yashiro
Minato Takahashi: Masashi Igarashi
Leo Saionji: Takuma Nagatsuka
Yū Suzuno: Yūma Uchida
Louis Kisaragi: Shouta Aoi
Alexander Yamato: Shunsuke Takeuchi
George Takadanobaba: Tomokazu Sugita
Kōji Mihama: Tetsuya Kakihara
Hiro Hayami: Tomoaki Maeno
Kazuki Nishina: Toshiki Masuda
Hijiri Himuro: Toshihiko Seki
Rei Kurokawa: Showtaro Morikubo
Ryō Yamada: Daisuke Namikawa
Jin Norizuki: Shinichiro Miki
Premiere
Both the King of Prism: Shiny Seven Stars film and TV series will hit in Spring 2019. The TV series will run for twelve episodes. Four films are planned, meanwhile, which will cover the events of the TV series. Each film will cover roughly three episodes. The first film is slated to hit theaters ahead of the TV series' premiere.
King of Prism made its début in January 2016, when feature film King of Prism by PrettyRhythm hit Japanese theaters. Sequel feature King of Prism: PRIDE the HERO launched 18 months later, in June 2017.
Source: Comic Natalie