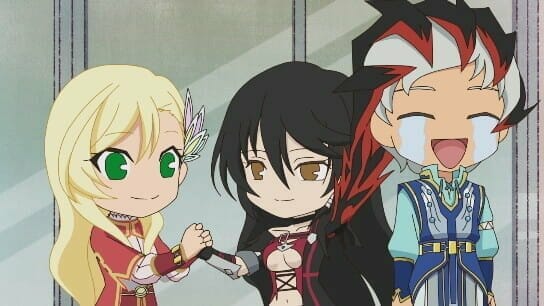 It's a party an everyone's invited… unless your name is Cress or Mint.
Earlier today, fans of Bandai Namco's Tales of RPG franchise flocked to the "The Tales of Festival 2018" event. During the show, new details were revealed for the upcoming Tales of the Rays Gekijō (Tales of the Rays Theater) anime. The main cast members, as well as a teaser trailer were revealed.
We break the details down below.
Trailer
The minute-long promo offers a look at the show in action, setting the overall tone as clips of animation play over a playful melody.
Cast
The series will star the following:
Kyle Dunamis (Tales of Destiny 2): Jun Fukuyama
Lloyd Irving (Tales of Symphonia): Katsuyuki Konishi
Yuri Lowell (Tales of Vesperia): Kousuke Toriumi
Asbel Lhant (Tales of Graces): Takahiro Sakurai
Milla Maxwell (Tales of Xillia): Miyuki Sawashiro
Velvet Crowe (Tales of Berseria): Rina Satou
Ix Neve (Tales of the Rays): Natsuki Hanae
Mileena Weiss (Tales of the Rays): Haruka Terui
Tales of the Rays Gekijō is a spinoff from the smartphone game of the same name. The series will run for about 30 minutes across all episodes. The show will run as a marathon, running on loop for 24 hours starting July 20, at 20:00 (7/20/2018 at 8:00PM JST). A special event is also planned which will kick off at 8:00PM on July 21. Haruka Terui, Jun Fukuyama, and Chihiro Suzuki will host the event, which will feature appearances by the main voice cast members.
Tales of the Rays is a mobile entry into the Tales of franchise. The project features an original story by Tales of Symphonia writer Takumi Yajima, and character designs by the team of Hidenori Matsubara, Kousuke Fujishima, and Mutsumi Inomata. The title launched on February 28, 2017, two months after the closure of long-running game Tales of Link.
The title received a global release, which officially ended its run on May 29.
Source: Comic Natalie