You were expecting an anime announcement, but… oh, wait… it is an anime announcement! Fabulous!
Earlier today, a press conference was held for the opening of the Araki Hirohiko Genga-ten JOJO Bōken no Hamon (Hirohiko Araki Exhibition: JOJO's Ripples of Adventure) art exhibition. During the presentation, JoJo's Bizarre Adventure creator Hirohiko Araki announced that the fifth arc in the franchise, JoJo no Kimyō na Bōken: Ōgon no Kaze (JoJo's Bizarre Adventure: Golden Wind / Vento Aureo) will receive an anime adaptation.
Details on the première and staff, as well as a key visual were revealed both in the media kit distributed to press on-site and on the project's official website. We break the details down below.
Key Visual
The image features the show's six main characters, standing tall against a blue and gold background.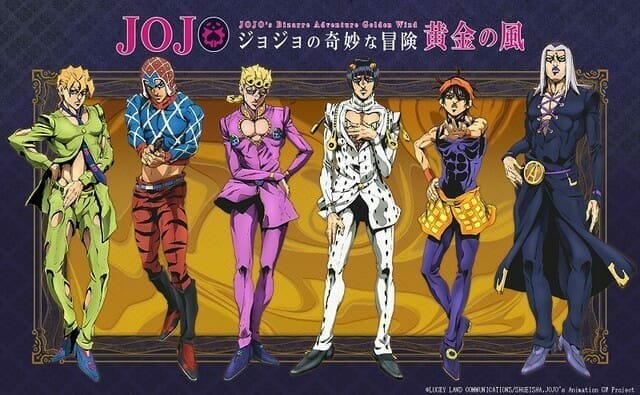 Staff
Naokatsu Tsuda (JoJo's Bizarre Adventure seasons 1-4, planetarian) will return to the franchise as chief director, with Yasuhiro Kimura (Three Leaves, Three Colors) and Hideya Takahashi (Anonymous Noise, Keijo!!!!!!!!) directing at David Production. Takahiro Kishida (Durarara!!, Puella Magi Madoka Magica) will provide character designs, while Yasuko Kobayashi (Attack on Titan, JoJo's Bizarre Adventure) returns to tackle series composition.
Other confirmed crew members include:
Animation Director: Shun'ichi Ishimoto
Stand Design: Takahito Katayama
Action Animation Director: Takahito Katayama
Prop Design: Yukitoshi Hotani
Art Setting: Kaoru Aoki
Art Setting: Junko Nagasawa
Art Setting: Reeki Taki
Color Design: Yūko Satō
Art Director: Megumi Kato
Art Director: Shunichiro Yoshihara
Director of Photography: Kazuhiro Yamada
Editor: Kiyoshi Hirose
Sound Director: Yoshikazu Iwanami
Music: Yuugo Kanno
Original Creator: Hirohiko Araki
Premiere
JoJo's Bizarre Adventure: Vento Aureo will hit Japanese TV this October. The first episode will be shown off on July 5 in Japan and Paris. The episode will be screened at the same time at Tokyo's Anyerri Hall, and the Japan Expo event.
Anime Expo will host the US première for the series on July 6, during Viz Media's JoJo's Bizarre Adventure panel. The event will be held aat 3:00PM Pacific (6:00PM Eastern) in the Main Events Hall.
According to Comic Natalie, the show's cast will be announced on July 5, prior to the screenings.
In January, we reported that Shueisha filed a trademark with the Japanese government for JoJo's Bizarre Adventure: Golden Wind. The image in the filing (below) featured a design identical to that which was used in the final show logo.
JoJo's Bizarre Adventure: Golden Wind is the fifth major story arc in the ongoing JoJo's Bizarre Adventure manga franchise. The arc, which ran from November 20, 1995 through April 5, 1999 in Weekly Shonen Jump, moves the setting to Italy.
The arc revolves around Giorno Giovanna ("GioGio"), the human son of Dio Brando, takes center stage this time as he attempts to overthrow the Passione mafia's boss in hopes of turning the organization into a force for good. He controls the Stand Gold Experience, which is able to imbue life into objects.
JoJo's Bizarre Adventure spawned four anime adaptations, which cover the first four arcs:
JoJo's Bizarre Adventure
Battle Tendency
Stardust Crusaders
Diamond Is Unbreakable
The most recent series, Diamond Is Unbreakable, ran through December 2016. A Diamond Is Unbreakable live-action film hit Japanese theaters in August 2017.
Sources: