These two birds will fly to bold, new horizons.
Earlier today, Anime Expo announced that they will host the United States première for Liz and the Blue Bird. The film will be shown on July 6, at 3:00PM Pacific (6:00PM Eastern) in Live Programming 2. Composer Kensuke Ushio confirmed on Twitter that he will attend the screening.
Anime Expo released a teaser trailer for the movie, which you can check out below: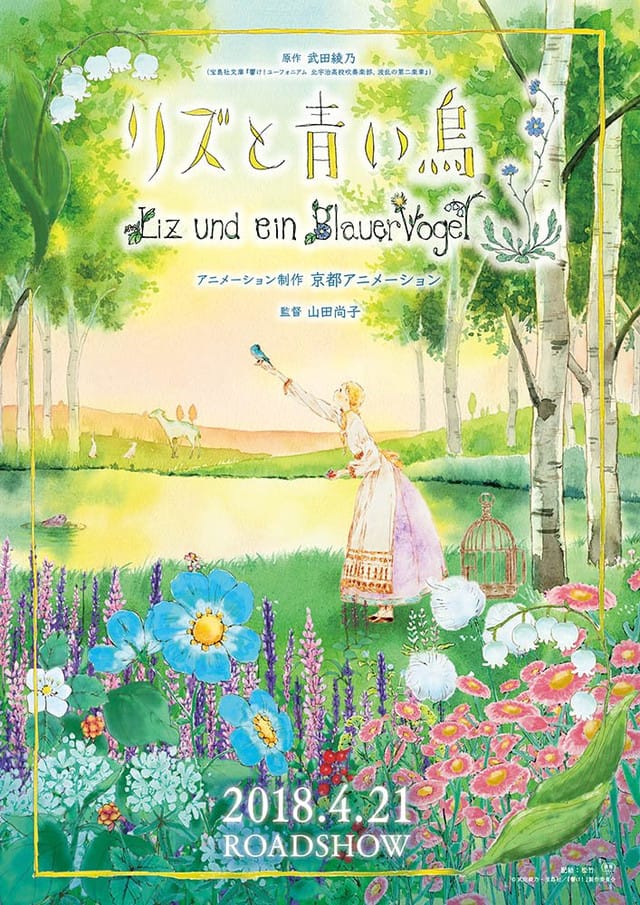 Anime Expo describes the feature as:
She's a Blue Bird.

She is only happy when flying freely in the sky.

But I was afraid of being left behind, alone.

So I trapped her in a cage and pretended not to notice.

Mizore Yoroizuka plays the oboe, and Nozomi Kasaki plays the flute in Kita Uji High School's concert band. As seniors, this will be their last competition together. The selected piece "Liz and the Blue Bird" features a solo for the oboe and flute.

"This piece reminds me of us." Nozomi says cheerfully, enjoying the solo, while Nozomi's happiness is tinged with dread of the inevitable day when they must part.

They're supposed to be "best friends" but the oboe and flute solo sounds disjointed, as if underscoring a growing distance between them.

Talk of college creates a small rift in their relationship, as the story evolves to reveal a shocking and emotional conclusion.

About "Liz and the Blue Bird" – the title of the piece in the film and the movie itself…

"Liz and the Blue Bird" is a story about a lonely girl named Liz, who visits a nearby lake each morning to feed the animals. One day, a small blue bird flutters down and mesmerizes Liz with its beautiful wings. Then suddenly, a young girl with captivating, blue eyes appears and Liz and the girl become friends. They begin living together and Liz's days are filled with happiness…

But one stormy day, Liz realizes that the girl is the bluebird that she had been feeding. Despite her own feelings, Liz wants the blue bird to be happy and bids her a reluctant farewell.
Naoko Yamada (K-On!, A Silent Voice) was tapped to direct Liz and the Blue Bird at Kyoto Animation, with Futoshi Nishiya (Free! – Iwatobi Swim Club, Nichijou – My Ordinary Life) providing character designs. Reiko Yoshida (The Cat Returns, Girls und Panzer) wrote the feature's script.
Sources: Anime Expo, Twitter (agraph)