Happy Sunday everyone, and welcome to an all-new AniWeekly! Last week, we saw the industry gear up for the biggest show on this side of the Pacific. With Anime Expo just over a week away, studios are showing off their big reveals for the show. World and US premieres were the big news of the week, as nearly a half-dozen titles were revealed.
There's a lot to discuss this week, so let's get things rolling!
In the News
There's fabulous, then there's expo fabulous. Last week, five titles were announced to have premieres at this year's Anime Expo. The list is as follows:
Stay safe, Otakon-goers… The organizers of the deadly "Unite the Right" white supremacist rally in Charlottesville received approval for a rally in Washington DC. The event is slated to be held across the street from the White House on August 12, exactly one year after last year's proceedings.
JoJo's back, baby! During a press conference, JoJo's Bizarre Adventure creator Hirohiko Araki announced that Golden Wind, the fifth arc in the series, is getting an anime adaptation in October.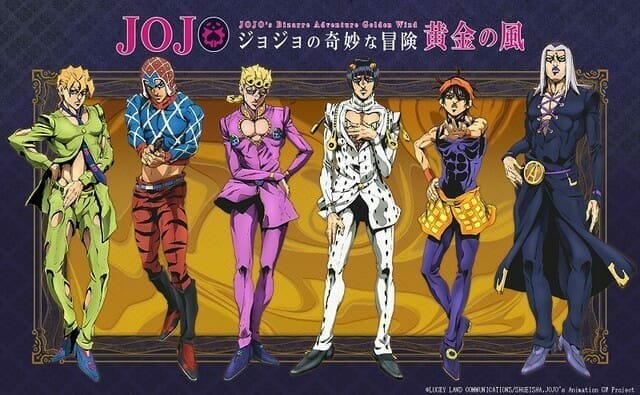 Another big buyout seems to be brewing. Recode reports that AT&T is looking to buy out Crunchyroll parent company Otter Media over the course of the summer.
To whom the deer rule… Kadokawa announced that Nahoko Uehashi's Shika no Ou (The Deer King) novel series will receive an anime adaptation. Uehashi has worked on several other fan favorite titles, including Moribito: Guardian of the Spirit.
A whole-new season of Moneyball! It's official: baseball anime Gurazeni: Money Pitch is getting a second season. Space Brothers director Ayumu Watanabe was tapped to helm the new run.
Morose, and that's okay. Anime series The Morose Mononokean is also coming back for a second season. Yuuki Kaji and Tomoaki Maeno will reprise their roles as Hanae Ashiya and Haruitsuki Abeno, respectively.
Livin' in the real world. The Real Girl anime's official Twitter account announced that the show will return for a second season. The new run will air in January 2019 on NTV's AnichU block.
It's a magically dark show. Funimation announced that they will produce an English dub for Magical Girl Raising Project. The series will stream as part of the company's Summer 2018 SimulDub lineup.
The sumo way is not to be taken lightly. The main voice cast (plus a key visual) was revealed for the Hinomaru Zumō anime. The show will star Atsushi Abe as Hinomaru Ushio.
Himote House is accepting tenants! The main crew and voice cast were announced for upcoming anime Himote House. Kaoru Mizuhara will play Tokiyo Himote in the series.
From the AniBlogging Community
Work-Life Balance is a big thing. Frog-kun takes a look at Hisone and Maso-tan, and the way the show handles themes like romance, work, and that need to break the cycles of tradition that seem to be foisted on us.
Weekly Fun Stuff!
Illustrator Yoshitoshi ABe is a legend in the anime community. His work on Serial Experiments Lain, Haibane Renmei, and Texhnolyze is nothing short of iconic, and his style remains one that draws fans in to this day. Earlier this month, Archipel talked with ABe for their "toco toco" documentary series. The fifteen-minute feature is nothing short of spectacular, and well worth a watch.
Our Patreon Lovelies
The following patrons help to keep us talking nerdy to you:
HERA'S HELPERS
Eric Lewis
Jake
Jennifer Freeman
Samantha Ferreira
NERDY TALKERS
Renfamous
Jewelfox
Vadim Chirchakov
Alec Delaney
Phillip
Lauren Orsini
Cave
Lydia Rivers
Support Anime Herald on Patreon
For just $1 a month, you can help Anime Herald grow into the biggest and best destination for all things anime related. Don't think it's just a donation, though! Backers get a number of perks, including behind-the-scenes articles, Director's Cut versions of classic content, early podcast access, and more!